FIA: New Formula 1 Rule Changes Introduced for 2023
The 2023 Formula 1 Season will look a bit different in 2023. The FIA have released a variety of rule changes for 2023 and they are as follows.
Ride High Adjusted to Counter "Propoising" issue from 2022
"Porpoising" was a major issue for some of the teams in the 2022 Formula 1 season so the FIA made a rule change to tackle these issues an improve rideability of the cars. "Porpoising" occurs when a car's base gets too close to the ground and causes airflow to stall and build up back pressure, forcing the car to spring upwards unpredictably. The minimum ride height of the cars has been raised by 15mm to counter act this issue. In an effort to better understand this unique problem, new sensors will also be installed to measure vertical and horizontal forces in the car floors that may be influencing the propoising motion felt by many on grid. The FIA is confident that these changed and new data gathering will improve drivability for the cars on grid and improve on track safety.
Minimum car Weight
The minimum car weight has dropped by 2 kg. We anticipate this change will be more important in the later stages of the race when fuel management becomes key. As the cars race, the weight of fuel decreases due to consumption. Too much fuel at the end of the race and your car might not be as fast because it is carrying more weight than necessary for that stage in the race. We will stay tuned to see if this technical change has any recognizable effects.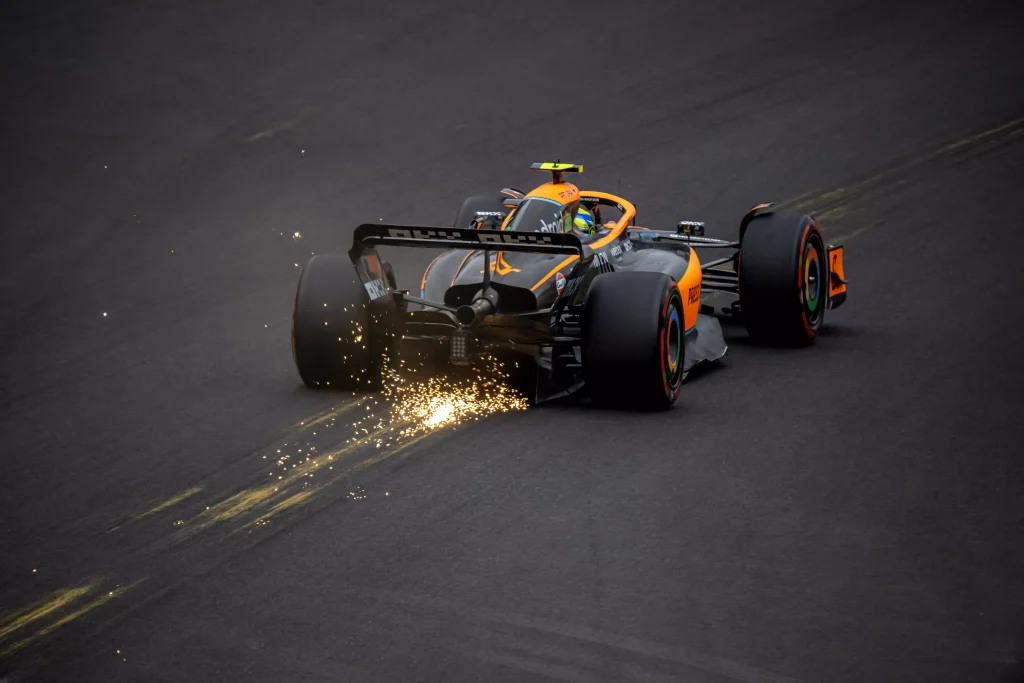 Increasing the width of the reflective surface in wing mirrors – by 50mm from 150mm to 200mm.
Roll hoops: The new rules for 2023 state that a rounded top is required on the roll hoop, which will reduce the chance of it digging into the ground during an accident. This change was influenced by Zhou Guanyu's British Grand Prix Crash in 2022.
A trial of a new qualifying format will be implemented at two events "for the purpose of evaluating whether the revisions are suitable for subsequent championships". It will involve mandating a certain tire type for cars for a particular section of qualifying. More details to come on this as there isn't much known about the format at the time of publishing this article.
More Sprint Races, Double the amount in fact
Formula 1 have dubbed this change as an 'exciting development', as they announce there are now six sprint races in the season's calendar – up from three last year.
Grid Penalty Clarification
The language regarding the rules on gird penalties has received minor updates:
"Classified drivers who have accrued more than 15 cumulative grid position penalties, or who have been penalized to start at the back of the grid, will start behind any other classified driver. Their relative position will be determined in accordance with their qualifying classification."
Points changes for shorter races
An F1 rule has been written to ensure reduced points are given for shortened races this season. A rewording of the previous rules now reads: "to ensure that shorter races have reduced points even if they don't finish with a suspended race." This is important given the risks associated with heavy rain and wind conditions red flagging races indefinitely. Points awarded for shortened races can have major implications for championship fights. Previously the FIA explained the reduced points rule only applied when a race was suspended and did not restart.
Team member curfews Teams will be allotted less time for work around the paddock on a race weekend. All teams will be subject to the reductions so how teams use their time in the paddock will be more important.

You can find a comprehensive listing of all of the 2023 rules for Formula 1 here.