2023 Super Sebring Weekend WEC/IMSA Recap Part 1
Super Sebring weekend at Sebring International Raceway is an iconic event that motorsports fans from around the world flock to see. Sebring International Raceway has hosted the legendary IMSA 12 hours of Sebring for 70 years. Some of the most iconic cars and drivers have forged their legacy here. This past weekend the 71st Annual Mobil 1 12 hours of Sebring coincided with the FIA WEC 1000 miles of Sebring event for Super Sebring Weekend. Here is the Speed Trap Recap for Super Sebring Weekend 2023 – WEC). Check out Part 2 here for our review of the 12 Hours of Sebring.

WEC

Hypercar

WEC kicked off its season with the 1000 miles of Sebring. Three classes fielded the grid LM GTE AM, LMP2 and the heavily anticipated Hypercar class. The week started off great for the Ferrari AF Corse 499P debut. Antonio Fuoco secured pole clocking a 1m.45.067s to claim pole position from rivals Toyota Gazoo Racing by 0.214s. Ferrari celebrated their first point and maiden pole position for the 2023 season after returning to global endurance racing for the first time in 50 years.


However, these celebrations didn't last long. After 8 hours and 1000 miles of racing Toyota Gazoo Racing were able to overtake Ferrari for a stunning 1-2 finish in Sebring. Kamui Kobayashi drove the No.7 Toyota GR010 Hybrid Hypercar that he shared with Mike Conway and Jose Maria Lopez to the checkered flag 2.168s ahead of the sister No. 8 car which was driven by Sebastien Buemi, Brendon Hartley and Ryo Hirakawa. The No. 7's victory in Sebring marks Toyota Gazoo's 40th win in the WEC; continuing their dominance after winning the championship in 2022.

Akio Toyoda (Team Founder, TOYOTA GAZOO Racing):
"A new season has started with new rivals. I would like to say "congratulations" and "thank you" to all the drivers and team members who finished this important first round with a one-two finish. I am particularly happy that car #7 won the race and got off to a good start after they had so many frustrations last season. But that is not the only reason."

Kamui Kobayashi (Team Principal and driver, car #7):
"It is a fantastic feeling to win this race and I would like to thank everyone for their big support, particularly everyone back in Japan, including Toyoda-San and President Sato-San. The TOYOTA GAZOO Racing family has worked really hard to be ready for this season. We had a tough time yesterday, but we came back strongly and in the race we showed our philosophy to be one team, with everyone working very hard together. A one-two was the best result we could hope for, but this is just the start of a big fight this season. We deserved to win but we do not under-estimate the other manufacturers; today our experience helped us but we will face a big challenge this season, so we have to get stronger and fight even harder. This championship is getting really exciting, and I am happy to be part of it."
LMP2

After finishing fifth in qualifying the No. 48 Hertz Team Jota Oreco-Gibson found the pace over 8 hours to secure their first win of the season with drivers William Stevens, Yifei Ye and David Beckmann. LMP2 finished with 7 cars on the lead lap which is impressive feature in endurance racing. Stevens who finished the race extended the No.48 car's lead to a 2.8s margin as he crossed the finish line. The victory marks Stevens second win at the 1000 miles of Sebring.
LM GTE AM
Cheers to the home team! The No. 33 Chevrolet Corvette C8.R claimed first place in the LM GTE AM class with drivers Nicolas Varrone, Ben Keating and Nicky Catsburg. The No. 33 lead for most of the final half of the race never really seeing a threat to that lead. The team finished 2 laps ahead of second place finisher No.77 Dempsey Proton Porsche 911 RSR 19 driven by Julien Andlauer, Christian Ried and Mikkel Pedersen. The battle for second place was closer with second and third place being decided by just under a 14.6s gap to third place finishers Kessel Racing No. 57 Ferrari 488 GTE Evo.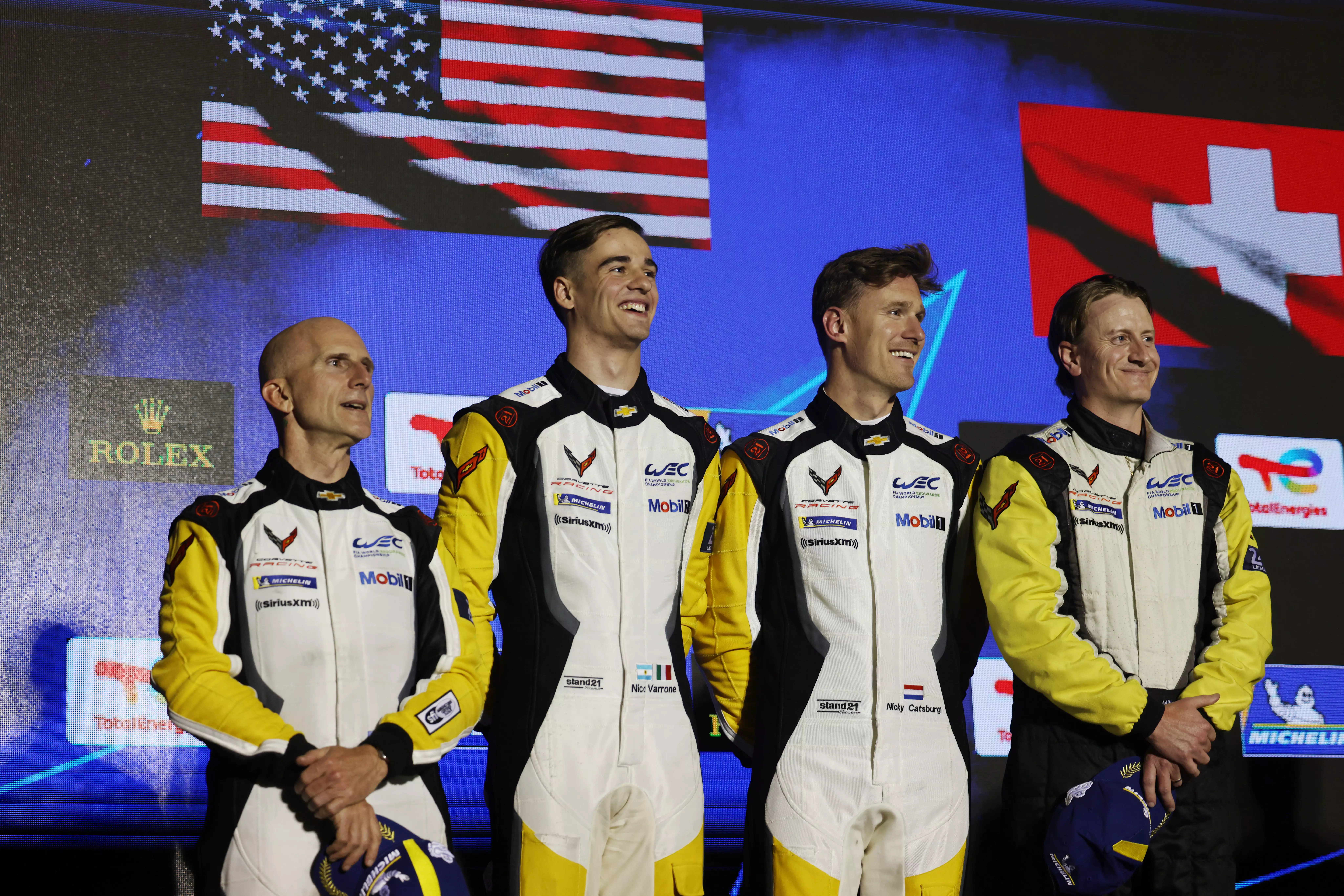 It was a heart breaker for the Iron Dames Porsche 911 RSR 19 when driver Rahel Frey ran wide coming out of turn 2 and lost the rear bumper of the car and resulted in the car dropping to 8th place after leading the race for some time. The Iron Dames qualified P1 with driver Sarah Bovy in the LM GTE AM class and were well on the fastest pace throughout the race prior to the Turn 2 incident.