WSBK: Barcelona-Catalunya Testing Concludes on a Positive Note
This past weekend many riders in the World Superbike (WSBK) championship participated in early season test in Barcelona at the Circuit de Barcelona-Catalunya. The circuit is 2.894 mile long and will serve as the location for round 4 of the WSBK championship schedule on May 5th 2023. This is the second testing event since the last race in Indonesia. We have observed a variety of concept designs tested for downforce, tire programs and overall reliability. Here is what we know as we head towards WSBK Round 3.
Bautista is in a league of his own
Alvaro Bautista has established dominance in the 2023 campaign thus far. Having won 5 of the 6 races to date he has set the tone of a returning champion. In Barcelona he set a best lap time of 1:40.459s inching within less than a tenth of the track record set by Tom Sykes in 2021. Bautista crashed on Day 2 of testing but was not injured. Bautista stated on racing website, "It was a very positive test where we also had the chance to try the new tires brought by Pirelli. We gathered valuable information that will be useful during the season. I am very happy with the feeling with the bike and I can't wait to be at Assen." Bautista logged 142 laps during testing. Aruba.it teammate Michael Ruben Rinaldi ran 4th fastest on Day 2. Rinaldi stated, "We have done a lot of laps ya know we had many things to try. Luckily during the test we were still able to do our job and work that during race we weekends we are not doing…Pretty happy, speed was good and the feeling of the bike was not so bad. I think we have made some steps forward and it has been as well a positive test so I'm really happy about these days." Rinaldi also referenced that the results from testing may change how the bike runs on grand prix weekend in a few weeks because the track temperature is expected to be much higher during round 4 in Barcelona.
Positive Outcomes for Team HRC
Iker Lecuona also came within a tenth of the track record as well setting a best time of 1:40.521s which was 0.062s off of Baustista's fastest lap. His testing day 1 ended early when he crashed at turn 14 after losing the front end of the bike. Lecuona stated to WSBK.com, "Luckily, I don't have anything broken. It's a fast crash. I lost the front. I didn't do anything crazy. The line has one bump and the front didn't recover enough, so I lost the front. When I arrived at the gravel, the problem is I was very close to the bike. I arrived with the bike. On the first jump the bike did in the gravel, it hit my foot. In this moment, I thought I broke my foot. It was painful. I was quite scared. Also, with my face, I did five or six rolls in the gravel. My visor lifted up and all the stones went into the helmet." Despite the crash Lecuona also stated, "I'm very confident going to Assen. I'm ready 100% for Assen. I'm very excited to go again. Last year, I got my first podium in WorldSBK there. This year, my potential with the bike is even better. I know I can fight for the podium. I think we are starting to be ready to fight for the top positions." His new wave of confidence will be tested at the next round at Assen.
Petrucci's Bad Luck Continues
Danilo Petrucci made the jump from the MotoAmerica Superbike championship to World Superbike for the 2023 campaign. Unfortunately for the Barni Racing Ducati rider, his regular success on the podium in MotoAmerica has not translated into success in the early stages of the WSBK season. Petrucci's best finish thus far is a P5 finish in race 1 in Australia at Philip Island. However, despite this feat, it's clear there are some harmonization issues with the bike. The Barni Racing rider has complained about the riding position in relation to the tank design, the seat position and some concerns about new tires.
On day 1 he completed 62 laps and set a day best of 1:42.355s however on day 2 he crashed twice cutting his day short before trying out some new components including the new gas tank. He was able to return after both crashes with no injury. Petrucci said to WSBK.com: "It was quite a short day because of two crashes; fortunately, really low speed at Turn 5 in the middle of the corner. We were testing something different and also a different seat, a lower one. Let's say we are quite good on race pace but not on the flying lap when we put new tires. I can't use the potential of the new tires so I'm not really fast on the timesheets. The feeling was more or less okay on both days but, for sure, we need to understand why I struggle a lot with the new tire. I can't wait to go to Assen. It's one of my favorite circuits."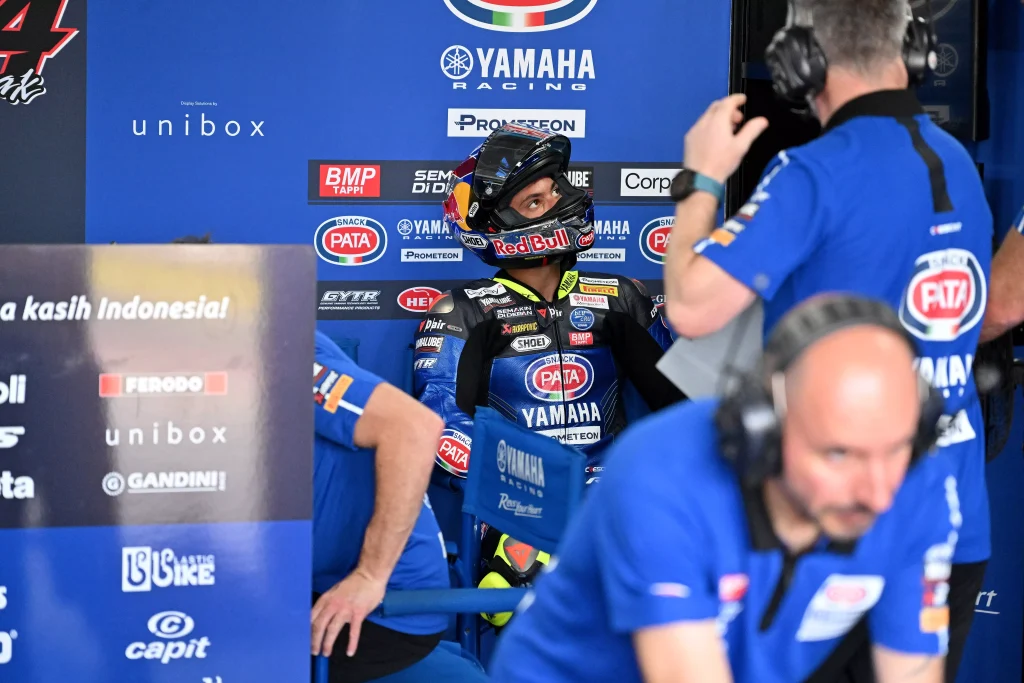 Other Thoughts
BMW and Kawasaki used the training weekend to test a number of upgrades and components. Both manufacturers appear to have positive outcomes when comparing performance to the championship front runners. Toprak Razgatlioglu (Pata Yamaha Prometeon WorldSBK) received some electronic updates that had been used by teammate Andrea Locatelli previously. The two currently sit in second and third place respectively in the championship behind Bautista.
WSBK heads to TT Assen Circuit in the Netherlands for round 3 of the championship April 21st 2023. TT Assen is a 2.822 mile course featuring 18 corners. For more information on how to watch click here. Check out our Day 1 review.