Formula DRIFT: ENEOS Reveals its Full Team of Drift Drivers for 2023
Featured Article
Formula Drift
Press Release from Formulad.com. This article was not authored by Speed Trap Magazine Staff.
Big things are happening at ENEOS in 2023. As Japan's largest oil company, supplier of motor oil and transmission fluids to the majority of Asian vehicle manufacturers, and producer of specialized fluids for Electric Vehicles, the company is embarking on a full drift program that not only encompasses both the Formula DRIFT PRO and PROSPEC championships, but will also incorporate events such as Gridlife and a return to the Pikes Peak International Hill Climb for good measure!
Taking a major step forward in its motorsports program, ENEOS has created a talented team for 2023 that includes six experienced drivers competing at every level, from grassroots to series Champions.
2023 TEAM ENEOS:
Fredric Aasbo
Aurimas "Odi" Bakchis
Ben Hobson
Faruk Kugay
Rich Whiteman
Dai Yoshihara
DAI YOSHIHARA
Among the team members is fan favorite Daijiro Yoshihara who not only worked at a Japanese ENEOS gas station in his youth but was a founding member of Team ENEOS back in 2017. Although the 2011 Formula DRIFT Champion retired from the series at the end of the 2021 season, he has continued to be a valued ENEOS ambassador. Among his 2022 highlights, Dai recorded the fastest EV run at Pikes Peak in the Turn 14 Distribution / Yokohama Tire / ENEOS / Evasive Motorsports Tesla Model 3, which placed him ninth overall. And in 2023, Dai will return to the hill climb with a new car and attempt to repeat his Unlimited Class win he claimed in 2020 in the Evasive Motorsports / Turn 14 Distribution / ENEOS 2JZ-powered Toyota 86.
Additionally, ENEOS will be supporting the 2023 "Ride with Dai" program, where drift fans are able to purchase or win a seat alongside the former Champion in his modified FD PRO competition Subaru BRZ. The Japanese driver will also be embarking on a season in the TC America racing series, with the first race already under his belt.
FREDRIC AASBO
With Dai's departure from Formula DRIFT, ENEOS entered into negotiations with Papadakis Racing to support three-time and reigning Formula DRIFT Champion, Fredric Aasbo. As a result, the Norwegian driver joined Team ENEOS in 2022 and won his most recent title in the Rockstar Energy Toyota GR Supra, lubricated by ENEOS engine and gear oils.
Accumulating FD PRO Championships in 2015, 2021 and 2022, Fredric joined an elite club of drivers with three titles. The two other drivers include Chris Forsberg and James Deane, with only the Irishman winning three in a row. However, if Aasbo claims the 2023 title, he would match Deane's feat while simultaneously becoming the first four-time Champion in the history of the sport, which would be especially coveted as the series celebrates its 20th Anniversary this year.
With relatively few major changes planned for the car, Fredric hopes to continue his scintillating 2022 form at the opening round in Long Beach on April 7-8. However, he'll face a new challenger with the return of Deane after a three-year hiatus, in addition to the existing drivers who made Fredric fight for every point last year.
ODI BAKCHIS
One of Aasbo's main rivals throughout his FD career has been Aurimas "Odi" Bakchis. The Lithuanian driver has been an incredibly strong, consistent contender since he joined the series in 2011. Throughout that time, Odi has been a regular in the top ten standings, finishing third in the Championship in both 2019 and 2021. In the process, Odi has accumulated numerous podium finishes and is always an imminent threat to win his first Championship title.
For 2023, Odi will be running ENEOS motor and gear oils in his Feal Suspension Nissan S15, which has been fully rebuilt during the off-season to prepare for a major title assault. New for the season will be a switch to GT Radial tires, which his 1000hp Vortech-supercharged 7.0-liter Texas Speed LSR engine with Holley management will certainly put to the test. Odi channels the power through a G-Force GSR transmission with ACT twin-plate clutch and Winter's quick-change diff. Using Wisefab arms and uprights, Odi fitted his own Feal Suspension 443 drift-spec coilover kit and adjustable bump stops. Dressed in new, lightweight glass fiber and carbon fiber bodywork from Seibon and 2F Performance, the car will sport a brand new Feal Suspension / ENEOS livery for maximum impact throughout the season.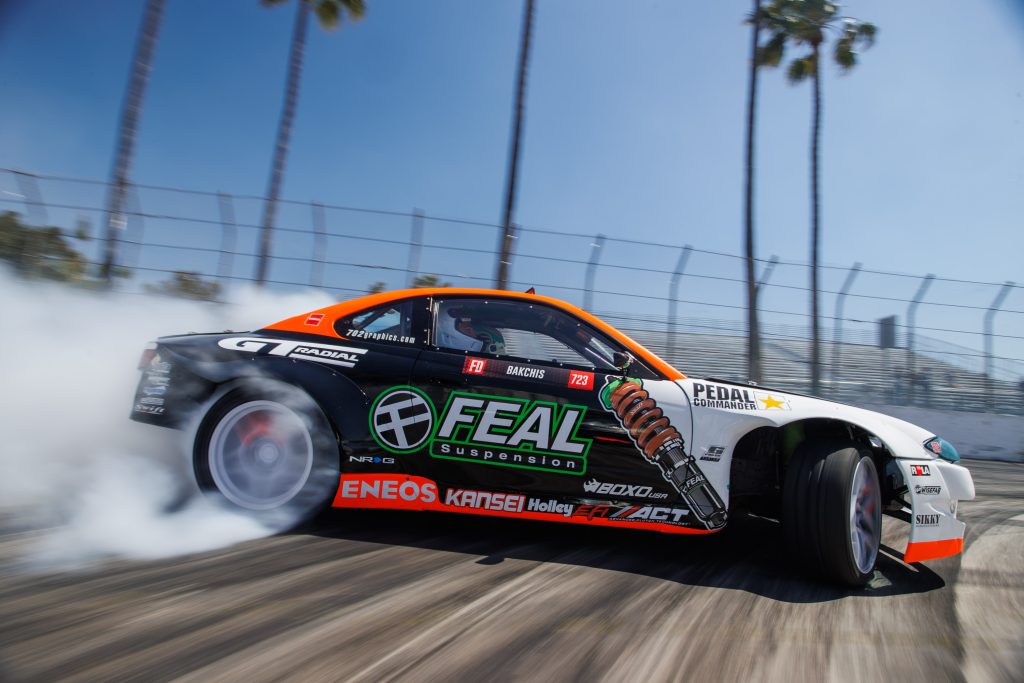 BEN HOBSON
Joining Odi at both Team Feal and Team ENEOS is Ben Hobson, who will be mounting a renewed effort in the Formula DRIFT PROSPEC Championship in 2023. After an explosive rookie year in 2021, Ben placed tenth overall and repeated the feat in 2022. However, he's stepping things up this year with the Pedal Commander / Feal Suspension Nissan S14 built by Team Feal.
In a match made in heaven, both Ben and Odi started their racing careers on two wheels and will be attacking the PRO and PROSPEC titles in almost identical cars shod with GT Radial tires. Ben's car is a Nissan S14 fitted with the same 7.0L Texas Speed LSR racing engine, although PROSPEC regulations require it to use a Link ECU. However, the car also has the same G-Force transmission, diff, bodywork, Feal 443 drift suspension and more. It will also use the same ENEOS engine and gear oil to significantly reduce wear and offer a small but valuable power advantage.
FARUK KUGAY
The fifth member of Team ENEOS, Faruk has been a crucial component for several years, using ENEOS motor and gear oil both in drift competition and a string of SEMA projects cars he's built for the Japanese company.
Born in Poland, Faruk started drifting in 2002, organized his own drift events in Europe from 2007 where he also announced, judged and even taught drifting to other enthusiasts. Returning to the California Bay Area in 2012, Faruk dedicated himself to professional competition, earning his Formula DRIFT PRO2 (PROSPEC) license in 2015 and unlocking his PRO license the next year. After completing the 2020 PRO season, Faruk took a sabbatical but is returning to the PROSPEC Championship for 2023 with ENEOS Motor Oil to reignite his ambitions in his "de-tuned" PRO Championship ENEOS / Pedal Commander Nissan S15 with its 900hp 2JZ engine swap.
Outside of FD, Faruk has hosted Sonoma Drift events on Wednesday nights at Sonoma Raceway since 2014 and also organizes the annual Winter Jam drift event. And when he's not traveling for competitions, you'll find Faruk at his shop DEVSPEED, located at Sonoma Raceway. This is where he has created a series of SEMA show cars for ENEOS, including an E30 BMW with Honda F20C S2000 engine swap in 2021 and a Porsche 911 GT3 with Subaru STI engine swap in 2022. Plans are already underway for SEMA 2023, so be sure to check out the ENEOS website and social media channels to discover his next incredible creation.
RICH WHITEMAN
The sixth member of Team ENEOS has decided to take a step back from his FD PROSPEC program in 2023. He joined the series in 2021 with an impressive history of claiming podiums in under-powered cars. He continued to find success, placing 11th and 12th overall in the 2021 and 2022 season, respectively. However, Rich has chosen to take a break from FD this year to focus on refining both his 1000hp Toyota JZX100 and his skills.
He plans to return to the series once he's fine-tuned everything by attending grassroots events such as Gridlife, HyperFest, Final Bout, Super D, LZ Invitationals, and several other pro-am competition series throughout the year. In this role, Rich will continue to be another crucial member of Team ENEOS as he demonstrates the superior engine and transmission protection provided by ENEOS engine and gear oils in a number of vehicles, including his SR20DET-powered Nissan PS13 and his JZX100.
OPENING ROUNDS
The opening round of the 2023 Formula DRIFT PRO Championship takes place at Streets of Long Beach on April 7-8. This is where Fredric and Odi will have their first opportunity to represent Team ENEOS and begin the title chase; with Fredric aiming to claim his fourth Championship or Odi to achieve his first.
On May 11-13, Formula DRIFT moves to Michelin Raceway Road Atlanta for the first round of the PROSPEC Championship, giving Ben and Faruk a chance to wave the flag for ENEOS and size up their competition. The event will also host Round 2 for the FD PRO teams and bring four members of our team together. Please visit formulad.com for the competition schedule and the free-to-view event livestream.
Prior to the Formula DRIFT kick off, Dai completed his first TC America race weekend, which took place on March 30 – April 2 at Sonoma Raceway. After qualifying on pole for his first race and leading from the start, Dai was sidelined with transmission problems. And with the team unable to make repairs, he didn't compete in race two. Dai will now focus on rounds three and four at NOLA Motorsports Park on 28-30 April.
For Rich, the first event with his FD PROSPEC JZX100 will be Hyperfest on May 19-21 at Virginia International Raceway.
Please visit eneos.us for more information about Team ENEOS, as well as the latest engine and gear oils as well as where to purchase.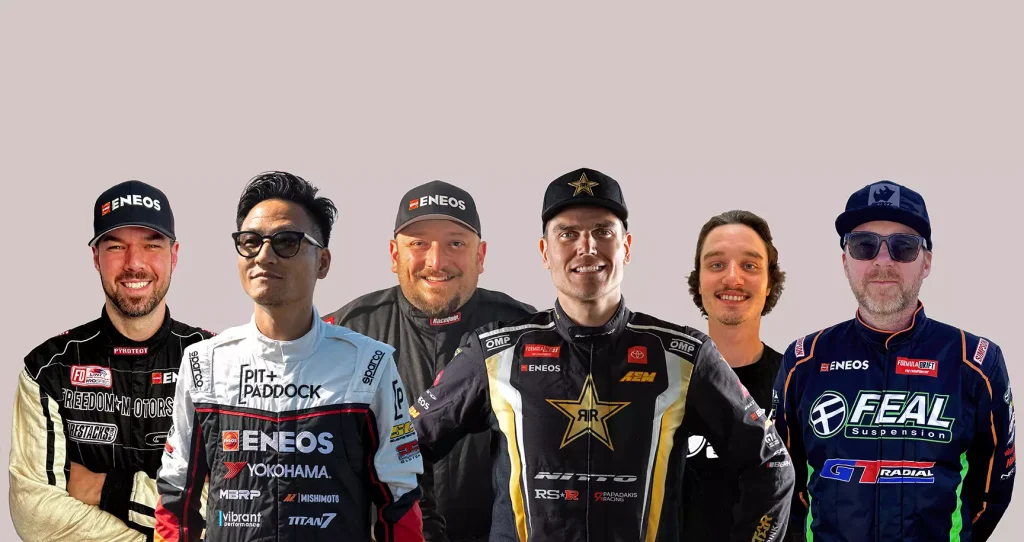 SOCIAL MEDIA
Fans can follow Team ENEOS at the following links:
ABOUT ENEOS
Established in 1888 and headquartered in Tokyo, ENEOS is Japan's largest oil company, with manufacturing and sales facilities throughout the world. With a unique position in its home market, ENEOS has worked with Asia's automakers and leading race teams for decades, creating advanced lubricants with their vehicle engineers to provide optimum fuel economy with maximum power and long-term protection. ENEOS also recently announced a new line of products for future electric vehicle applications, helping to ensure the newest EV technology is operating as efficiently as possible. For more information, please visit eneos.us
FOLLOW ENEOS USA