Formula DRIFT: Matt Field Wins Opening Round in Long Beach
Formula DRIFT kicked off its 20th Anniversary season this past weekend. The opening round was the first time the new 2023 rules and judging criteria for were used in a live competition. Additionally, prize money has been increased for 2023 season; offering the drivers more incentives to compete.
In an effort to speed up qualifying and competition heats, Formula DRIFT introduced a number of changes to the judging system. Aside from a three judge format where the final score is average between the three. Scoring also now included an "X factor" score to recognize the drivers who push the limits beyond others in the field. The judges also have access access to additional information, including new light systems in every car that indicate acceleration or deceleration, as well as access to in-car telemetry to really understand what the driver was doing. This will help judges determine when brake and throttle is applied which can offer inside into turn angle and turn initiation complexity.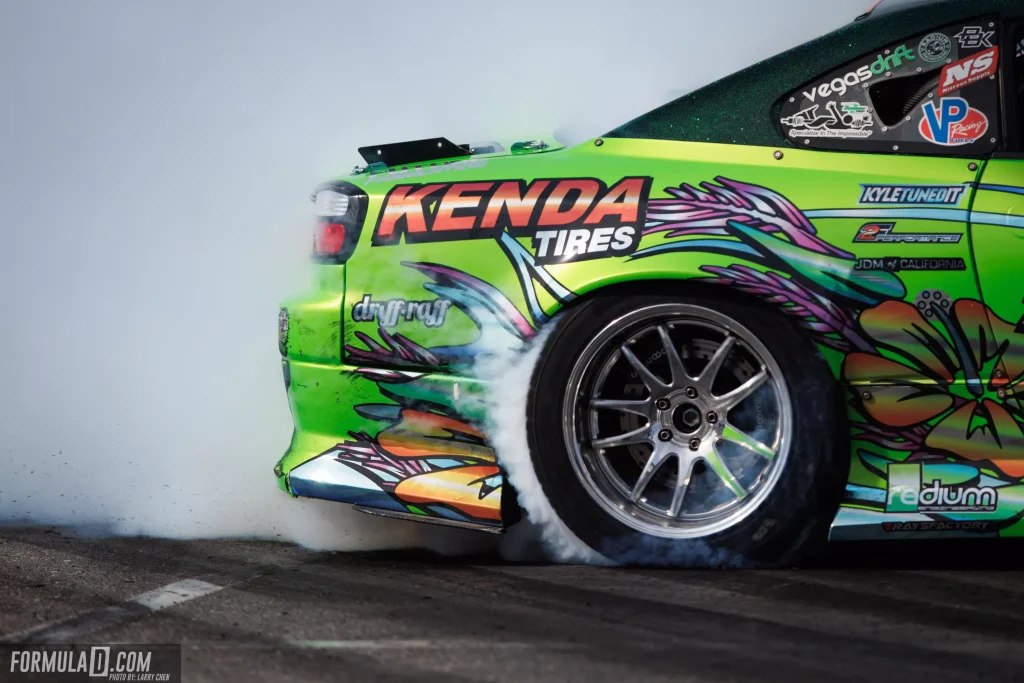 32 drivers entered the competition and per the knockout qualifying format (KQF) rules the bottom 8 in qualifying would need to complete a second qualifying session. Drivers relegated to KQF included Mike Power (USA), Nick Noback (USA), Robert Thorne (USA), Matt Field (USA), Jonathan Hurst (USA), Adam LZ (USA), Kyle Mohan (USA) and Joao Barion (Brazil). These drivers had the lowest scores or an incomplete qualifying run. Both Mohan and Barion failed to complete their second runs resulting in them not qualifying.
After James Deane's qualifying run in his AutoZone Ford Mustang RTR Spec 5-FD scored 92.66 points out of a possible 100. Ryan Tuerck executed an astonishing run that saw him tap the rear bumper of the Rain-X / Nitto Tire / Rockstar Energy Toyota GR Corolla against each Outside Zone. Tuerck received 98.33 points, including a perfect X-factor score. Because two drivers failed to qualifying Tuerck and Deane received first round byes.
Competition
Round winner Matt Field qualified in 27th place after being relegated to the KQF session. Despite this he was able to qualify and comeback and win the overall competition. Field sated, "The gameplan for Long Beach was to just show up. Media Day, test sessions, practice: just show up. Pushing hard at 100% is super-difficult but I spent the entire off-season building a new car and trying to build a team for instances where you have very little time to repair the car."
He continued by saying, "I've been waiting for this win for so long. Long Beach is my absolute favorite track and finally we showed up when it mattered and got the win. I had to rise to the occasion, forget about the mistakes and focus on reaching the podium. After the wreck, the boys absolutely killed it, which is why you need a great team. They got us on the top step of the podium."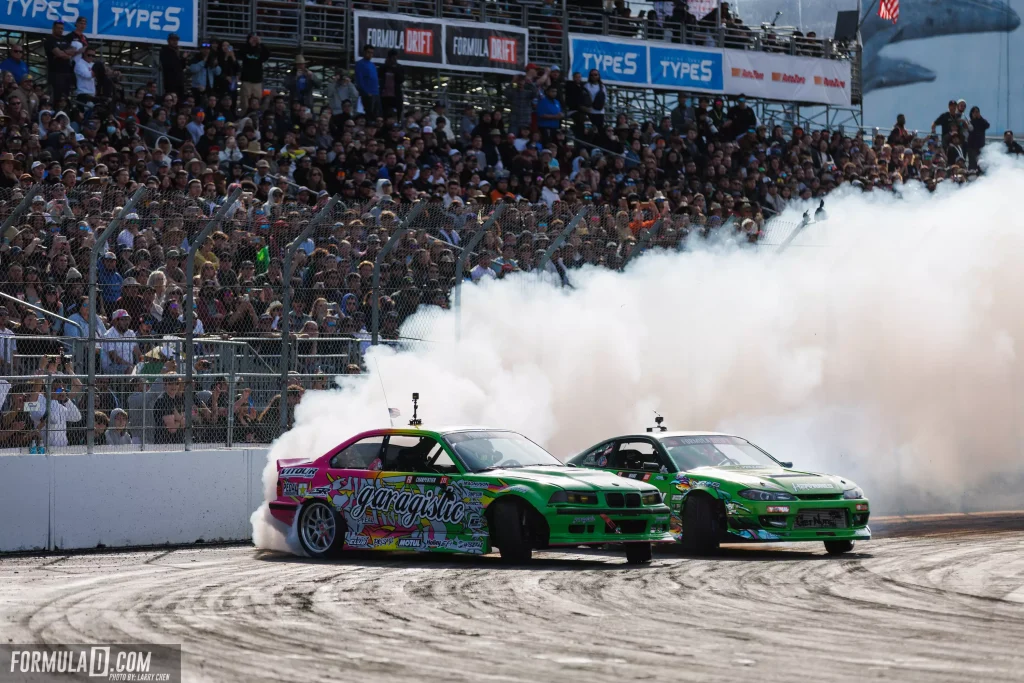 Words from the President
After the podium celebrations Formula DRIFT President, Ryan Sage stated : "This was an incredible kick off to the 20th Anniversary in front of a sold-out crowd of our amazing fans who stayed to the very end. And they saw a fascinating story unfold with Matt Field who was among the drivers who really felt the loss of their former tire partner. But he turned it around, found a new tire supplier and title sponsor and was able to arrive seemingly without skipping a beat."
He contiued, "Despite qualifying horribly, he was able to fight through an incredibly tough bracket to reach the Final against Rome, who had looked phenomenal all day. And with Matt, Rome, Fredric and Jonathan in the top 4 places, we have old and new faces battling each other in what's shaping up to be a tremendous season. We can't wait to see what happens at Road Atlanta next month when the PRO and PROSPEC teams take to the track!"
Top 16 Finishers & Championship Points
| | | |
| --- | --- | --- |
| POSITION | DRIVER | POINTS |
| 1 | Matt Field | 100 |
| 2 | Rome Charpentier | 88 |
| 3 | Fredric Aasbo | 76 |
| 4 | Jonathan Hurst | 64 |
| 5 | Ryan Tuerck | 54 |
| 6 | James Deane | 52 |
| 7 | Chelsea DeNofa | 50 |
| 8 | Forrest Wang | 48 |
| 9 | Alec Robbins | 32 |
| 10 | Dan Stuke | 32 |
| 11 | Jhonnattan Castro | 32 |
| 12 | Simen Olsen | 32 |
| 13 | Kenshiro Gushi | 32 |
| 14 | Dean Kearney | 32 |
| 15 | Trenton Beechum | 32 |
| 16 | Taylor Hull | 32 |
Auto Cup Top 5 and Points Standings
| | |
| --- | --- |
| Chevrolet | 132 |
| Toyota | 127 |
| Ford | 99 |
| Dodge | 32 |
| Nissan | 16 |
Tire Cup Standings
| | |
| --- | --- |
| Vitour Tire | 152 |
| GT Radial | 132 |
| Nitto Tire | 127 |
| Kenda Tire | 80 |
| Nexen Tire | 64 |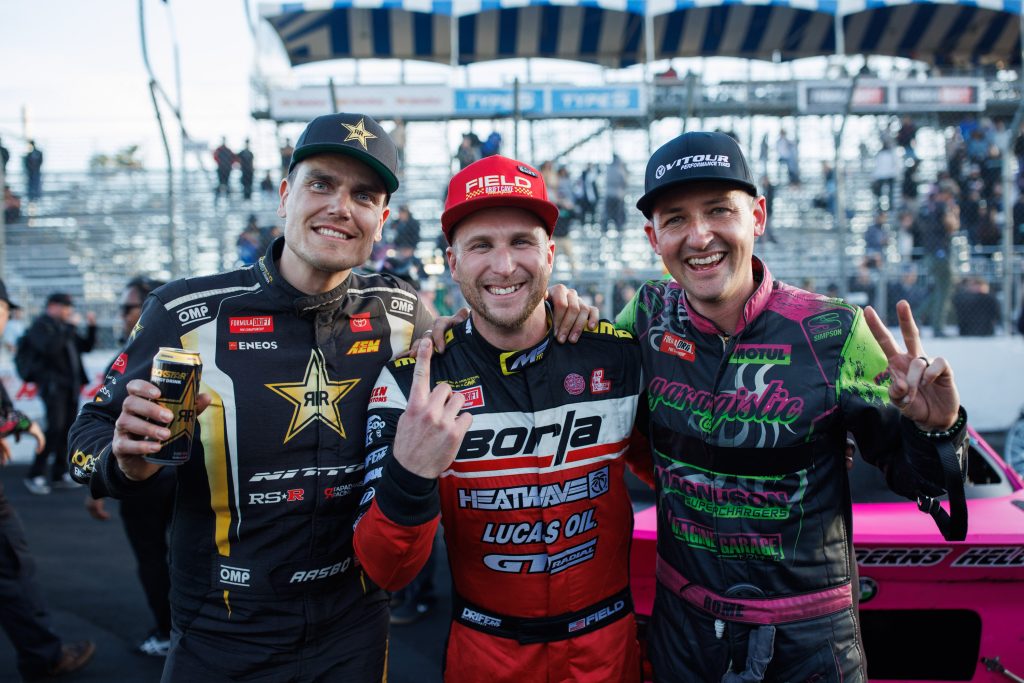 Next Round
Drift Atlanta presented by Bud Light at Michelin Raceway Road Atlanta will host the Formula DRIFT PRO Championship Round 2: TYPE S Road to the Championship presented by AutoZone on May 11-13. Please visit formulad.com for the competition schedule, ticket information, driver profiles, special content, and the event livestream.
About Formula Drift
Formula DRIFT is recognized as the leading international drifting championship. Established on the streets of Japan, drifting has evolved into a worldwide competitive sport that challenges the driver's skill while demanding a great deal from their vehicle in terms of power and strength. Formula DRIFT provides a series for the best professional drifters from around the globe to compete for the coveted title of Formula DRIFT Champion. As the first official drifting series in North America, Formula DRIFT has taken competitive motorsports to the extreme, attracting drift fans and car enthusiasts from all walks of life, and established itself as the global leader for the sport. For a competition schedule, ticket information, special content and livestream, please visit formulad.com