Kyle Kirkwood is the 2023 King of Long Beach
Kyle Kirkwood drives to his first career win at the 2023 Acura Long Beach Grand Prix. The temporary street circuit provided fans with 85 laps of close quarters racing. The teams required a perfectly crafted race strategy to make it the full race distance. All but 11 made it the full 85 laps with the others either falling behind on time or having mechanical/off-course issues.
Kirkwood started the race from pole and led the race for 53 laps in commanding fashion. The majority of the field made 2 pit stops. There was nothing unexpected here. There were a number of on track incidents the biggest being an early spin out by the No. 5 car driven by Pato O'Ward which essentially cost him any chance of getting back into the podium positions falling a lap behind the lead pack.
Early Success
The win came on Kirkwood's 20th overall start in the NTT IndyCar Series at 24 years of age. Kirkwood stated after the race, "This is amazing, man. What a day. The calmest day I've had in two years, and it was a win. I was so happy with just the pole yesterday, but I'm over the moon right now. This is incredible for the whole team. We had a stellar day for the whole team with Andretti Autosport." After lap 56 Kirkwood was not challenged for the lead again. Andretti Motorsport teammate Romain Grosjean narrowly lost out on pole to Kirkwood in the closing seconds of qualifying. He finished 2nd place in the No. 28 DHL Honda.
Grosjean had a great weekend in Qualifying and the Race
Grosjean seeming had an opportunity to make a later charge to potentially take the win. However, there was a fuel management risk with the car the prevented him from pushing. This resulted in him having to settle for second. Grosjean stated after the race, "I had to save a lot of fuel and I wasn't allowed to use it. It sucks. I just wanted to push the button but I wasn't allowed to. I didn't even want to go for the win, it would've been taking too much risk. Kyle deserved the race. He drove a brilliant weekend. I wish I had a win for my birthday, but P2—I'll take it."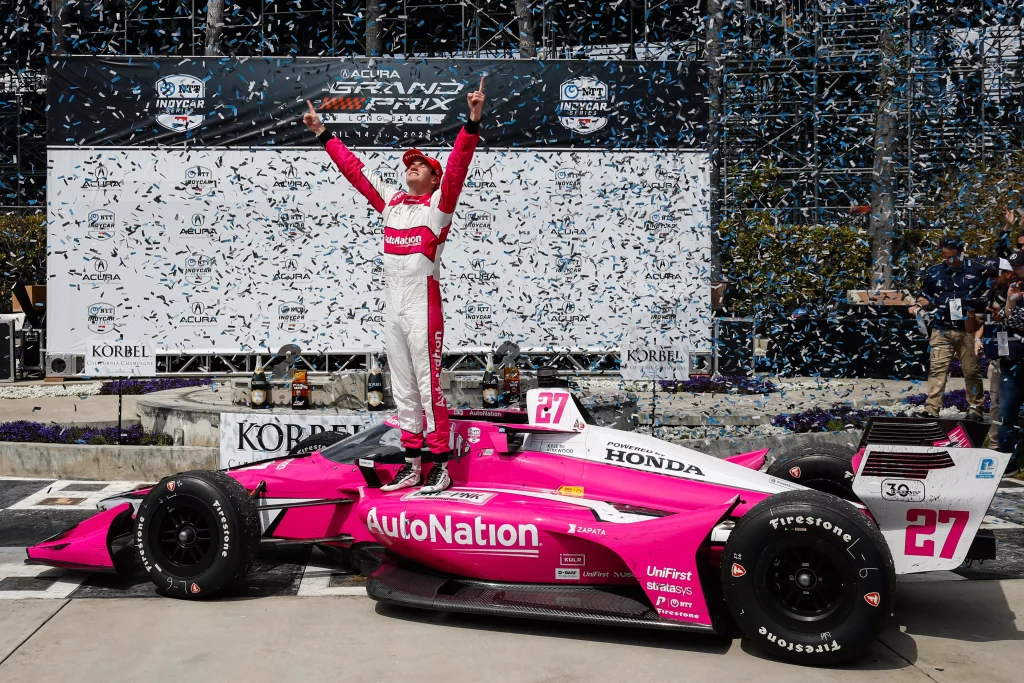 In third place Marcus Ericsson finished out the podium in the No. 8 Huski Chocolate Chip Ganassi Racing Honda. Josef Newgarden was favorited to win the race having won here last year. Newgarden led the race for 27 lap but fell short after gettign stuck behind traffic due to a caution and fuel concerns towards the end of the race. At the end Newgarden was only able to salvage a P9 finish leaving him 4th in the championship standings. Marcus Ericsson took the championship lead by 15 points over O'ward. Kirkwood moved up to 5th in the championship.
The NTT IndyCar Series Highlights