MotoAmerica Road Atlanta Superbike Recap: Gagne and Beaubier are Equal on Points
Featured Article
MotoAmerica
MotoAmerica weekend at Road Atlanta has come to an end. Cameron Beaubier and Jake Gagne put on a spectacle in Medallia Superbike Race 1 with back and forth action passing each other at different points around the circuit throughout the entire race. Beaubier emerged victorious in race one and would attempt the double in race 2. However, Jake Gagne had something to say about that.
The Race
Superbike race 2 will go down as one of the most exciting and event filled races in the history of the Superbike Championship. Cameron Beaubier (6), Jake Gagne (1), Cameron Petersen (45) Josh Herrin (2) and Mathew Scholtz (11) battled it out in the front pack from the start. Gagne lead the race at the start of lap 3 and Beaubier had a moment on track where he missed his racing line and almost lost the bike going into turn one over the curbing. Beaubier was able to save the bike, but Gagne had already made the pass.
As the riders progressed up the hill to turn 2 Cameron Petersen's Yamaha R1 spontaneously burst into flames without obvious incident. Due to the quick response by the corner workers the bike did not appear to be a total loss. The fire was put out in seconds, and Petersen appeared to be unharmed.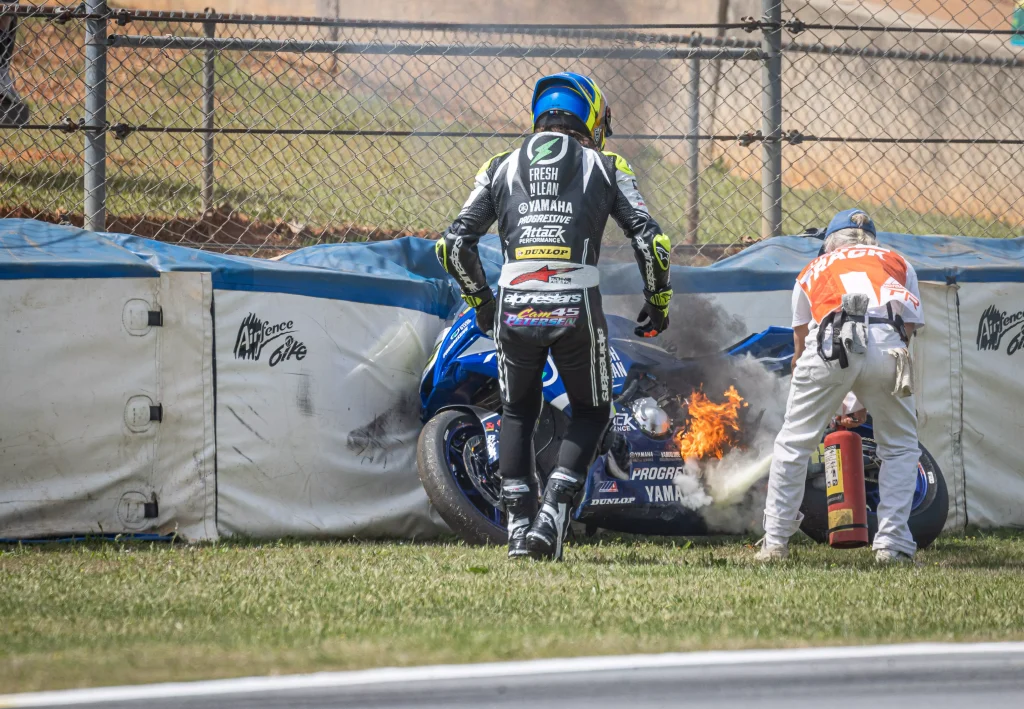 Naturally this ended Petersen's race. Herrin jumped up to third and tried to hold on to Gagne and Beaubier battling it out at the front 5 tenths ahead. Gagne and Beaubier exchanged a multiple position switches and by lap 7 Mat Scholtz had taken advantage of clean race lines to work his way up to within 0.2s of the leaders.
Late Stages
Herrin found some space in turn 1 and turn 10 to take the lead with 5 laps to go. However, Beaubier retook the lead by the end of the lap. The top 4 were separated by 6 tenths leaving the door open for anyone to finish strong for the win. Herrin took the lead with 2 laps to go. However, Beaubier again retook the lead at turn 10 with better exit speed than Herrin in the exchange.
At the beginning of the final lap, Gagne sat in third place. Herrin ran wide in turn 7 which seemingly knocked him out of rhythm on the back straight through the kink. Beaubier passed Herrin in the exchange. Herrin tried to recover, but made contact with Beaubier and was bumped wide in turn 9. This left the door wide open for Gagne to steal the win lead. Gagne pounced with a perfect double bike draft to take the lead which he would hold until the checkered flag. Herrin tried to recover and ended up running off track settling for 4th. Scholtz who was in tow rounded out the podium.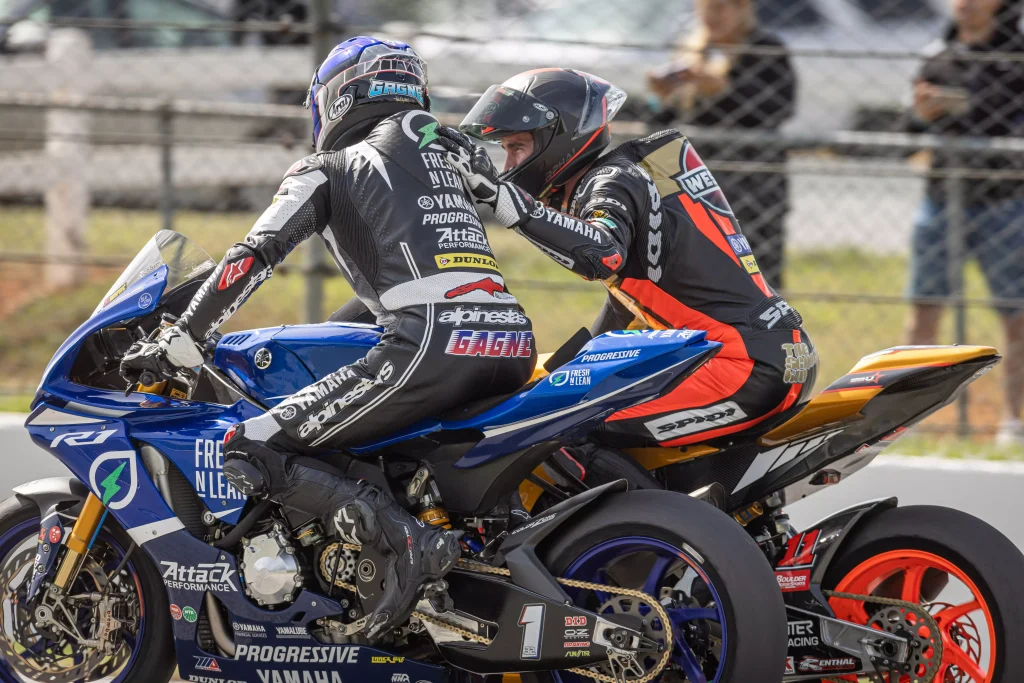 With Gagne and Beaubier tied atop the standings with 45 points, Herrin is third with 29 points
After the Race Thoughts
Gagne, Beaubier and Scholtz spoke with MotoAmerica after the race.
Jake Gagne, Fresh N Lean Progressive Yamaha
"The bike was awesome. My drives are awesome. I was still struggling on the brakes, but I think that was just because of me and after a couple laps, I was really pumped up. So, I kind of tried to just chill and relax and tried to just breathe and watch what those guys were doing a little differently and watch them battle each other. For the last lap, it was hard to really have a plan. Obviously, both of those bikes were really fast and really strong down into 10 through the kink. So, I was kind of just hoping for the best. I figured maybe they both would have a little braking battle in there and I could drive up under the bridge, but it was nuts."
Cameron Beaubier, Tytlers Cycle Racing
"My bike was super-fast. I was trying to get to those last three laps and then put my head down and be good on the brakes and try to hold them off. Then (Josh) Herrin came by me and got in another pretty good battle with us. Man, that last lap was so hairy. I'm just super happy everyone's safe after that one. He ran me a little wide on the straightaway, and then I went into the fast right-hander pretty tight. I went to lean in, and he was on the outside of me I just didn't turn. I pushed the front a little bit. It was terrifying. He was right on the outside of me, and I ran him wide. I was afraid I ran him off the track. You're doing 180 miles an hour through that corner. So, I glanced over my shoulder. Saw he was good, and then Jake and him blew by me on the brakes. There was nothing I could do to fight Jake going through the last section. Glad everyone is safe. Super stoked to get out of here with a one-two. Didn't really even know what to expect coming into this round. Just massive thank you to the Tytlers BMW guys."
Matt Scholtz, Westby Racing LLC
"To be honest, the first couple laps I was just hanging on. We made quite a few changes from the first race. I was just still feeling out what the bike was kind of doing. I felt like the strong parts of the track for me, I was really, really quick, but the weaker parts I was losing a lot of time. So, I was just literally going backwards and forwards. I really didn't have a spot that I could kind of pass in, unless something happened, which it did, and I managed to capitalize on that. But otherwise, starting from where we were on Friday to where we ended up now, I think we made huge strides forward on the motorcycle. So, I just have to give a big shout out to the Westby Racing team."
2023 Medallia Superbike Championship Standings
For more information on how to re-live the race check out MotoAmerica Live+.