Miami Grand Prix Day 1 Recap
Day one of the Miami Grand Prix weekend is in the books. Two practices sessions are complete and there is one to go Saturday morning before qualifying. Here are the events of the day.

Max Verstappen (Red Bull) seemingly cruised in FP2 to top the table over the Ferraris. He complained about a headrest issues the entire session but it did not seem to effect his track pace. Teammate Sergio Perez ( Red Bull)who currently sits 6 points shy of Verstappen's championship lead was almost a half second behind Verstappen in practice. However the practice session was cut short due to Charles Leclerc (Ferrari) crashing. FP3 in Miami will be the last opportunity for tweaks before qualifying so we expect the times tomorrow morning to be more predictive than FP2 results.
Verstappen spoke to F1.com after the conclusion of FP2 and said, "Today was a good day. Initially we were getting used to the track with the new tarmac, it was ramping up a lot throughout the day. It's still quite slippery off line but on the driving line it's okay. Most importantly today we had good balance in the car so I feel happy. There are still a few things we want to look at overnight, ideally we want to be faster on every corner, which isn't always possible. We'll have to see what the weather will do tomorrow, but overall it's been a positive day."
Carlos Sainz (Ferrari) finishes second fastest and despite the crash Leclerc held at third fastest to beat out Perez. F1 veterans Fernando Alonso (Aston martin) rounded out the top 5. The Ferraris seemed to have found some pace to contend with the Red Bulls and Aston Martins. The hurdle for Ferrari now seems to be keeping their cars on the track.
The Ferrari Drivers Commented on the Day
Leclerc had the following to say after FP2, ""The feeling in the car is good on one-lap runs. In terms of race pace, we are still lacking compared to our competitors and are focused on closing that gap. Let's see what is possible tomorrow."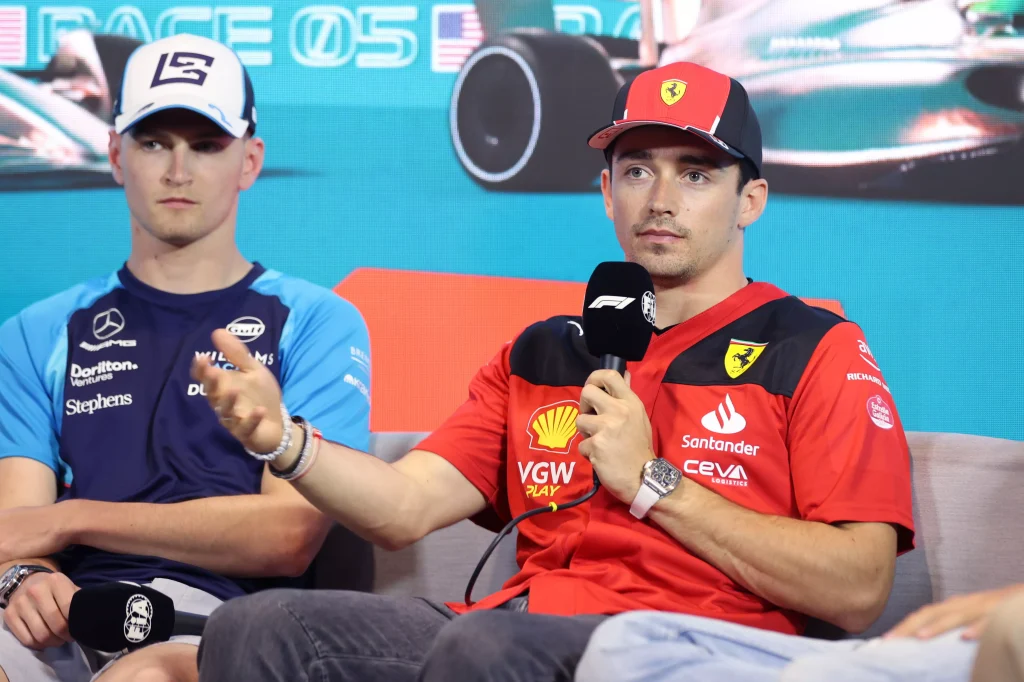 Sainz commented by stating, "Today in Miami was, as expected, an intense Friday with high temperatures and a lot of running. The tarmac is very different to last year so it was important to get a good feeling for the new conditions. We completed the whole program, we tried all three compounds and we've got plenty of data for tonight."
Lewis Hamilton's Thoughts, Mercedes AMG F1
7 time world Champion Lewis Hamilton (Mercedes) voiced his frustrations with falling to the middle pack in FP2. "FP1 looked quite good, and then we come into FP2, and the true pace come out. It's just a kick in the gut, so it's a little bit difficult to take sometimes. But it's okay, we will just continue to work on it, we will regroup tonight and try and see if we can make some set-up changes and get the car in a sweeter spot," he said. The Mercedes camp seems to have made some improvements but they do not yet appear to be enough to bring them back into regular podium contention.
The Top 10 in FP2 at the Miami Grand Prix