Verstappen Wins the Miami Grand Prix from P9
Featured Article
Formula 1
Sergio Perez (Red Bull Racing) started the race from pole and maintained the lead of the races until pitting for hard tires. Perez fell to 4th place but quickly made up 1 place by Lap 23. Teammate Max Verstappen fought from P9 to win the race after a very long stint on the hard compound tire.
The hard compound tire appeared to offer the best performance with most drivers switching to the tire for their mandatory pits pots. By lap 25 all drivers were on the hard with Verstappen leading the race having started on the tire. Verstappen, Esteban Ocon (Alpine), Lance Stroll (Aston Martin) and Zhou Guanyu (Alphe Romeo) were the only drivers to start on the hards and at this point of the race they had yet to pit. By lap 30, Verstappen's lead fell to 16s ahead which would put him behind teammate Perez after his inevitable pit stop which on average takes 20s at the Miami Grand Prix street circuit under normal race conditions.
Alonso Secures Another Podium
Fernando Alonso took third place securing another podium with the Red Bull drivers. Alonso is flying high in 2023 having shared the podium 3 times with the Red Bull drivers. Pierre Gasly (Alpine) completed another points finish in a great season start for the driver. Teammate Esteban Ocon (Alpine) also finished in the points. Haas found the pace to complete a points finish with Kevin Magnussen finishing in 10th place to score the final point up for grabs on the weekend.
Carlos Sainz (Ferrari) received a 5 second time penalty for speeding in the pitlane. Due to the race being a one stopper this penalty was served on total race time instead of stationary in the pit lane. Lewis Hamilton (Mercedes) had improved to P6 by lap 32 after starting 13th on the grid. Fernando Alonso moved up to the podium positions effectively running in 2nd because Verstappen still had not yet pit.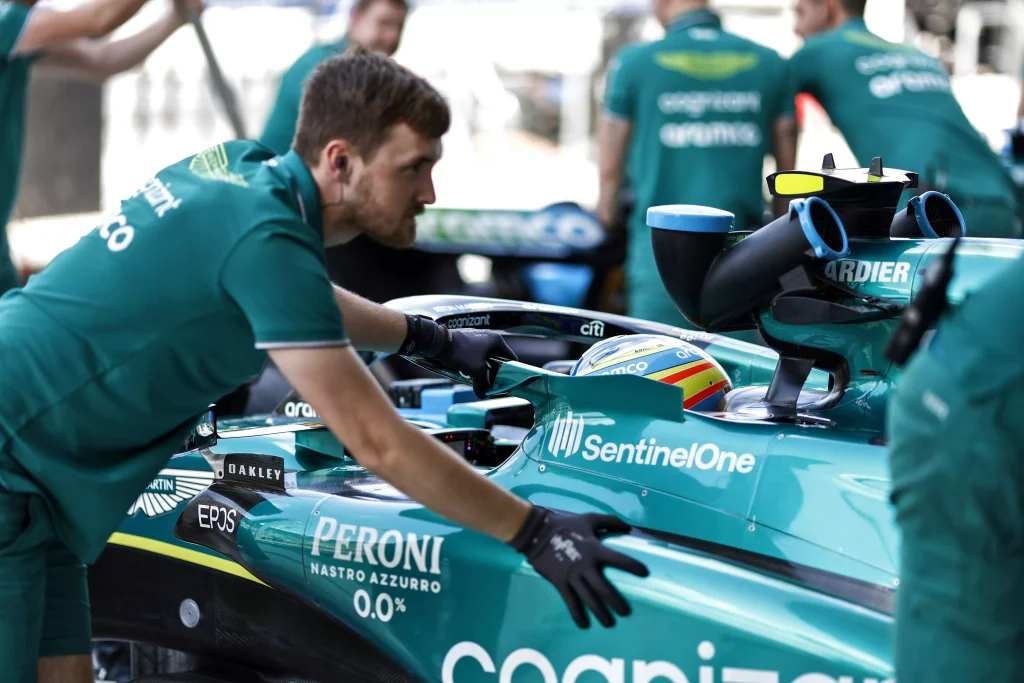 Charles Leclerc (Ferrari) will be disappointed after not making it into the top 5 given the pace of the Ferraris all weekend. After crashing in Q3 Leclerc started P7. By lap 37 he was in 11th having lost 4 positions since the start but made up time in the closing laps ultimately finishing P7 where he started. Teammate Carlos Sainz finished in P5 despite his 5 second penalty for speeding in the pit lane. The Mercedes secured a double points finish with George Russell (Mercedes) finishing P4 and Hamilton finishing P6.
Max Takes P1
Team radio chatter with Red Bull revealed that Verstappen was to push until there was no more usable life in his current set of tires. Perez and Verstappen traded fastest laps until Verstappen pitted. Max did not pit until lap 46. He came out of the pitlane 1.5 seconds behind Sergio Perez on brand new medium tires with 12 laps to go after a slow pit stop lasting 3.1s. By lap 48 Verstappen's tire advantage saw him through to first place.
Hometown driver Logan Sargeant had a very disappointing home grand prix finishing dead last as nothing seemed to go right for his weekend. On a positive note there were no crashes during the race and all of the cars finishing running. This was the 14th retirement free race in Formula 1 history. There were no yellow flags and no safety cars during the race.
Full Race Results are Below
2023 Miami Grand Prix Results
Max Verstappen
Sergio Perez
Fernando Alonso
George Russell
Carlos Sainz
Lewis Hamilton
Charles Leclerc
Pierre Gasly
Esteban Ocon
Kevin Magnussen
Yuki Tsunoda
Lance Stroll
Valterri Bottas
Alex Albon
Nico Hulkenberg
Zhou Guanyu
Lando Norris
Nyck de Vries
Oscar Piastri
Logan Sargeant
For more coverage check out F1.com