The Importance of Grassroots Club Racing, OMRRA and WMRRA Round 1
After the club race weekend finishes and riders start to tally up their expenses in the hundred to thousands it's easy to ask the question, "Why do we race?" The first gasoline combustion motorcycle ever made was commissioned in 1885, Daimler Reitwagen, by German engineers Gottlieb Daimler and Wilhelm Maybach. The bike had a 264 cc (16.1 cu in) air-cooled four-stroke single with crank start. Its top speed was 6.8 mph and with a max power output of 0.5 hp (0.37 kW) @ 600 rpm. The Daimler Reitwagen's specifications wouldn't rival many modern day golf carts. So how did this invention grow to what we know as motorcycle road racing today?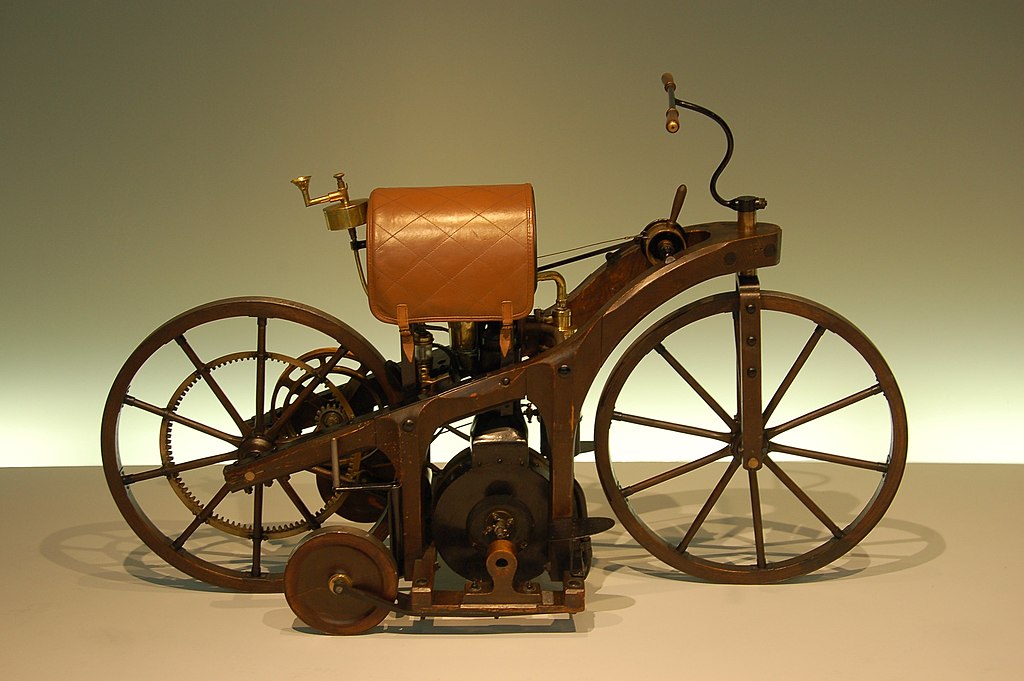 The History of Motorcycle Racing
The first motorcycle race involving exclusively two wheel design vehicles occurred in Surrey, England in 1897. The sport quickly became popular in both Europe and the United States. Seven years later the Federation Internationale de Motorcycles Club, now known as the Federation Internationale de Motorcylcism (FIM) was founded. The FIM is the top level governing body for motorcycle road racing. In conjunction with Dorna they over see the technical and operational aspects of what we know now as World Superbike and MotoGP. However, Marc Marquez (Team HRC) or Fabio Quartararo (Monster Energy Yamaha) didn't make it to MotoGP over night. Every single professional rider started at a local race track with a local organization that helped them spark their passion for racing. It's that initial spark of passion that keeps racing alive to this day.
Why do we Race?
The simple answer, because racing is what we do. Whether its the feeling of opening the throttle, the roar of the exhaust as the engine revs, the atmospheric tension in the paddock before you roll out on to the track, or the sense of freedom flying down the track at 160+ mph. We are drawn to it like a magnet. For some it completes who we are and helps us share our legacy. No grassroots racer gets into the sport because they think they'll become rich and famous. They do it because they love it.
We traveled to Portland International Raceway for the opening round of Oregon Motorcycle Road Racing Association (OMRRA) and Washington Motorcycle Road Racing Association's (WMRRA) 2023 season. In the spirit of racing we introduce a new group, Team Intrepido based in the Pacific Northwest (PNW) and founded by club racers Joshua 'The Turtle' Gonzalez, Abel Jr. 'Moodie' Villarreal and Joshua 'MT' Clarizio. This past weekend at Portland International Raceway we had the opportunity to chat with some of the members of Team Intrepido.
Team Intrepido Talks About the Future
MT stated, "Team Intrepido is a team of individual racers from Washington, Oregon and California. Our vision is to help new racers become self-sufficient through team work. Whether it be from a novice or expert rider that has been around Motorcycle Road Racing for decades, we all have something to offer each other. Team Intrepido was founded in the 2021 race season with OMMRA. Team Intrepido was designed to be a support system not just a race team. Intrepido means "Fearless". Our goal is to be 1 fearless team working together. A group of individuals, all in our different places of life here to support each other in the goals we have on and off the track."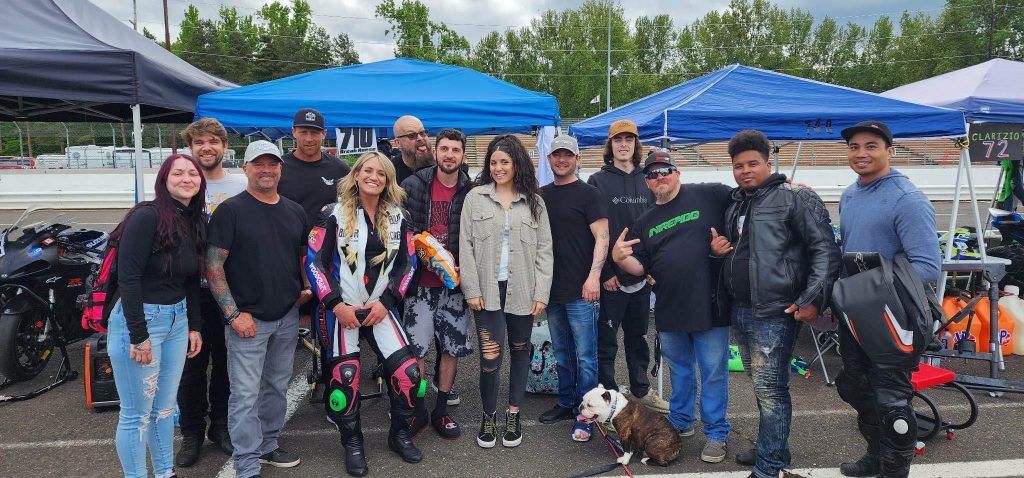 "Our short term vision is to create a stable team in the Pacific Northwest. A stable team means having the support of the people that have experience motorcycle road racing. This will be a thriving network of knowledge, and experience to help new racers navigate the ins and outs of racing. This comes in the form of ongoing group messaging, team meetings, video sharing of racing with group insights, friendships and more. In the future, Team Intrepido would enjoy sharing our vision and love for racing with other race organizations outside of OMRRA and WMRRA."
Later in the interview we spoke with Team Captain, Dallas McLean
We asked team captain Dallas 'MC Lean' McLean what we can do to lower the barriers to entry for new racers at the club level. "One of the biggest things that helps new riders is having access to multiple resources in the community. When we first got going we had one air compressor, and one generator for 4 guys. When riders get to get together and all support the cause it allows us all to race on a budget. It feels like alot of new riders are interested in road racing but they really don't know where to start with it all. We want to help with that." One of the aspects the team focuses on is community. Team Co-founder Josh 'MT' Clarizio stated, "Racing should not be done alone. Having a team on your side is everything in this sport."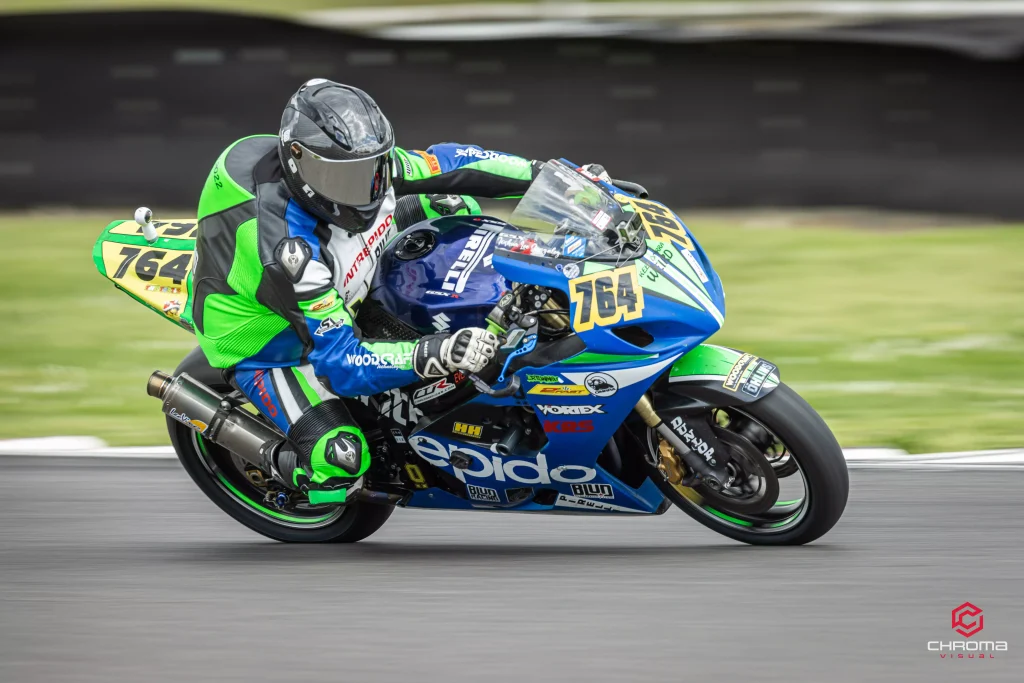 The team is still in the startup phase. However, we will be working with them and other local riding groups to put together a few events this summer. Speed Trap Magazine is the title sponsor for the Formula 600 class with WMRRA this year. We are interested and invested in exposing new riders to the sport. We are working with local riders and teams to create a resource guide for racing.
Words from a Club Racer Turned Champion
AMA Supermoto Open Asphalt Champion and two time Roland Sands Design Super Hooligan national champion, Andy DiBrino was also in attendance at the opening round of OMRRA and WMRRA's season. DiBrino is no new comer having won multiple races at the club level. If there is anyone who knows the value of club racing, it would be him. We asked Andy his thoughts on the level of competition at the club level and how it has changed over the years.
He stated, "In the 600 and 1000 classes, we had a lot more racers and depth to the field when I first started racing. This past weekend though I saw more 1000cc bikes on the grid at PIR than I have in a few years which was really great. So that makes me look forward to this year! I remember a couple times in recent seasons trying to just get enough riders on grid to collect contingency. Despite rider count generally being down since I started, we still have some fierce competitors that are also national caliber riders."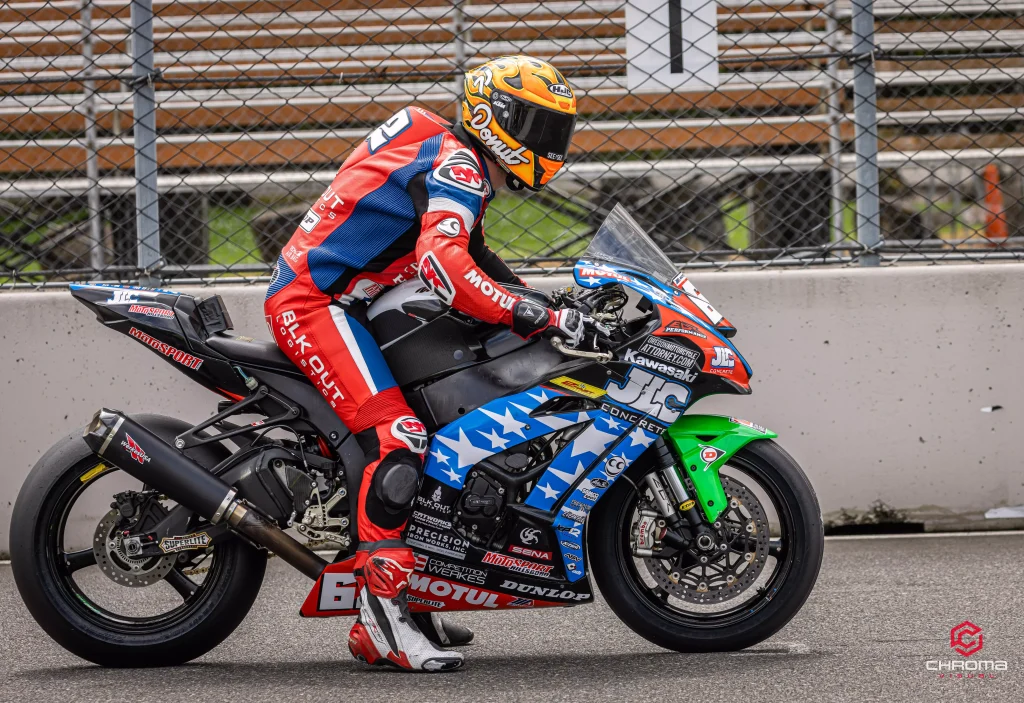 Club Races are Educational for all Skill Levels
DiBrino continued when asked if he feels local club racing is still educational. "I find any opportunity to get on track educational. I'm always working on something. Even if it's just the repetition, I think it's of benefit. As far as MotoAmerica goes, I am racing the entire Super Hooligan series on my KTM, and doing select rounds in Supersport on the MV Agusta F3RR. For sure you'll see me at the Ridge Motorsports Park on that bike." MotoAmerica stops at The Ridge in late June. You can find more information on that event here: MotoAmerica The Ridge.
Keeping Our Riders Safe
Club racing/track days offer a safer environment than street riding for up and coming enthusiasts. The track environment helps build on their skills in a controlled space with a pool of knowledge from seasoned veterans. Keeping these organizations alive is what will help the community group and spread to new young talents. One such talent is 15 year old KTM professional racer, Rossi Moor. Moor has competed all over the world and in his young age, he is dreaming BIG. His goal with racing is to secure a coveted MotoGP seat at some point in his career. Moor is the perfect example of how investing in new and young talent keeps the spirit of racing alive.
Investing in Young Talent
We spoke with Rossi Moor about his beginnings in racing. He stated, "I was practically born on a bike, I started on 2 wheels when I was just 1 and started riding when I was 2. My dad always brought me with him when he went to a track day at PIR and as a little kid seeing all the bikes really just lit a fire inside me and I knew this is what I wanted to do for the rest of my life."
When ask what continues to push him towards his goals he said, "Well for me the reason that drives me on my journey is to one day become a MotoGP World champion, But also because I am an extremely competitive person and wherever I race I want to win. Especially when I was racing alongside MotoGP/WSBK in the Northern Talent Cup and I was the only American ever to win a talent cup in Europe, the intensity and the atmosphere of racing there just made me want to do it more."
He Continued on the Value of Club Racing
"Club racing is important because it keeps the sport alive and inspire new races, and it's also important for me because I am able to use it as a training ground to test things I wouldn't be able to on just a practice day. I also appreciate all the things OMRRA-WMRAA has for all the racers and to keep club racing alive."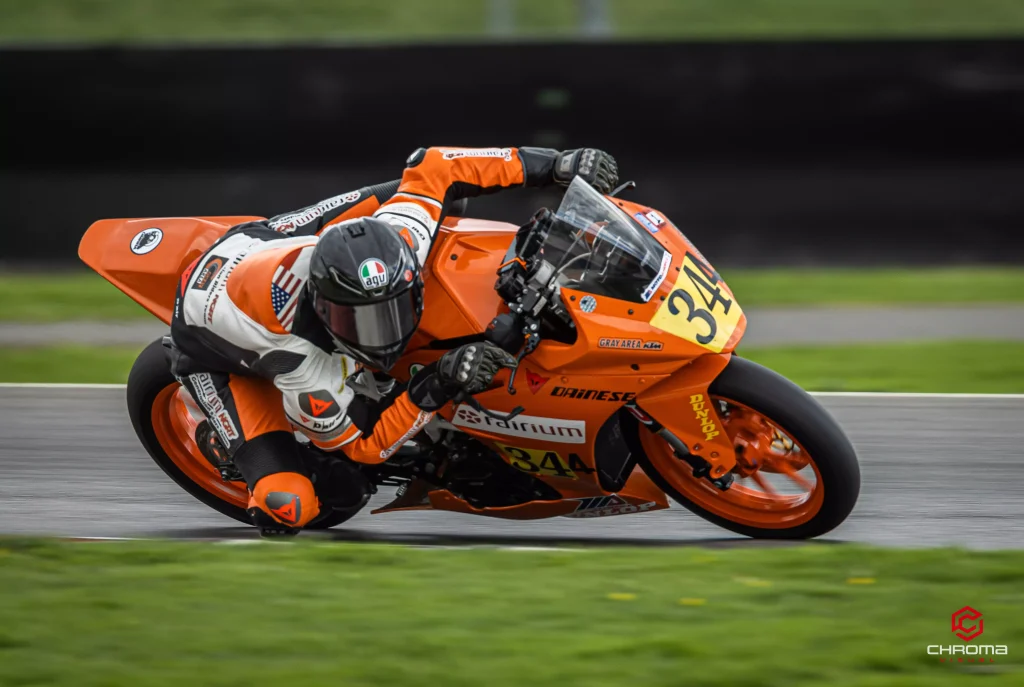 For more information on club racing in the PNW check out OMRRA and WMRRA.