This past week Nitro Rallycross announced it's changing its name to Nitrocross. Find out why this change was made and more below!
The History Of Nitrocross/Nitro RX
Nitrocross formerly known as Nitro Rallycross is the brainchild of motorsport icon Travis Pastrana. It takes some elements of Motocross and combines them with some Rallycross things to create a unique and thrilling track for drivers and fans alike. Nitro Rallycross began in 2018 as a one-off event at the Nitro World Games in Utah. It would see drivers such as Travis Pastrana, Ken Block, Timmy and Kevin Hansen, Mattias Ekstrom and Tanner Foust participate in the event. Timmy Hansen would take home the first-ever Nitro RX win. In 2019 the event would return, to Utah once again. This time round Timmy's brother Kevin Hansen would take the event win. Beating the likes of Scott Speed, Travis Pastrana, Ken Block, Tanner Foust and Patrik Sandell.
In 2019 Americas Rallycross Championship would fold. This would ultimately mean there wouldn't be a Rallycross championship in the USA for the 2020 season. This wouldn't affect much seeing as the COVID-19 pandemic would shut the world down making a Rallycross championship hard to run anyway. It would be announced in 2020 that Nitro RX would pick up the slack and run a full championship in 2021.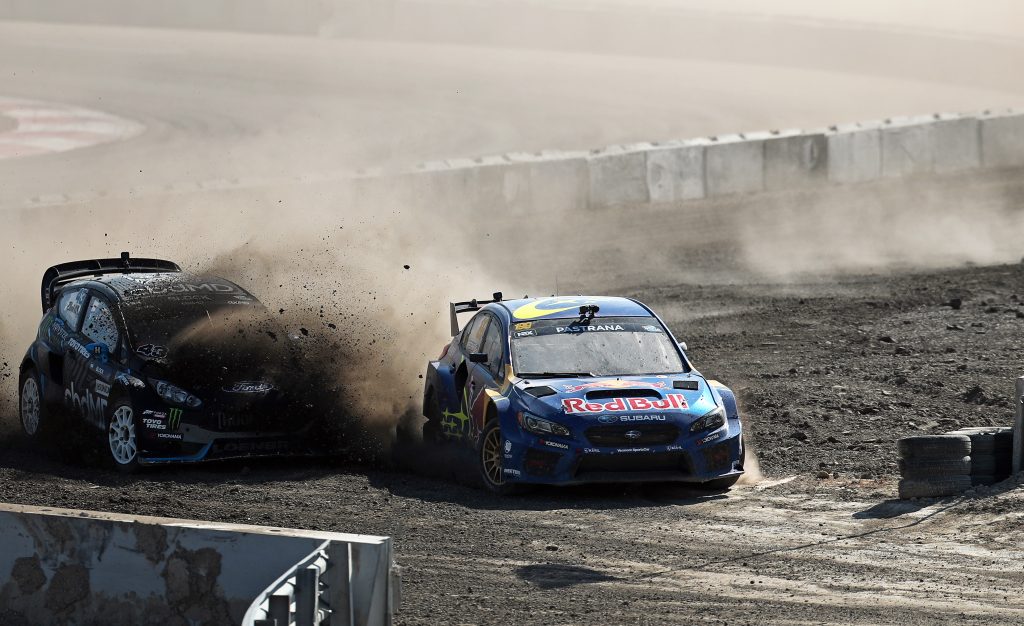 Nitro RX in 2021
The 2021 Nitro RX season would begin back where it all started in Utah. Timmy Hansen would take the win at the event. This would also mean the Hansen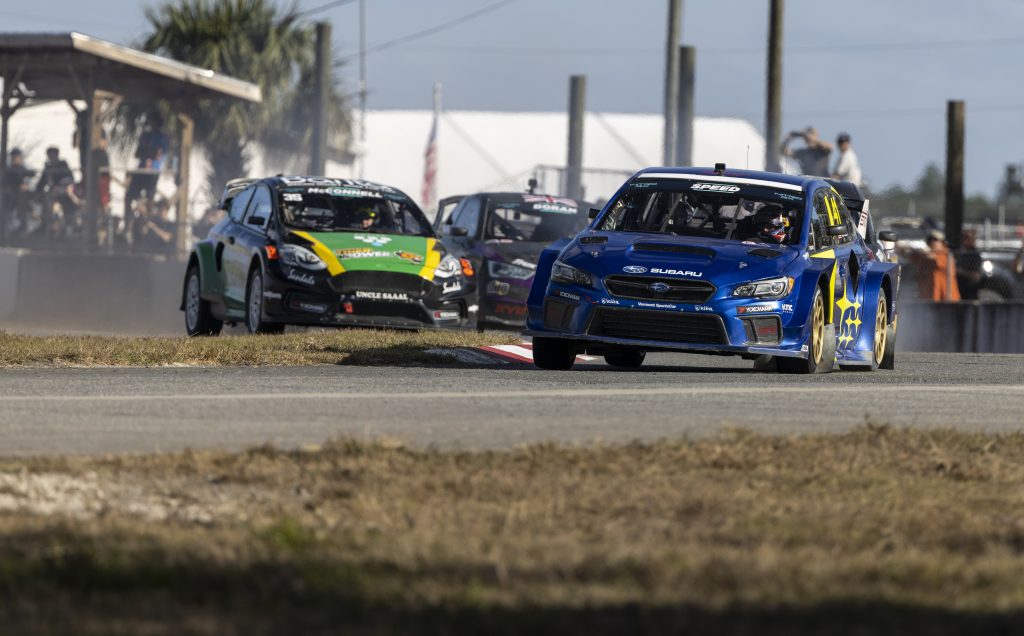 brothers are now 3-0 in all-time Nitro Rallycross. The Hansen's winning streak came to an end in round two. As a result of Scott Speed taking home the win in Minnesota. Round three would once again see a Subaru Motorsports USA driver take the win. As Travis Pastrana would take home the win in Arizona. Round four would also see Travis Pastrana take home the win. The final round would take place in Florida. Timmy Hansen would put the Hansen's on top once again. Unfortunately, that wouldn't matter much for the Championship as Travis Pastrana would take home the first Nitro RX championship.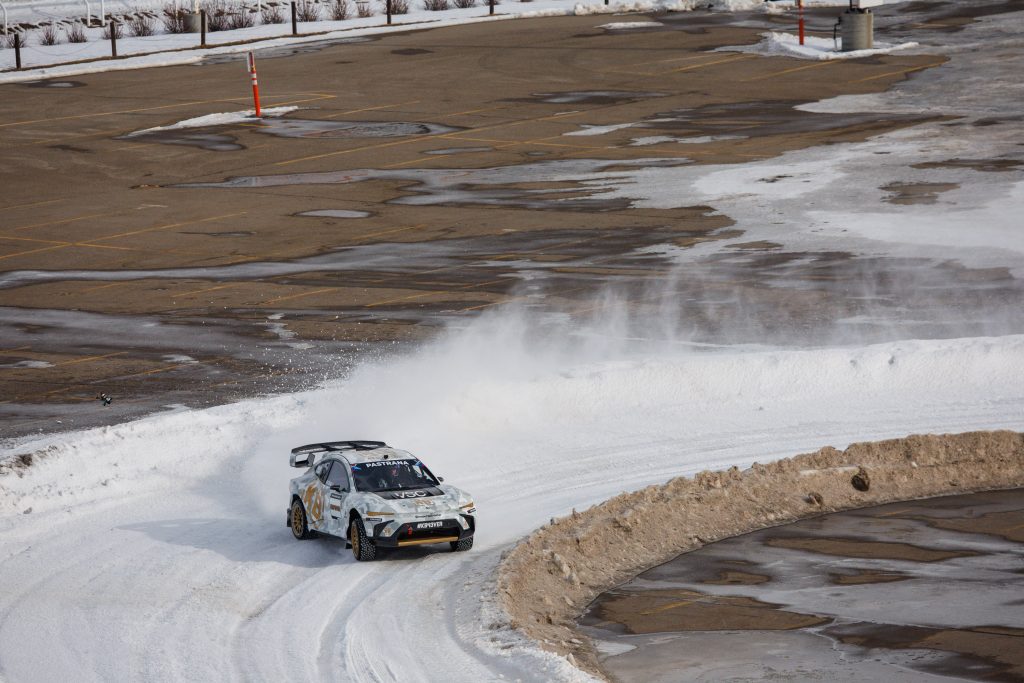 Nitro RX in 2022-23
The 2022-23 Nitro RX season would see the championship venture out of the USA for the first time. With a 10-round season scheduled, with locations ranging from Sweden to Alberta Canada. This season would also see the debut of the Group E class. The Group E class would consist solely of FC1-X cars, which were purpose-built for Nitro RX.

Rounds 1-4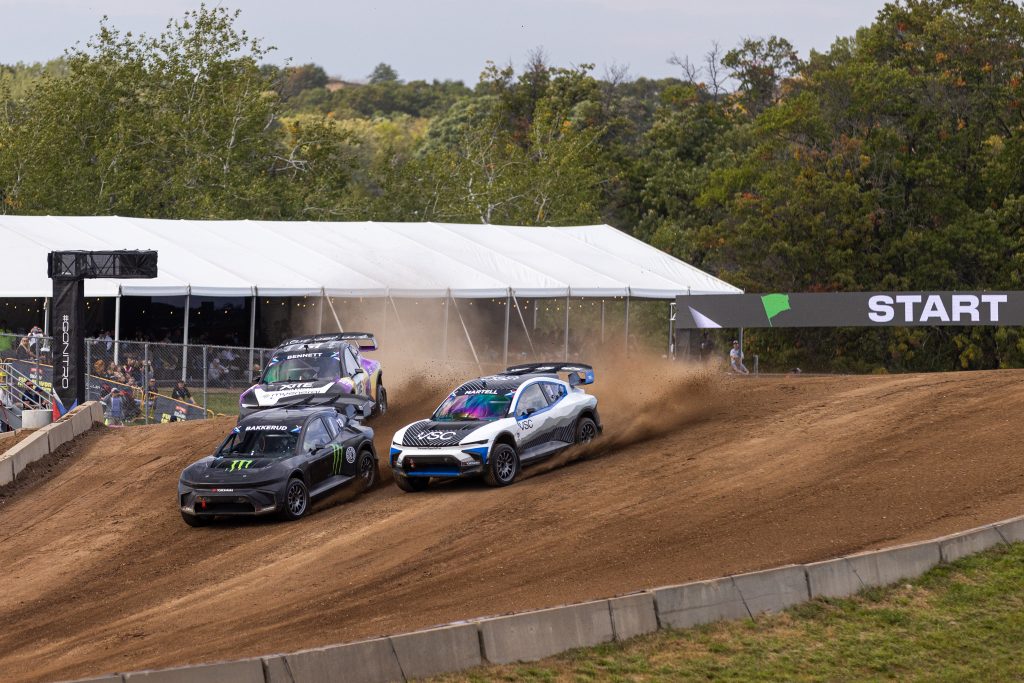 The first round of the 2022-23 NRX season would take place at the legendary Lydden Hill RX track in England. Robin Larsson would take home the first win of the season. Round two would take place in Stränngnäs Sweden. Andreas Bakkerud would take home the win making DRR JC 2-0 on the season. The third round would see Nitro RX return to the United States as the event would take place in Minneapolis Minnesota. Travis Pastrana would take home his first win of the season here. Round four would take place at the Glen Helen Raceway in San Bernardino California. Fraser McConnell would take home the win here.
Rounds 5-10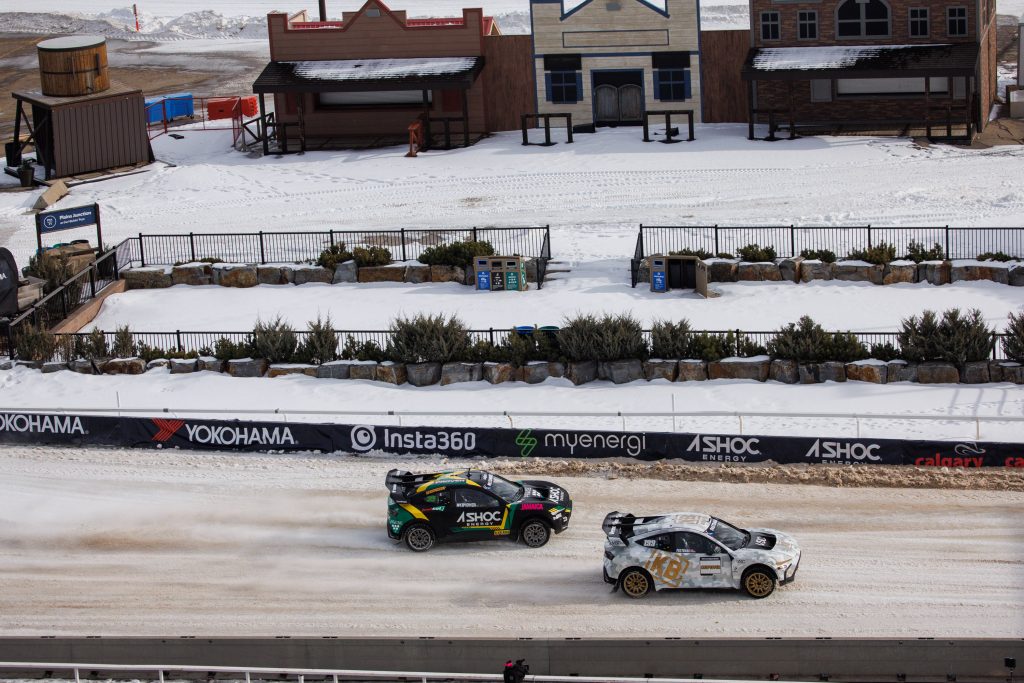 Round five and six would both take place at the Wild Horse Pass Motorsports Park in Chandler Arizona. Travis Pastrana would take home the win in round five. While Robin Larsson would take home the win in round six. Round seven would see the championship head north to the Circuit Trois-Rivières in Trois-Rivières Québec, Canada. Oliver Eriksson would take home the win in round seven. Round eight was supposed to take place in Calgary Alberta, Canada. Unfortunately, weather conditions would force the championship to make the round a non-championship round. As a result this would force rounds 8, 9 and 10 to be a triple-header event at the Glen Helen Raceway in San Bernardino California. Round eight would see Andreas Bakkerud take home the win. Travis Pastrana would take the win in round nine. Robin Larsson would take the win in round 10 and also win the championship. Round three was originally scheduled to take place in KymiRing, Kausala Finland, but was cancelled due to the track's financial problems.
Why The Name Change?
Why was the name changed from Nitro Rallycross to just Nitrocross? I spoke with Nitrocross President Brett Clarke about the reasoning behind this and he said the following, "We've always looked at Nitro as a way of reimagining what racing can look like. Whilst the property was born out of rallycross, the reality is that it's a different sport – our tracks, our formats, our cars – have evolved beyond the traditional parameters of rallycross. So, we felt that the name and branding should reflect that growth and not be defined strictly as rallycross."
Nitrocross Founder and 2021 champion Travis Pastrana would say in the Nitrocross press release "Pastrana explained: "I love rallycross, with its action-packed sprint racing and door-to-door action. That core hasn't changed. But we can't be relegated to the rules historically in place for rallycross." He added, "The Nitro Circus full-send mentality is also a big part of our DNA. We wanted to make sure that attitude came through loud and clear."
What Is The Objective Of Nitrocross?
When Nitrocross President Brett Clarke was asked about the Objective of Nitrocross he told SpeedTrap Magazine the following, "From the beginning, we are looking to elevate motorsport by taking racing excitement to another level. Combining massive purpose-built tracks with huge jumps, banked corners and multiple surfaces to push competitors — all of which are at the top of their game and drawn from a wide variety of disciplines. Then giving those drivers the tools that they need, in the form of the best cars that have the power and performance needed to tackle these challenging environments. And lastly, using intuitive formats that add immediacy and urgency, so that every race matters and at every moment, both drivers and fans alike know exactly what is at stake."
What Will Change Between Nitro RX and Nitrocross?
Nitrocross President Brett Clarke would also answer that question by stating the following, "Judging by the strong momentum at the end of last season – where, for example, both the Phoenix and Southern California stops saw attendance jump by over 30%, then when over 20,000 fans packed the legendary Calgary Stampede – we feel the variety of competition resonates with enthusiasts: the mix of Group E and its 1,000-hp electric equivalent FC1-X, the NEXT developmental class, the popular side-by-sides fueled by the rapidly growing UTV market and even our integration of our 'influencer' racing with the highly entertaining Van Prix and Baja Buggies. We are looking are looking to build on that recent success. Additionally, we are looking to take our tracks to the next level. We are doubling down on our investment and development of the tracks to make them even more entertaining for fans, but always levelling up the performance for the drivers."
Series Founder Travis Pastrana would say in the Nitrocross press release "We are looking for nothing less than to raise the bar of our events. We need custom-built tracks and better entertainment at the venues. We want Nitrocross to be exciting for the competitors and for fans around the world. We're going to have the highest-flying series on earth, and I can't wait to see what happens."
The 2023-24 Nitrocross Season
Along with announcing the name change, Nitrocross would also announce a 10-round calendar for the 2023-24 season. Round one will take place in Jay Oklahoma on a purpose-built Nitrocross track. Rounds two and three will take place back where it all started in Utah. The fourth and fifth rounds will take place in Phoenix Arizona. Rounds six and seven will take place at Glen Helen Raceway in San Bernardino California. Round eight will take place in Calgary Alberta Canada. Rounds nine and ten will take place at a to-be-determined location.
Why Are Most Of The Rounds Double-Headers?
Nitrocross President Brett Clarke would also answer that question stating, "When we think about what Nitrocross should be, it's more than just a race weekend, it's a fully immersive two-day live event experience. We're building a festival of motorsports at each event featuring our unprecedented tracks, along with entertainment elements like the Nitro Circus FMX shows, live music, great food, fun games, tailgating, RV villages and engaging activities that create a vibrant immersive atmosphere. This season, we're focused on the quality of the event experience, whilst still ensuring we have a ten-race championship season. We're also working with the teams to create efficiencies as we continue to grow and we saw encouraging results from our double headers in Phoenix and (triple header) in Glen Helen, which validated our vision."
The Ken Block Championship Trophy
At the end of Round 10 of the 2022-23 Nitrocross season, it would be announced the championship trophy would be officially named the "Ken Block Championship Trophy". The championship would be named this as a tribute to Travis Pastrana's longtime friend Ken Block who sadly passed away earlier this year. Ken may have only raced in Nitrocross twice, but he still made a lasting impact on the championship. His number was also retired from the championship permanently and Travis Pastrana would run a tribute livery for Ken round seven onwards.