MotoAmerica: Road America Day 2 Recap
Featured Article
MotoAmerica
Round 3 at Road America has concluded. The weekend was full of blistering lap times, broken records and surprises. After a disappointing Race 1, Josh Herrin (Warhorse HSBK Ducati) came out flying in race 2 with the look of determination. Herrin had a scuffle with second place championship point sitter Cameron Beaubier (Tytlers Cycle Racing). Beaubier ultimately retired from the race after a mechanical failure. Herrin won Race 2 with Tytlers Cycle Racing rider PJ Jacobsen securing second behind by 2 seconds.
After a troublesome start to the weekend for the Fresh N Lean Progressive Yamaha team. Championship leader Jake Gagne and Cameron Petersen mustered the pace to squeeze out a P3 and P4 finish respectively. The Yamahas had multiple engine failure issues this weekend. Fifth place finisher Tony Elias (Vision Wheel M4 ECSTAR Suzuki) announced his retirement in surprising fashion directly after the race.
After the Race
Talking to the MotoAmerica media Herrin had the following comments after winning Race 2, "It was just for the haters, man. It just felt good. It felt right. But it was all in good fun. That felt really good. Like I said on the podium, I think this just motivates me to do more. I know that this is for sure one of our strongest tracks, but we've got to figure out how to make tracks like Barber not be such a weakness for us. I think just getting more time on the bike and a little bit more confidence will for sure help with that. I'm so happy that I'm a part of this team. It's been really like a family these last two years. It's a bummer that the DeNaples couldn't be here for this one, because I know that they wish they could."
Herrin Continued His Thoughts
"It just feels good. It feels good to be 33 years old winning Superbike races on a bike like I'm riding right now and just having fun. This track has always been one of my favorite tracks, but today it really felt like… I've been racing here since 2006. This is my 18th season racing at this track. It felt like '06 with the crowds that we had today. It was just really special going around the track afterwards and seeing everybody cheering on the fence. It's really motivating as a racer to be out there and see a crowd like that. So, thank you to everybody for showing up. Thank you to the whole team for everything that they do for me. I'm ready to keep going."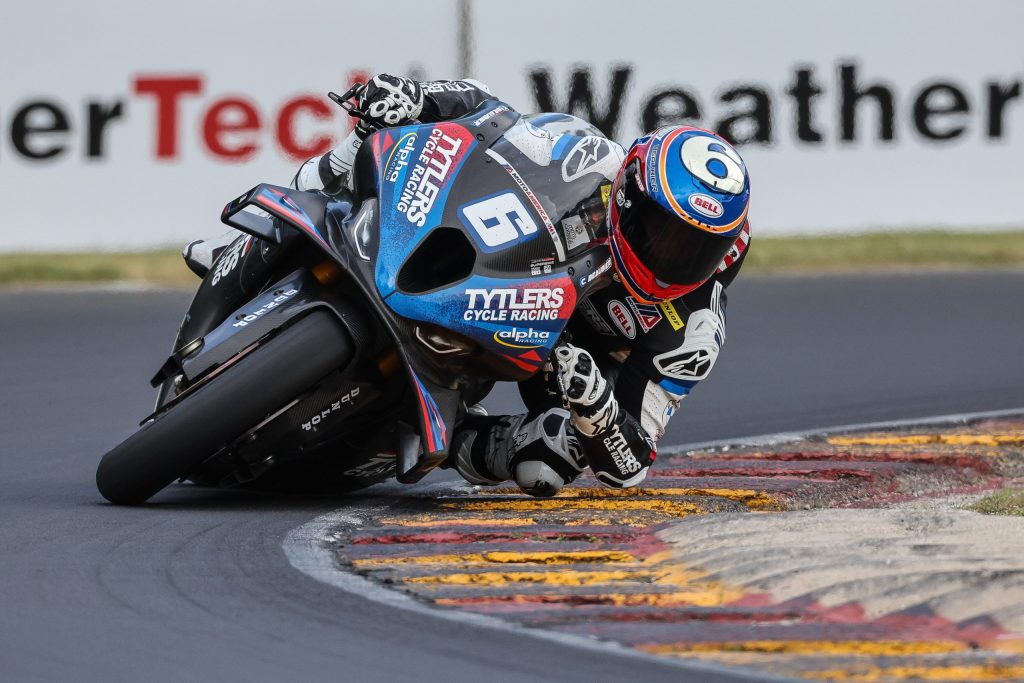 Comments from Second Place Finisher PJ Jacobsen
PJ Jacobsen provided insight on the race from his perspective, "Josh (Herrin) rode really, really well today. My starts just suck, and they've been sucking all year. So, that's one thing that I need to figure out how to get off the line better. In the race, I feel like we were doing pretty consistent lap times, into the nines and stuff like that. I caught up to him and Cam (Beaubier), and then Cam had the problem. Then I felt like I was catching Josh a little, and then it stayed like that. Then the last few laps it felt like we were going pretty fast. I think I did 2:09.2 with two laps to go. Then there was pretty decent gap. I don't know if it was a gap enough to go and try to challenge for the win."
Road America features multiple long straights which allow riders who get goo starts to take off early on the race.
Steel Commander Stock 1000
Travis Wyman secured his first win of the 2023 season over Kaleb Dekaryel (Orange Cat Racing) in P2 and Hayden Gillim (Disrupt Racing) in P3. Wyman stated that he had issues harmonizing with the bike this weekend. He provided the following comments to the MotoAmerica Media, ""It's definitely where I wanted to be yesterday, but I think we were still missing a little bit of something. So, the guys put a great package underneath me today. I think just the little bit cooler temperatures gave me more confidence to just get out and push, because in Q2 yesterday morning it was about similar temperatures, a little overcast, and the bike felt its best.
Yesterday in the race when the sun was beating down, I didn't have the confidence in the grip level. I knew if I got a wholeshot, I could put my head down and go to work. I saw the gap getting bigger and bigger, and then all of a sudden it was back down to the plus zero again."
He continued, "Honestly, I thought it was Ezra behind me the entire time, and I just kept my head down for a couple more laps and I looked up and I saw on the monitor going into three and it was Kaleb. Kaleb has been strong at the end of the races, so I had to keep going. Just really never looked back. The bike was phenomenal. It was a huge step up from yesterday. It felt like it did in Q2. I got to give it all to my team. It's been a long time coming. It's been since Laguna 2021 when I won a Stock 1000 race."
Supersport
Xavi Fores (Warhorse HSBK Ducati) secured his 5th win of the season aboard his Ducati Panigale V2 at Road America. Despite this feat it was second place finished in both races, Stefano Mesa had the fastest lap of the race. Stefano seemed to be on pace to make a challenge for the win towards the middle stages of the race. However, the deficit provided to be too much and despite hiding the fastest lap of the race he fell short to Fores by 4 tenths of a second.
Fores provided the following comments, "I realized already this morning in warmup I was not able to pass him on the draft. He is lighter than me and the bike is fast, but I wanted to see how was his pace. I ran wide in the chicane…lost the front a little bit, so I said, okay. I looked back and no one was coming close to us. I said, 'okay, I'm going to let him pass and try to understand his pace.' So after that, on the first split, I was a little bit faster than him and I was solid braking into turn five, so I passed again. I was quite okay doing 16 on my pace. I was pushing so hard."
Junior Cup
Rossi Moor (Fairium NGRT- Gray Area Racing KTM) won the race on the sole KTM RC390 on grid. The win also comes during Moor's first races at the iconic Road America. The feat was achieved by a margin of 3 tenths of a second. In a hard fought second place was Max Van (SportbikeTrackGear.com) followed by Race 1 winner Avery Dreher (Bad Boys Racing) in third. Moor had the following comments to the media after finishing P2 in race 1.
"Yesterday, I wanted to try and stay in second place and try to not lead the race because I remember when Avery was saying that on this track you really don't want to lead, especially on the last laps since the draft is so important here. But I was analyzing the race yesterday and I thought that I had the pace to be able to break away. I just have to put my head down and sometimes you need a little bit of luck, like somebody making a mistake, to have that little breakaway. So, it was a really good race for me, after the bad luck I've had this season with two DNF's. But finally, I got the win and I'm super excited."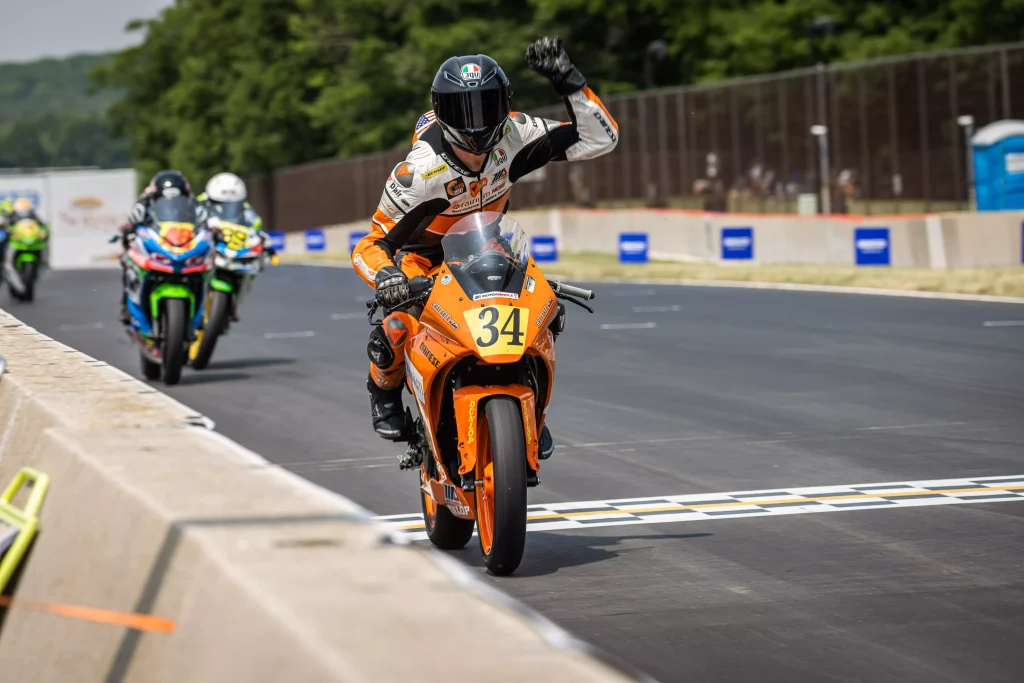 Build Train Race
Series newcomer Mikayla Moore dominated the competition in Race 2 by a margin of 11 seconds. This was her first race at Road America. Last year's champion Kayleigh Buyck finished second place and Aubrey Credaroli finished third. Moore has proven she is no rookie to racing after securing maximum points this weekend at Road America. She will look to repeat this result at the Ridge in 4 weeks time.
Mission King of the Baggers
Sac Mile/SDI Racing/Roland Sands/Indian's Bobby Fong led the Mission King Of The Baggers field by 5.7 seconds to secure the win. This was redemption for Fong at Road America after a disappointing P7 finish in race 1. Tyler O'Hara (Indian Motorcycle/Progressive/Mission Foods) and James Rispoli (Vance & Hines/Mission/Harley-Davidson) rounded out the top 3.