MotoAmerica: The Ridge Day 2 Recap, Beaubier Wins
If you missed it check out our Day 1 Recap of the MotoAmerica Super bike Championship race. Round 4 at The Ridge Motorsports Park. In the Medallia Superbike Championship Cameron Beaubier (Tytlers Cycle Racing) finally put an end to Jake Gagne's (Fresh N Lean Progressive Yamaha) win streak at the Ridge. Beuabier won Superbike Race 2 after crashing out of race1 on lap 14. The two traded stents leading the race, but towards the end of the race Gagne seemed to fall off of his early pace. Beaubier made the pass on lap 10. Beaubier would not give up the lead again and won the race by just over 2 seconds. The two spoke with the MotoAmerica media after the race,
Cameron Beaubier – Tytlers Cycle Racing – Race Winner
"Yesterday the race was a really good confidence boost for us because, let's be honest, Jake (Gagne) was setting the pace all weekend and also (Josh) Herrin was really fast on Saturday morning. So, I felt like going into the race we could do a couple of those laps, but I didn't think we could sustain them. The guys have not stopped working on the thing and we came up with a good race bike yesterday and they made it even better overnight for today. I was feeling really good. Herrin and I were going back and forth there at the beginning. I feel like we were honestly both kind of making a couple mistakes. I was running wide here and there and so was he. Once the race kind of settled down, I put my head down and I was really surprised how good my bike felt."
Beaubier continued
"It was a pretty amazing feeling. I was able to run Jake down, but he was really strong getting off the last corner onto the front straight. I was struggling…I was spinning out of there pretty good. But I knew I had some spots that I was better than him in. Same for him, he had some spots that he was better than me in. I was able to get the lead and just kind of kept my head down but kept a little in reserve just so I didn't throw it away like I did yesterday. I was honestly really surprised to see a little gap on my board. Feels great for the team."
"It's a bummer yesterday, falling down like that, but it feels really good to cap a weekend off like we did. Plain and simple, the Superbike class is just pretty gnarly this year. To have three different manufacturers on the box and all the incredible riders up in the top 10, it's tough but it's pretty fun."
Jake Gagne – Fresh n lean Progressive Yamaha – Second Place
"I got off to a clean start and kind of made that gap from him, but once Cam (Beaubier) made his way through yesterday, he just reeled me in. Same thing today. At one point, I had a second gap on my pit board, and then by the top of the chicane I could hear him right behind me. That's probably the lap he did a 39.6. At that point, I was struggling a little bit. I thought we kind of made the bike a little bit better today, but I was struggling a little more to even run the 40s that we ran yesterday."
"I knew Cam was going to make his way by at some point, and then once he made his way by, I tried to latch on a little bit but there was nothing I could do. At that point, I knew Josh (Herrin) was back there and I knew he was going to be strong until the end, so I just tried to do what I could to bring it home in second. Either way, I think we learned a lot. It's been a while since I've been able to race with these guys really for this full race distance and kind of see what the bikes are doing differently. All three of these bikes really have different strengths and different weaknesses. So, we got some good data. Know what we need to improve. I think we're still in the points lead, so that's always a good day."
Supersport
Xavi Fores (Warhorse HSBK Ducati) continued his dominance aboard his Ducati V2 to win his 7th race of the season. Fores has won every race in Supersport this season. Vision Wheel M4 ECSTAR Suzuki Teammates Tyler Scott and Teagg Hobbs finished second and third respectively.
Stefano Mesa (Tytlers Cycle Racing) was able to recover after a brutal crash out of race 1. Mesa finished 5th in Race 2 and also competed in the Super Hooligans class after his crash. He did not appear to sustain any inhibiting injuries.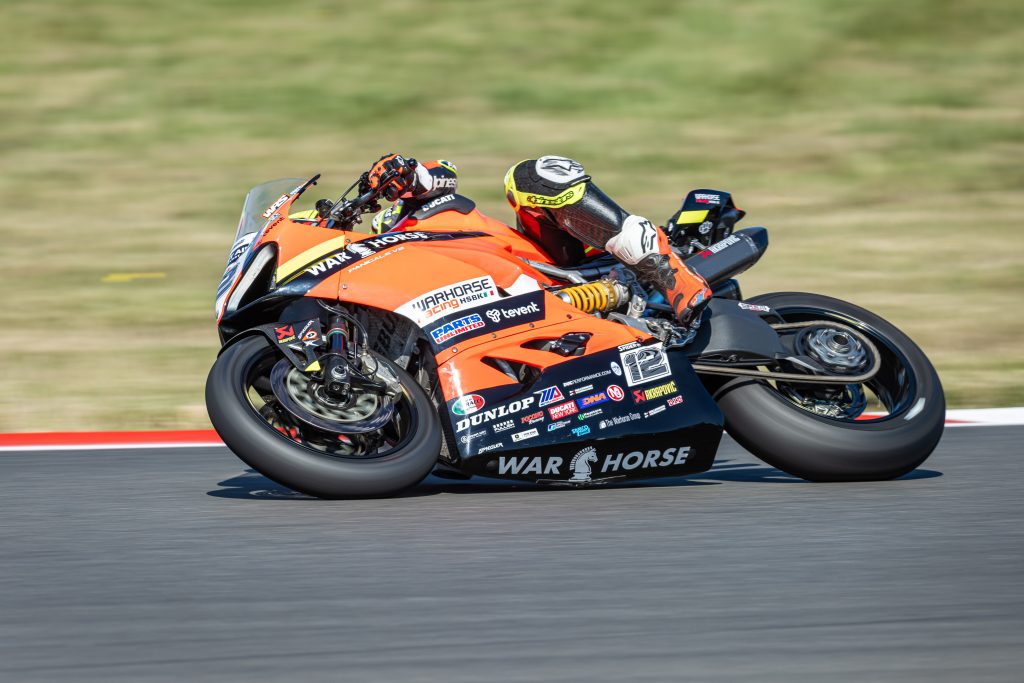 REV IT Twins Cup
Rocco Landers wins race 2 after having his win in race 1 stripped. Landers was given a 2 place penalty for passing a back-marker rider under a waving yellow on the final lap. Landers was not availabel for comments regarding the incident. Instead he let his work on the track do the talking about won race 2 in dominant fashion. Landers stated, "The bike was working amazing, Robem Engineering/Rodio Racing worked really hard to make the thing work as good as possible. I don't even think we made a change since qualifying one. The thing has just been on rails all weekend. I felt good. The thing felt like it was just doing whatever I wanted. The wind was a bit gnarly. Felt like it was kind of screwing with the front end, especially long corners. But on the track, we've been undefeated this season on paper though some would say different. But I see no reason why we can't continue this momentum into Laguna."
In second was last years champion Blake Davis and in third Landers' teammate Gus Rodio.
Royale Enfield BTR
Mikayla Moore continues to display dominance over the field winning both races this weekend by a large margin. The podium in both races included Moore, last year's champion Kayleigh Buyck and Sonia Lloyd. The wins this weekend push Moore's win count to 4 on the season as she remains perfect in the points.
Super Hooligans
From MotoAmerica: "After Sunday's race two of the Mission Super Hooligan National Championship, the Indian FTR1200 motorcycles of race winner Jeremy McWilliams and second-place finisher Tyler O'Hara were protested by another team. Upon inspection, the ends of the handlebars were found to be below the top plane of the triple clamp, which is a violation of the class's technical rules." The breach effectively saw Andy DiBrino to P1 in the race. He was followed by Team Saddlemen Harley-Davidson rider Cory West, and Roland Sands Design/Indian Motorcycle's Bobby Fong.