MotoAmerica: WeatherTech Raceway Laguna Seca Weekend Preview
The MotoAmerica Superbike Championship makes their second and final West coast stop of the year at a newly improved WeatherTech Raceway Laguna Seca. Laguna Seca recently finished a complete repaving. A select few MotoAmerica Superbike riders were invited to participate in a testing day. Overall despite earlier reports from other orgnaizations the feedback appeared to be positive. MotoAmerica Speedfest weekend will indeed move forward and we will have a full schedule of events for the weekend.
This weekend is a special occasion because it marks the first triple header for the Medallia Superbike championship. The rider will part take in 3 races totaling to 60 laps of racing action. In addition, the second Supersport endurance race of the season is set to take place on Saturday evening. The race is set for 38 laps and will require at minimum, one pit spot. The previous endurance race at Barber Motorsports Park was event filled with multiple track incidents, adverse weather and record pit stop times. You can find the full event schedule below.
Laguna Seca Facts
Laguna Seca was established in 1957 and has since hosted a number of prestigious races and events. The name "Laguna Seca" translates to "dry lake" in Spanish, referencing the track's location in a natural dry lakebed. The circuit is 2.238 miles (3.602 kilometers) long and features 11 turns. It is known for its challenging and iconic corners, such as the Corkscrew, a blind left-right combination that drops sharply downhill. The most famous section of the track, the Corkscrew, is an extremely challenging sequence of turns that requires precise vehicle control. It involves a steep downhill drop with an abrupt left-right chicane. The Corkscrew has become an iconic feature of Laguna Seca and is recognized all around the world.
The MotoAmerica broadcast schedule is below.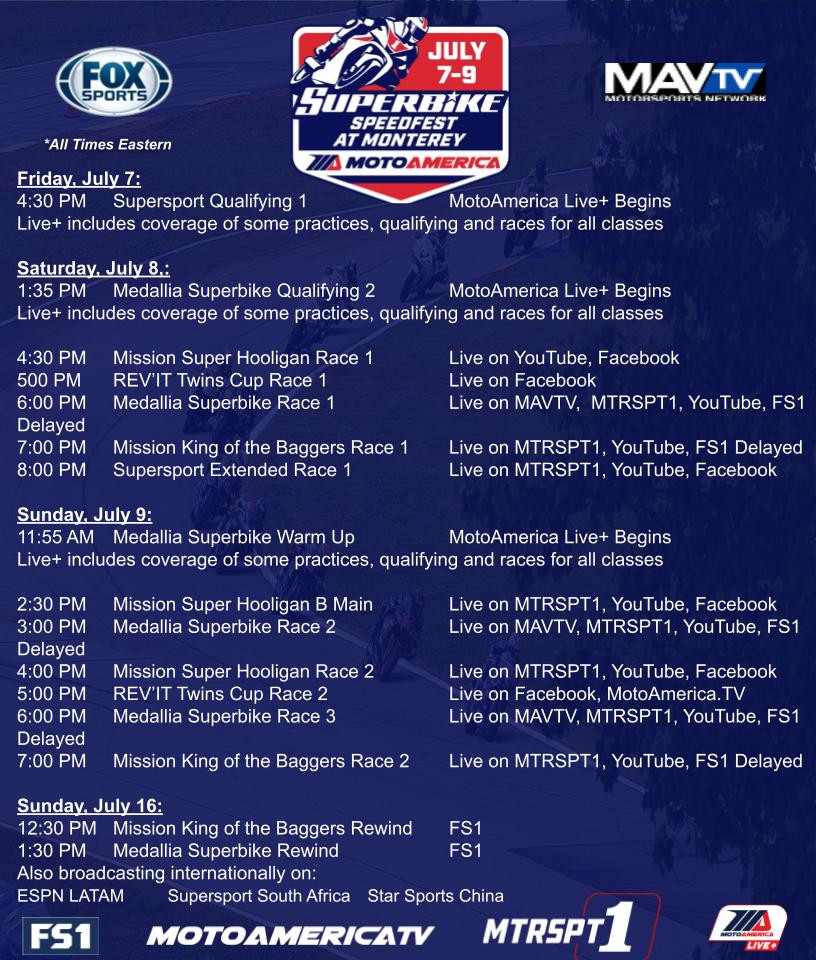 Check out MotoAmerica Live+ for streaming options.