MotoAmerica: WeatherTech Raceway Laguna Seca Race Day 1 Recap
Day 1 of racing at MotoAmerica WeatherTech Raceway Laguna Seca Speedfest has finished. The Medallia Superbike Race 1 was filled with plenty of on track events. The most impactful being a crash involving Cameron Beaubier (Tytlers Cycle Racing) and Cameron Petersen (Fresh N Lean Progressive Yamaha). The two had an incident in turn 2 on the starting lap of race 1 that forced both to retire. Unfortunately Beaubier was not able to capitalize on his pole position in race 1. Due to this weekend being a triple header Beaubier will have two more opportunities this afternoon to secure championship points. During the race Gagne wasn't really challenged and took off on the pack and was never really challenged for the reduced 19 lap race.
Gagne Speaks to the Media
Race winner Jake Gagne stated the following to the MotoAmerica media. "I had a feeling that it would be some carnage in today's race, just because especially when Cam (Petersen) went down in the beginning I was shocked. Then both Cams (Petersen and Beaubier) are tumbling on the road. I kind of swerved, and I was just hoping nobody got… The worst thing to see is somebody sliding down the road in front of you. Obviously, I wasn't surprised to get a red flag. I want to win races. I want to get points in the championship, but it sucks doing it like that. With Beaubier going out like that and Cam P., my teammate. So, I hope those guys are all right. Then after the restart."
"I just knew the wind is really chilly today. I knew from sitting on the grid before that crash even happened that the first couple laps, we had to be patient on those tires to get the heat in them. So, I was surprised, but I wasn't surprised to see some of that carnage right in the beginning. We're going to have to be patient on those tires with the cool breeze and sitting on the grid. So, I just tried to do that and build heat in these Dunlops. It seems like they get a little bit better after a couple laps. Just being patient. I was keeping an eye on my pit board. I knew Josh (Herrin) was behind me in the beginning. I could hear that Ducati roaring. I was just trying to be smooth."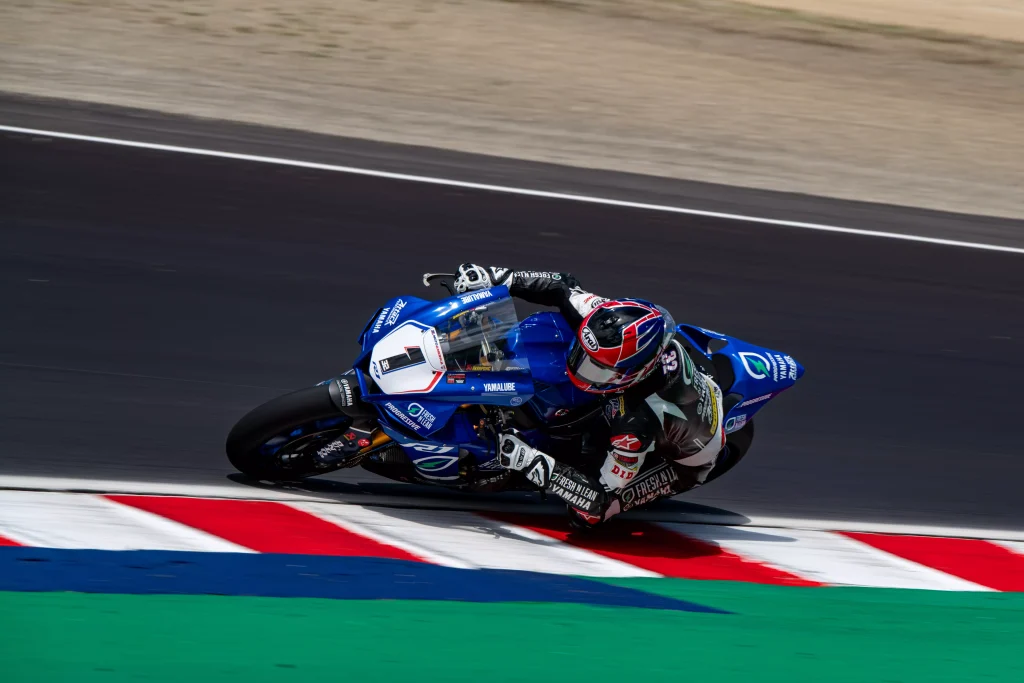 Gagne Continued
"I think the big thing was trying to be easy on that front tire, because we've all been struggling with tearing a little bit on the front tire. It's getting better throughout the weekend, but I tried to focus on just using different parts of the tire and I was happy with how that came in and happy with the team for helping me out and showing me what I need to do better, especially yesterday to today. So, good day and I'm looking forward to a good battle with those guys. Hopefully we can all keep it upright tomorrow and put in some good two races and put on a show for everyone."
Mathew Scholtz (Westby Racing) and Danilo Lewis (Team Brazil) also DNF'd in the race. Due to the DNFs/DNS Josh Herrin (Warhorse HSBK Racing Ducati) moved up the order and was able to hold onto P2. Herrin has been riding injured all weekend and was visibly please with the result despite not being 100% in good health for the race. Herrin is nursing a broken ankle he suffered at The Ridge Motorsports Park.
Superbike has 2 more races today totaling to 50 points and 40 laps of action. The triple header will make or break the championship race for the top three so scoring maximum points is imperative.
Supersport
The second extended endurance Supersport race of the 2023 MotoAmerica Season took place yesterday. Xavi Fores (Warhorse HSBK Racing Ducati) made history after winning 8 straight races in the Supersport category. However, this weekends win did not come without doubt. Fores was involved in two crashes this weekend. One occurring in pretesting and the other in qualifying dropping Fores down to P8 in Qualifying 2. Come race time it didn't take long for Fores to get to work. By the pit stop window he had regained control of the race and from then on he wasn't challenged. Fores ahd the following comments for the MotoAmerica media.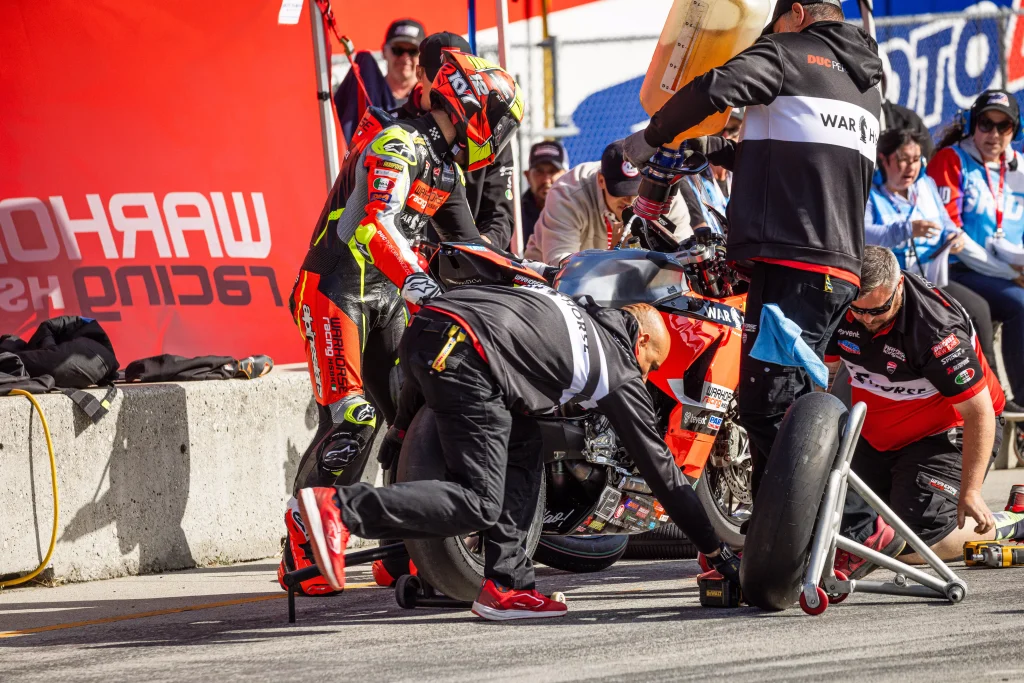 "I was not 100% convinced about this race, especially after the crash we had this morning because I had some pain in my neck and I was a little bit not 100% concentrated. I was a little bit confused because the bike was not working 100% well. The front tire consumption all the weekend was horrendous, especially on the left side. Honestly, the first part of the race I had a good fight with Josh, but then on the last four laps before to come in, I lost the front two or three times in turn nine and turn five. I nearly crashed and then I had to run off."
Fores Continued Regarding Josh Hayes Pace
"Honestly, Josh was much faster than me this weekend, more solid and especially in the right corners. He was always pulling meters away from me. When I catch him on the first part of the race, I was like, I have no more. I was taking some risks. So fair play to him, his team. It was a shame to don't arrive to the end of the race fighting me and him because it would be great to have a good battle with him until the last lap."
Fores mainly benefitted from then leader Josh Hayes having a terrible pit stop that cost him the lead and ultimately race win. The crew had an issue with the front wheel. Fores ended up winning the race by nearly 13 seconds.
REV IT Twins Cup
Rodio Racing – Powered By Robem Engineering riders Rocco landers and Gus Rodio dominated the race. the two pulled away from the pack in the first 3 laps and it was like that for the entire race. Landers secured the win by 4.1 seconds ahead of his teammate. Third place finished Blake Davis (N2 Racing/BobbleHeadMoto) made a late mistake on the second to last lap that cost him P3. Dominic Doyle (Team Iso) was positioned to take advantage and was able to pass him finishing ahead by 0.9 seconds. Race two is set for mid afternoon. Landers' win gave him the championship lead by one point over Davis, 141-140.
Mission King of the Baggers
Hayden Gillim (Vance & Hines/Mission/Harley-Davidson) secured the win after a late incident saw race leaders Tyler O'Hara (Indian Motorcycle/Progressive/Mission Foods) and Kyle Wyman (H-D Screamin' Eagle) both lost the front end of their bikes exiting the corkscrew toward turn 9. The two made the same mistake almost simultaneously which allowed for Gillim to capitalize and take the lead with no time left for Wyman and O'Hara to recover. Wyman finished P9 with O'Hara salvaging fourth.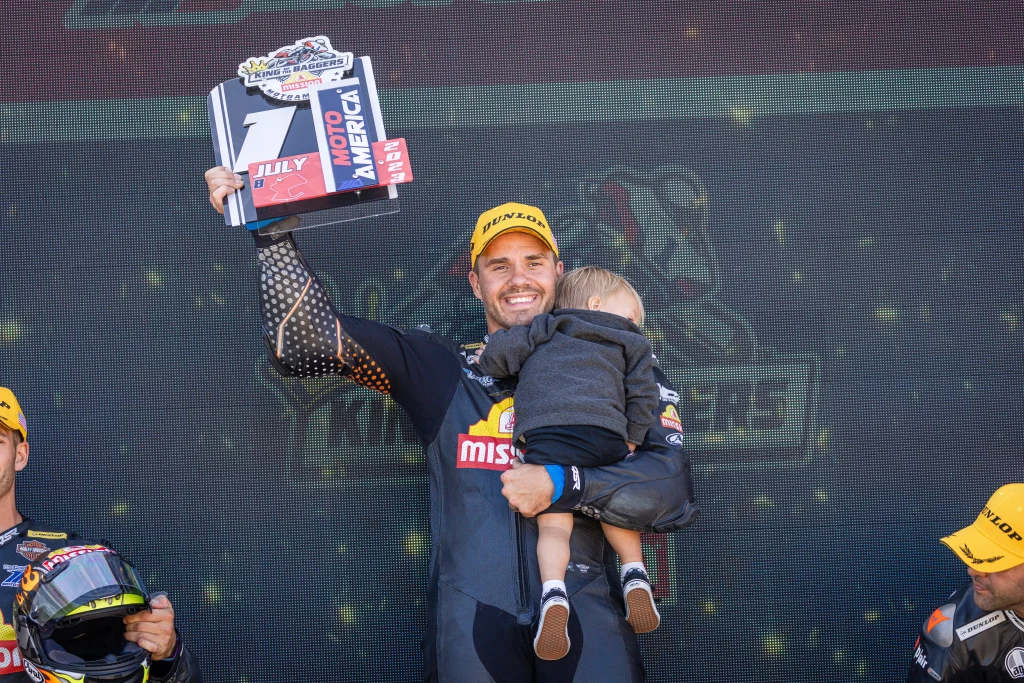 Gillim had the following words for the media, "It sucked to see. I kind of figured one would go down. The way those two guys go at it; I knew it was going to get a little dicey. I had kind of given up when I had come across the stripe going onto the last lap because I was kind of starting to move around a little bit more and they were going fast. They had picked up the pace once Kyle (Wyman) got in front. So, I had kind of called the dog off and then they started going at it and I was like, 'all right. I need to kind of keep going because in case something does happen, if they run wide or something, I need to be there to capitalize.'"
Gillim was in the Right Place at the Right Time
"I got lucky and brought it home. First bagger win. I've done three championships of it, so this is my first win. It's awesome. I'm happy to be up on top. I need to fix my starts, though. I think I was eighth going into turn one, starting from fourth. So, I was a little nervous the first couple laps, for sure. The Vance & Hines guys have put a great bike underneath me. We're going to keep making steady progress, like James said, and hopefully actually be able to get up there and be a part of that fight tomorrow."
Super Hooligans
After being disqualified in the last Super Hooligan Race at the Ridge Motorsports Park Jeremy McWilliams came back in pure form with a win in race 1 this weekend. McWilliams edged out Andy DiBrino by 0.071 seconds at the finish line. Cory West rounded out the top 3. The riders will race again this afternoon for race 2.
For video coverage check out MotoAmerica Plus Live.