Red Bull 1-2 at the Belgian Grand Prix
Red Bull Racing has won every race in the 2023 season. Max Verstappen made it 8 wins in a row and 10 overall in his 2023 campaign which has all but sealed his path to the drivers championship. Verstappen started from P6 due to a 5 place grid penalty after securing pole position. The penalty proved to be futile and Verstappen did what he does best; win.
Verstappen was elated with the vistory stating, ""I knew that we had a great car, it was just all about surviving Turn 1," said Verstappen. "I could see it was all getting pretty tight. I've been in that position before myself, so I was just like, 'I'm going to stay out of that', so it worked out. I think we all made the right overtakes, moves, I just got a little bit stuck in the beginning in a DRS train. Once that [was] clear I could do my own pace. Again, really enjoyable!"
Teammate Sergio Perez bounced back after a disappointing last 5 races. Perez had struggled with making into Q3 in the last few races. However, he would not be denied at the Belgian Grand Prix. Perez crashed out of the Sprint Race and thus tensions in the garage were high. However, the best response is to bounce back and he helped deliver Red Bull near maximum points on the weekend. Verstappen sits 125 points ahead of his teammate Sergio Perez in the drivers championship. Red Bull sits 256 points ahead of Mercedes.
Perez Praised his Teammate's Success
Perez stated the following to F1.com after the race, "There's nothing to be taken away from Max, certainly. He did a tremendous a race, and he's done a tremendous season…the gap looked bigger today, because we had to make sure we brought it home once the result was settled. But certainly he's done a tremendous job, he's very talented, around his team they're getting the maximum out of the weekends, weekend after weekend, which is really impressive."
Lewis Hamilton (Mercedes) snatched away the fastest lap from the Red Bulls to accompany his P4 finish in the race. Charles Leclerc also returned to form claiming his 3rd podium of the year for Ferrari.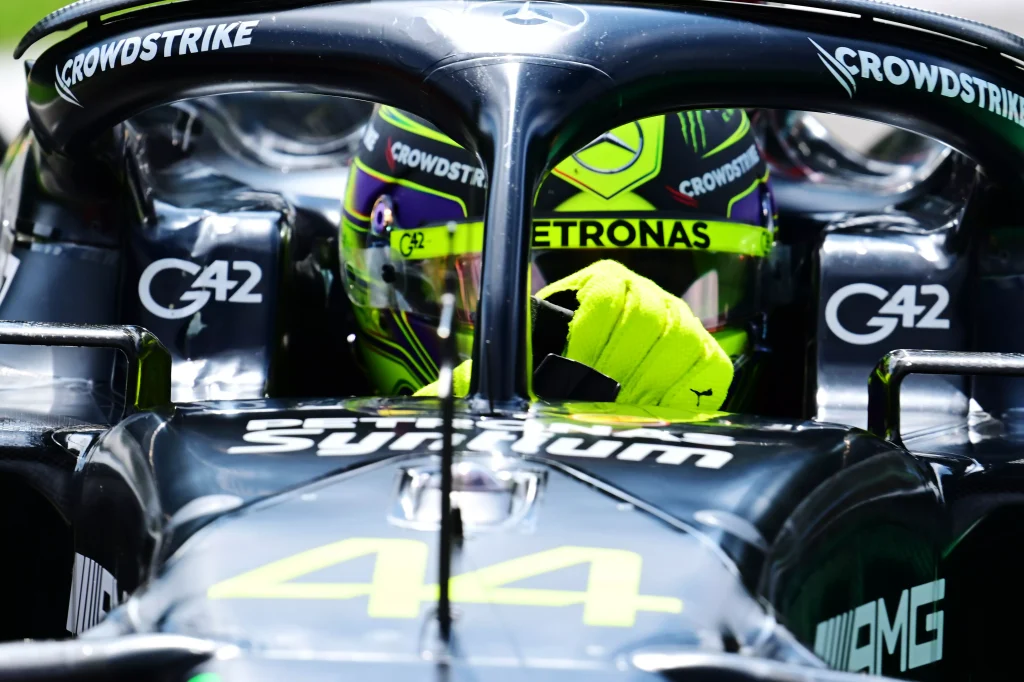 Elsewhere on the Grid
Aston Martin secured yet another double points finish in their quest to overtake Mercedes again in the constructors championship. At McLaren Lando Norris had a very disappointing race that eliminated his chances at three podiums in a row. McLaren teammate Oscar Piastri made contact with the wall into turn 1 on lap 1 after Carlos Sainz (Ferrari) closed the door on Piastri leaving Piastri no where to go which resulted in the contact. No action was taken by the stewards and both cars were forced into retirement. Sainz stated the following, "I was on the attack with Lewis and I think I pretty much had the move done into Turn 1, made the apex cleanly and everything, but unfortunately I think Oscar was trying to do a bit of an optimistic move on me."
Intermittent light rain triggered a variety of tire strategies across the grid. Some opting for longer stints than others. The majority pitted for intermediates as the rain picked up in intensity and then quickly went away triggering a frenzy int he pit lane to get the cars back on slicks. Due to the number of pit stops the margins between cars started to increase. Surprisingly there we no other major on track incidents for the remainder of the race and the Red Bulls sailed away to take the win.