Could Brandon Semenuk Compete In European Rallies?
Brandon Semenuk is now a 2 time ARA champion. Winning the championship this past weekend at the Ojibwe Forests Rally. Should Semenuk consider competing in some WRC events?
The Facts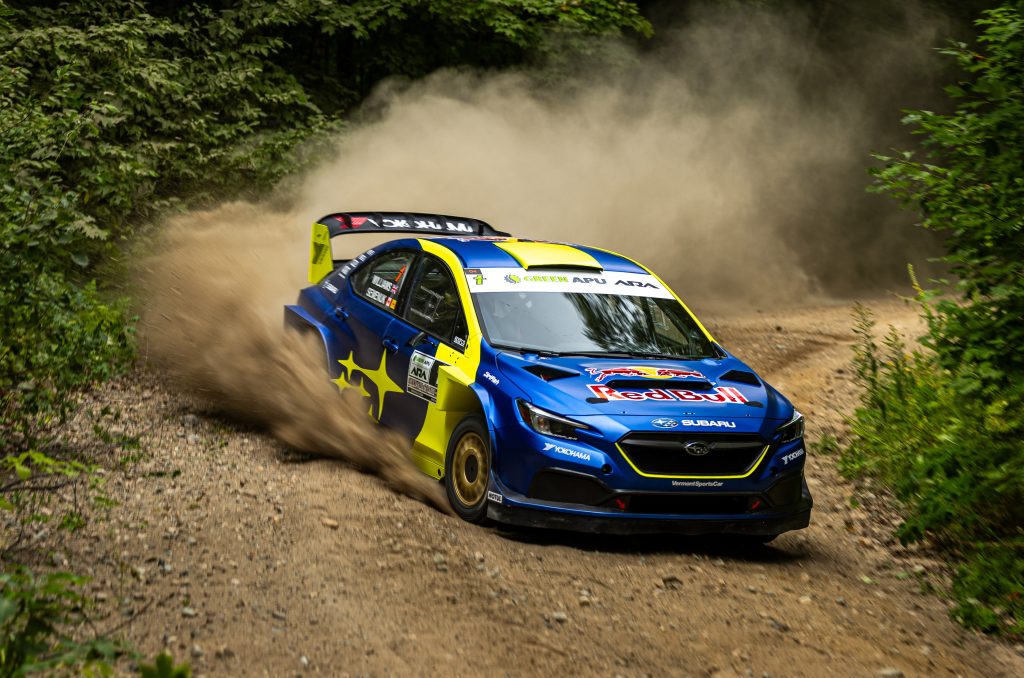 Brandon Semenuk is the newest multi-time American Rally Champion. Following in the footsteps of legends like Travis Pastrana and David Higgins. On the way to winning the 2023 Green APU American Rally Association Championship Semenuk won all but 9 stages so far this season. Only losing those stages to 2020 champion Barry McKenna at the Rally In The 100 Acre Wood. That was also the last time Semenuk had any real competition. As Semenuk has finished every rally at least 3 minutes ahead of his competition. Patrick Gruszka's Hyundai i20 R5 or Tom Williams Ford Fiesta R5 aren't on the same level as Semenuk's Subaru WRX STI.
An Ongoing Want From Fans
This conversation about seeing Semenuk compete in the WRC or ERC has been going on since last season. Last season Semenuk won his first championship. Beating the late Ken Block in the final round after Ken crashed and retired. Semenuk and Block went neck to neck all season long, Semenuk led most of the season but Block was hot on his tail. Semenuk stepped up for 2021 ARA Champion Travis Pastrana when Pastrana wasn't on pace with Block.
Why He Could Give It A Chance 
Semenuk is an extremely talented driver. When he competed in a Subaru Rally Team USA young driver event in 2018. Semenuk was on the dot consistently and shocked the Subaru engineers and team at the event. Semenuk was no stranger to Rally at that point, however. With the Canadian competing in both the CRC in a Subaru Crosstrek and the ARA in a Ford Fiesta R5. Claiming multiple rally wins in the Canadian Championship. Semenuk could prove to be a strong competitor in the WRC2 championship. Although he has limited experience in the WRC2 cars, they would also be a step down from his Open Class Subaru he currently drives. It would be a bit of a learning curve for Semenuk that may or may not be worth it in the long run.
Why He May Not
The biggest reason why Semenuk may not compete in European rallies is due to his already packed schedule. Semenuk competes as both a Rally driver and a Mountain Biker. Something he already juggles in North America and is tight at times. Add in the extra time needed to compete in a WRC or ERC event and it would likely be difficult. Semenuk also isn't a young guy. Being 32 years old and 33 in February he's a bit of a disadvantage. Although it's not unheard of for a driver to make thier debut after the age of 30. As Kajetan Kajetanowicz has done it before, and done well since then. There is a difference between Kajetanowicz and Semenuk however. Kajetanowicz was already competing in R5 cars and in Europe. Semenuk has spent limited time in a R5 car and hasn't competed in Europe. 
Another Option
There isn't a complete loss for those hoping to see Semenuk compete in the WRC2 class. As Semenuk could compete in the class when the championship comes to the Americas. This would be optimal for Semenuk as it's closer to home and wouldn't require long travel. Subaru Rally Team USA drivers are also no strangers to competing in the WRC when it comes to the Americas. With both Ken Block and Travis Pastrana competing in Mexico with the team.
The Verdict
Brandon Semenuk will likely drive a handful of rallies in Europe at some point in his career. When that happens is the question that will have to wait to be answered. As timing is the biggest factor. Everything has to make sense for Semenuk to do it, especially for a round in Europe.