Formula DRIFT Utah Qualifying Results
The Formula DRIFT Utah round is underway. Both the PRO and PROSPEC classes will compete this weekend at Utah Motorsports Campus. Qualifying sessions are complete and here are the details.
Event Details
Date: Thursday, September 14, 2023
Location: Utah Motorsports Campus, Grantsville, UT
Event: Formula DRIFT PRO Championship Round 7: Type S Elevated presented by AutoZone, and Link ECU PROSPEC Championship Round 4
Results From FD PRO Qualifying
1.   James Deane (Ireland) – AutoZone Ford Mustang RTR Spec 5-FD
2.   Simen Olsen (Norway) – Feal Suspension Nissan S14.9
3.   Chelsea DeNofa (USA) – Pennzoil / BC Racing Ford Mustang RTR Spec 5-FD
This years Utah course saw some changes compared to last year's setup. The most notable change is the removal of the inside Clip in turn 1 and replacing it with a longer Outside Zone in turn 2. The change allows for better flow through out the course. PRO championship lead took early advantage but was had to settle for P3 in qualifying. Fortunately this is still a very good position to be in with the championship lead at stake. James Deane stole the show for the PRO class running a best 91.6 score. Three time champion Deane is still looking for his first win of the season after some feel was robbed in Seattle.
33 drivers qualified for the Top 32 competition places. This meant if everyone had a clean run one driver would be eliminated. Unfortunately, Ola Jaeger (Norway) had the lowest score after KQF and accepted an early exit from the competition.
Results From FD PROSPEC Qualifying
1.   Rudy Hansen (USA) – Track Tires / Mast Motor / J&A Racing Oil Nissan 240SX S13
2.   Geoff Donati (USA) – Freedom Builders / Tuner Tools-powered E46 BMW
3.   Joshua Love (USA) ­– Josh Loves Drifting / After Hours Autosports E46 BMW
Hansen secured the top spot with a score of 85.6. The run wasn't the best but in class many drivers struggled to maintain car angle and struggled in the transition periods of their runs. PROSPEC Championship leader Hobson had his worst qualifying session of the year. He finished ninth overall with a 76.3 point run. He has a comfortable 65 point cushion to second place but can't sustain an early exit here and the next round because his championship lead will dwindle. 37 drivers battled for the 32 PROSPEC competition places. The bottom 13 qualifiers had to run a second time under knockout qualifying rules. The eliminated drivers included Zandara Kennedy (Canada), Chris Leonard (USA), Alex Lichliter (USA), Erick Medici (Brazil) and Connor O'Sullivan (USA).
Full PRO Formula DRIFT Utah Qualifying Bracket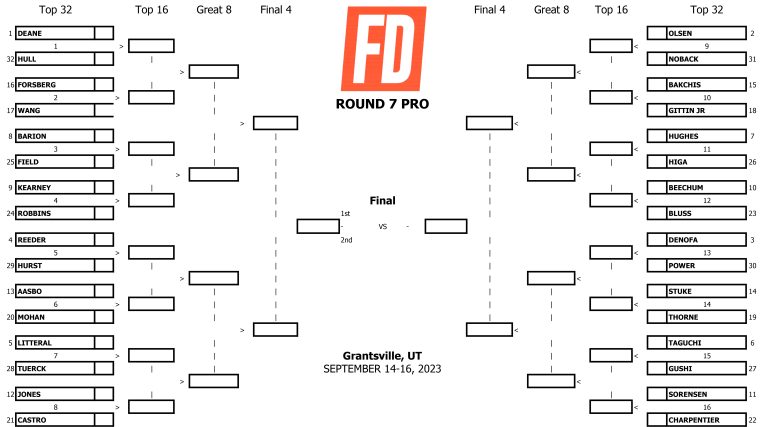 Full PROSPEC Formula DRIFT Utah Qualifying Bracket