Colin McRae passed away 16 years ago today. Let's take a moment to honour one of the most legendary WRC drivers.
Who Is Colin McRae?
Colin McRae may not be the most famous for championship or rally wins, and that's not how he won the hearts of fans. McRae was known for his press on regardless attitude to rally. It didn't matter how many times he rolled or crashed his car, if it still ran he still drove it as fast as possible. McRae was born on August 5th, 1968 in the UK. McRae would pass away in a helicopter accident just after his 39th birthday, on September 15th, 2007. Let's take a journey and remember the flying Scotsman.
When In Doubt Go Flat Out
Colin McRae is probably best known for his motto, when in doubt go flat out. It's still used by some to this day, even if they don't follow rally or know who McRae is. McRae used this motto and subsequent driving style to win over the hearts of fans. With McRae first taking the hearts of rally fans everywhere at the 1992 running of Rally Finland. McRae would roll his car numerous times, by the end of the event the car looked like a stomped-on tin can. That didn't stop McRae from finishing 8th at the event. From this point forward McRae was known and loved by many for his driving style.
An Iconic Pairing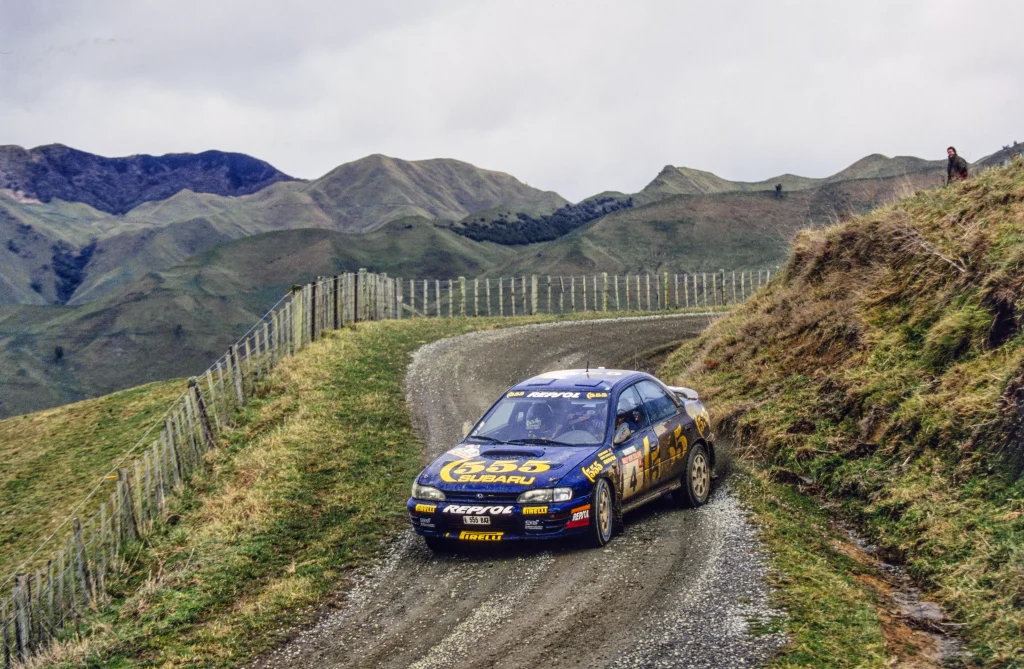 In 1991 Colin McRae was given the keys to a Subaru Legacy RS for his home event in the UK. McRae went on to retire from the event but had earned more drives with Subaru in 1992. McRae took home his first of many WRC podiums at Rally Sweden in 1992. The 1992 season also saw McRae race more than one WRC event for the first time in his career. Racing 6 out of the calendar's 14 events to finish 8th in the championship. The 1993 once again saw McRae expand his calendar to include more WRC events. This time racing in 8 of the 13 rounds in the championship. Taking home 2 podiums and his first WRC win at Rally New Zealand of that year, finishing the season 5th in the championship.
The 1994 season saw McRae attend the same number of events, however, there were only 8 rounds on the calendar. McRae podiumed twice in 1994, once again winning Rally New Zealand and taking his first win at his home event in Great Britain. McRae ended the 1994 season 4th in the championship. The 1995 season saw McRae compete in all 8 WRC events on the calendar. Taking home 4 podiums, a 3rd in Sweden, and wins in Greece, Italy and Spain. McRae did all of this on the way to winning his first and only WRC championship. After 1995 McRae finished 2nd in the championship in both 1996 and 1997, 3rd in 1998 before leaving Subaru at the end of the 1998 season to join Ford.
The Rest Of McRae's Career
In 1999 McRae joined Ford and also had probably his worst WRC season ever. As McRae retired or was disqualified from 11 of the 14 events on the calendar. Somehow managing to finish 6th in the championship however. The 2000 season went slightly better for McRae, as he only retired from 7 of the 14 events. McRae did take home podiums on every event he didn't retire from besides one. All on the way to McRae finishing 4th in the championship. The 2001 season saw McRae back in the championship top three, finishing second. The 2002 season was McRae's final season with Ford. McRae finished fourth in the championship, and took home his final WRC win at Safari Rally Kenya that year. The years following McRae's departure from M-Sport he swapped between Citroen and Sköda. Finishing 7th in 2003 with Citroen, 22nd in 2005 with Sköda.
Inspiring Others
Colin McRae's legacy lives on not only through memories but other drivers who he has inspired. With names such as Travis Pastrana and the late Ken Block, both of which honoured McRae at the Colin McRae tribute stages after his passing. Colin's dedication and approach to rally and motorsports, in general, has inspired and led to the inspiration of many before and after his passing. The name Colin McRae will likely be one that is never forgotten, or at least forgotten anytime soon.