Verstappen Makes it Three in a Row at the US Grand Prix
Mac Verstappen once again showed that a P6 start was not a barrier that would prevent him from winning again. Verstappen won the US Grand Prix today for the third time in a row over the last few years. The feat also came in record setting fashion for Verstappen Oracle Red Bull Racing. The win marked Verstappen's 50th win in Formula 1.
Verstappen had the following words after the race, "It feels incredible to win my 50th Grand Prix here in Austin, I'm very proud of course but I want to keep pushing for more. Starting in P6 today was interesting, I worked my way slowly through to the front. We didn't have a massive pace advantage today and I was struggling with my brakes. I didn't have the same feeling in the car as I did yesterday so that made the race much tougher than anticipated. You could see it was very close at the end and there too. We had to rely on the strategy today and the Team did a great job with that."
Hamilton Charged but Fell Short
Lewis Hamilton (Mercedes) didn't make it easy on Verstappen today at Circuit of the Americas. Early in the race it was a tight between Hamilton, Verstappen, Charles Leclerc and Lando Norris (McLaren). Norris led the race for a few laps early on but after tires started to wear the pace of the McLaren fell off substantially triggering a chain of pit stops. Verstappen was first in to box on lap 17 triggering a flip flop at the top of the grid. Hamilton continued his stent for 3 more laps but saw also started to see a massive drop off in pace and had to pit before he could build up any lasting track position advantage. Hamilton made a late challenge for the lead but Verstappen held his ground and was able to fire up his tires in the closing laps to pull away once again and claim the victory.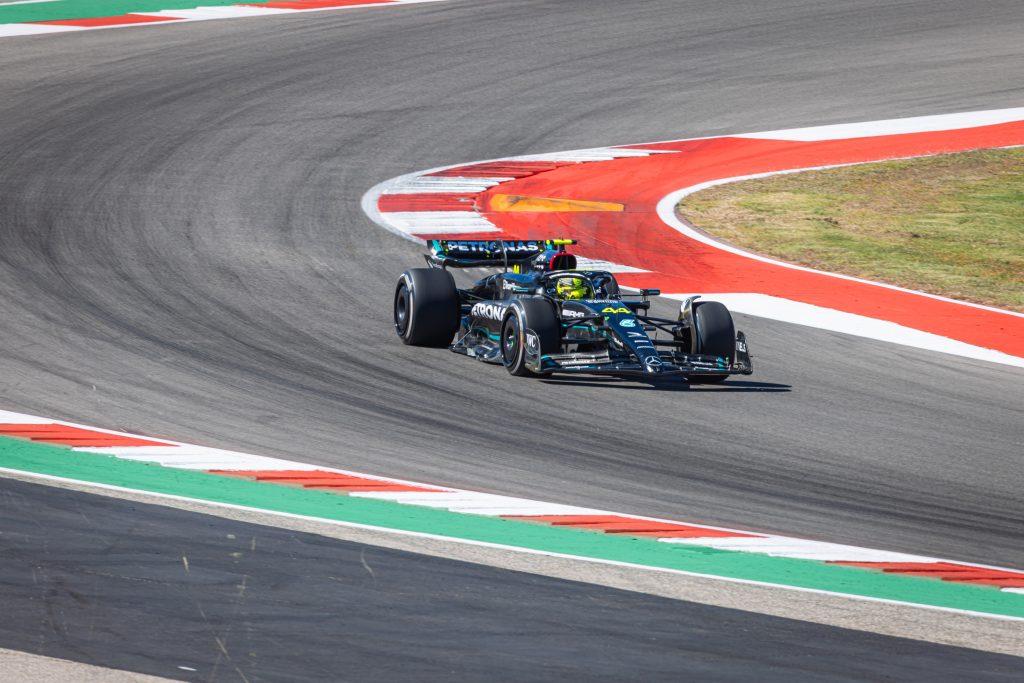 Leclerc Not Able to Capitalize on Pole Position
Charles Leclerc was not able to convert his pole position into anything of note. Leclerc finished the race in P6 essentially swapping places with Max Verstappen. Leclerc had the following words about his performance after the race, "It's fair to say that we didn't go with the right strategy today. On paper, our numbers said that the one and two-stop strategies were very similar, but in reality, this was not the case. I felt good in the car all weekend and our race pace wasn't bad, so it's a shame that we didn't bring home a better result. We have to use the rest of this season to learn as much as possible and make sure we extract the maximum out of every opportunity in the future."
**After the race Hamilton and Leclerc were disqualified for a technical breach. Read more here: Hamilton and Norris Disqualified
Behind the Front Runners
Fernando Alonso, Oscar Piastri, and Esteban Ocon all DNF'd during the race with different technical issues preventing them all from continuing. Daniel Ricciardo in his return to Alpha Tauri had a less than stellar return to the grid finishing P15. Ricciardo never really found the pace to be competitive for a points finish. Ricciardo said, "Texas hasn't been too kind. At the start, we were doing well with our plan, but the problem was once the cars with blue flags came up behind us, we lost too much. We seemed to struggle in traffic and then picked up some damage later on, so after that, we lacked pace.
On the medium compound, we were doing the same lap times as Yuki, but because I was on a one-stop, there was a bit more tire management going on for me. Physically, I feel better today than yesterday, so the Sprint race was a good warmup for the Grand Prix. I got more race mileage, and there's a lot to learn from this race, so now it's full attack for Mexico."
Logan Sargeant Secures His First Formula 1 Point Finish
Logan Sargeant left the US Grand Prix feeling accomplished. Sargeant scored his first points in F1 in front of his home American crowd. The ecstatic Sargeant said, "It's amazing to score my first point in F1 on home turf after the challenging weekend I've had. I'm so proud of this team and myself for the hard work and progress we've been making this season. We worked hard overnight to find a direction with the car that was going to be positive, and we found that. We couldn't change a lot as the car was under Parc Fermé, but we worked on the systems side using the tools on my steering wheel to help move the car in the right direction.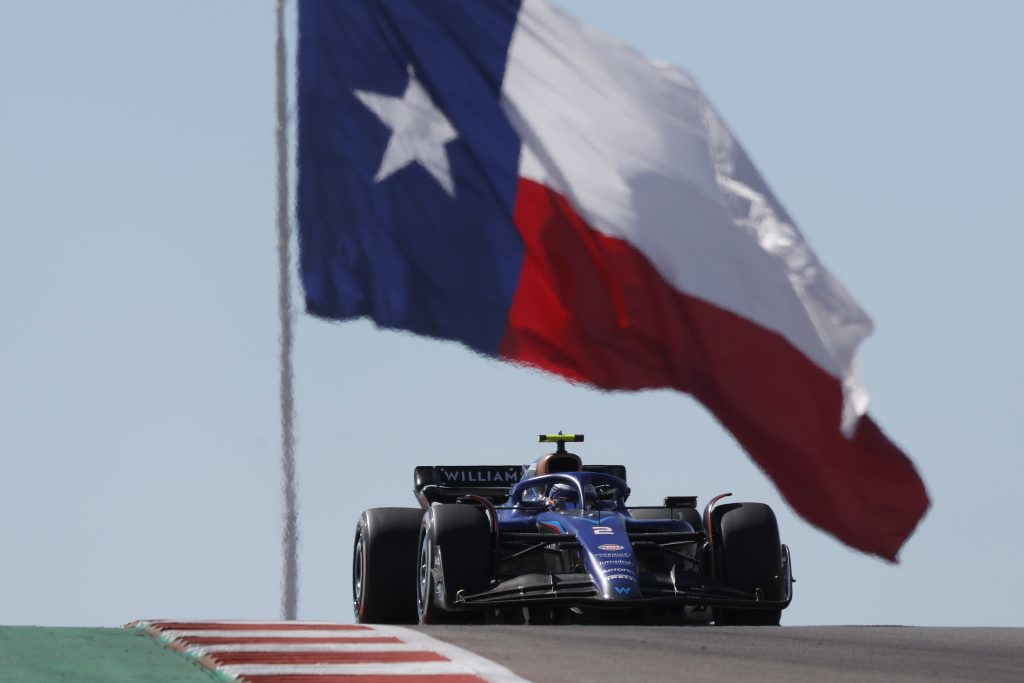 The pace was so much better today, and I was driving really well. I had a great start but was unfortunate to catch the sausage curb in Turn 1 and went into anti-stall which cost me a couple of positions. That changed the race a little bit, but we fought back, and I gave it my all every lap. We made steps in the right direction that we can build on and move forward as we head to Mexico."
The next race is the Mexico Grand Prix set to take place next weekend at Autódromo Hermanos Rodríguez.
Updated Race Results After the Disqualifications
(The following race results have been adjusted to reflect the race disqualifications handed to Lewis Hamilton and Charles Leclerc)
| | | | |
| --- | --- | --- | --- |
| Position | Driver | Team | Time |
| 1 | Max Verstappen | Oracle Red Bull Racing | 56 Laps |
| 2 | Lando Norris | McLaren F1 Team | + 10.730s |
| 3 | Carlos Sainz | Scuderia Ferrari | + 15.134s |
| 4 | Sergio Perez | Oracle Red Bull Racing | + 18.460s |
| 5 | George Russell | Mercedes AMG Petronas F1 Team | + 24.999s |
| 6 | Pierre Gasly | BWT Alpine F1 Team | + 47.996s |
| 7 | Lance Stroll | Aston Martin Aramco Cognizant Formula One Team | + 48.696s |
| 8 | Yuki Tsunoda | Scuderia AlphaTauri | + 74.385s |
| 9 | Alex Albon | Williams Racing | + 86.714s |
| 10 | Logan Sargeant | Williams Racing | + 87.998s |
| 11 | Nico Hulkenberg | MoneyGram Haas F1 Team | + 89.904s |
| 12 | Valtteri Bottas | Alfa Romeo F1 Team Stake | + 98.601s |
| 13 | Zhou Guanyu | Alfa Romeo F1 Team Stake | + 1 Lap |
| 14 | Kevin Magnussen | MoneyGram Haas F1 Team | + 1 Lap |
| 15 | Daniel Ricciardo | Scuderia AlphaTauri | + 1 Lap |
| | Fernando Alonso | Aston Martin Aramco Cognizant Formula One Team | DNF |
| | Oscar Piastri | McLaren F1 Team | DNF |
| | Esteban Ocon | BWT Alpine F1 Team | DNF |
| | Lewis Hamilton | Mercedes AMG Petronas F1 Team | DSQ |
| | Charles Leclerc | Scuderia Ferrari | DSQ |