Hat Trick Magic for Alvaro Bautista in Season Finale
Alvaro Bautista finished the season with perfection winning all three races at the Prometeon Spanish Round this weekend at Circuito de Jerez – Angel Nieto. Bautista had the championship wrapped up in Race 1. You can read more about race 1 here: Bautista Reigns Supreme in Gold. In the Superpole Race and Race 2, Bautista tripled down on his weekend success.
Bautista had the following words after the race weekend, "I think it's been a practically perfect season as well as this last weekend. We have won all the titles and I am very happy for the team. For me it was an even bigger emotion. To win in front of so many fans and my family, was great. In Race 2 I had a lot of fun, the duel with Toprak was fantastic: we fought in every corner but always in a fair way. I think everyone who saw the race got emotional. Now it's time to celebrate even though from tomorrow we will start thinking about testing on Tuesday and Wednesday and the MotoGP Wild Card in Malaysia. The season is not over yet".
Toprak Razgatlioglu and Jonathan Rea Say Farewell
With new seats secured for the 2024 Razgatlioglu is headed to BMW for the 2024 season marking an end to his journey with Yamaha. While Razgatlioglu didn't win the championship he was a strong contender all year finishing on the podium multiple times this season. The 27-year-old has logged 131 race starts with Yamaha in WorldSBK since 2020. In this time he has achieved 100 podiums, 37 wins and 12 pole positions for the Yamaha side.  Yamaha released the following farewell video:
Razgatlioglu Had the Following Words
"I passed the checkered flag in P1, this is good for me! I touched the green, track limits – but I am not understanding any penalty, I don't see – just I feel my rear wheel sliding." Razgatlioglu was penalized for exceeding track limits taking away his win. "I am not taking an advantage, but rules are rules. It is not easy to say anything more – I feel like I am winning, but Phil say I am P2 when I come into pit lane.
My last race with Yamaha, I just try to do a good position – especially P1! I try for good memories for my last race and to win with Yamaha. I am a little bit sad, but I gave it more than 100% like Portimao but I need some luck – and last races I have not had much luck. In general, I am happy – a nice battle with Alvaro but just the last corner."
Razgatlioglu Reflected on the Last 4 Years
"After four years, thanks to my team – incredible job and I am feeling Yamaha like a family. I still have respect for Yamaha – we have very nice memories, many wins – we are World Champion in 2021 – and this is also my first World Championship so Yamaha is very important for me. All the team, all the guys are incredible. I am really enjoying four years with this team – especially last two years.
It was the first time for me in 2020 working with a factory team, 2021 after we are champions I am feeling more and more warm working with the team. Everybody tries their best, this weekend all Yamaha here and everybody coming to see me for the last race. I am very happy for this – and I am sad because it is the last race and next year we are not together, but maybe in the future we are again.
Jonathan Rea to Yamaha
As we've previously reported, Jonathan Rea will make the move to Yamaha next year. Rea had a very poor result in his final race with the team finishing P17. While the performance was under whelming it did not overshadow the success he has had with the program over his tenure.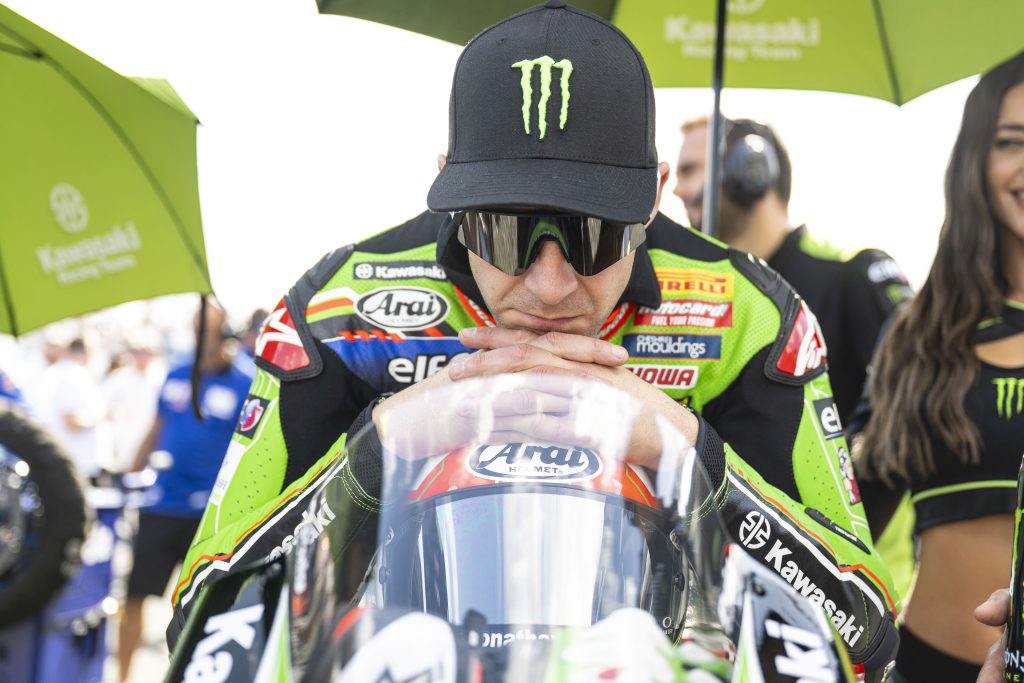 He had the following words, "Strange feelings overall to be honest, not from a performance or results side but because I'm leaving an incredible team. My last day in green and that's what is strange. Obviously, not the result I wanted to finish off with for my team, they deserved a lot better. What we did prove was that the Ninja ZX-10RR still has potential and up until that point of the race, I felt quite in control with a really good rhythm.
There were times when I was like 'ooof, I've got a magic tire'! The bike was hooking up well and going forwards. Pere made a bold decision to make an incredible change, something quite big on the bike that we wanted to try. We didn't go down without a fight and it was really frustrating to lose the front. Potentially, I could have just gave up the corner a bit, I was a bit fast on entry but I tried to pull it down and with too much lean angle, I was down."
Rea Continued
I wanted to finish the race as it would be too easy to pull in. My footpeg had broken off and my handlebar bent forward but I was still able to lap in the 1'41s. It makes me even more disappointed with what could've been but that was our race. It sums up the highs and lows we've had this year; some incredible highs but difficult moments but it can't darken the moments I've had at KRT. It's been a whirlwind journey and something I'll never forget."
Full Race 2 Results are Below
With the season now completed riders will look forward to some downtime through testing days and time with family as we head into the off season.