WTRAndretti Adds Hartley and Herta for 2024 Endurance Cup
Wayne Taylor Racing with Andretti announced today that Brendon Hartley and Colton Herta will be joining the 2024. Hartley will join Ricky Taylor and Filipe Albuquerque in the No. 10 WTRAndretti Acura ARX-06. WTRAndretti will field a second GTP car in 2024 piloted by Herta, Jordan Taylor and Louis Delétraz. WTRAndretti will announce additional drivers for the Rolex 24 At Daytona in the coming weeks. Driver lineups are typically 4 drivers plus a reserve so we'd expect at minimum two more names to be announced to join for the 2024 GTP campaign. For now, here is what the team said.
Wayne Taylor, Team Principal, Wayne Taylor Racing with Andretti:
"It's exciting that we've managed to get the services of Brendon Hartley again and Colton Herta as our third drivers who will be doing the IMEC. Brendon has driven for us before, and we've got to know him really well. Obviously, Colton is a part of the Andretti Global group which opened the door for us with him. He's won Daytona in an GT car and drove a LMDh car last year and did a really good job. I'm really excited about having both Brendon and Colton on board."
Michael Andretti, Chairman and CEO, Andretti Global:
"The addition of Colton and Brendon as endurance drivers for next season will be a major boost to our already very talented IMSA driver lineup. They both have quite a bit of experience competing in endurance events and have built such strong on-track resumes across multiple series, so we're excited to watch what they can do in 2024."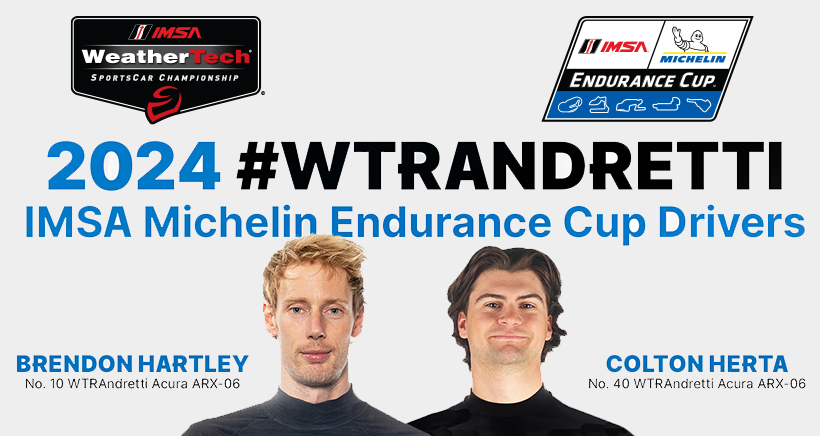 Brendon Hartley, 2024 No. 10 WTRAndretti Acura ARX-06 GTP Endurance Co-Driver:
"I really enjoyed my time with WTRAndretti at Petit last year and Daytona this year, so I jumped at the opportunity to compete in the endurance races in 2024 when Wayne called me. WTRAndretti knows how to win and going to a two-car team will strengthen the whole operation even further."
Colton Herta, 2024 No. 40 WTRAndretti Acura ARX-06 GTP Endurance Co-Driver:
"It's super exciting to join such a prestigious team like WTRAndretti for the endurance events. They've shown how successful they can be in the past and I'm looking forward to hopefully adding to that!"
The 2024 IMSA WeatherTech Sportscar Championship season kicks off with the Roar Before the 24 testing, January 19 – 21, 2024, followed by the endurance classic, the Rolex 24 At Daytona, January 25-28, 2024. NBC and Peacock, along with IMSA.TV, will provide flag-to-flag coverage of the race on its family of networks.