PJ Jacobsen and Kayla Yaakov Announced as 2024 Rahal Ducati Supersport Riders
After much speculation, the rumors have been confirmed. PJ Jacobsen will race the No. 15 XPEL Ducati Panigale V2 in the MotoAmerica Supersport class, alongside Kayla Yaakov who will pilot the No. 19 XPEL Ducati Panigale V2. The announcement comes after Team Owner and IndyCar driver Graham Rahal announced the Rahal name would begin a new venture in the world of two wheeled racing back in October.
From Rahal Ducati….
Words from Graham Rahal
"We are incredibly thrilled with the rider lineup we have secured for our inaugural MotoAmerica season. PJ [Jacobsen] has shown incredible talent in his Supersport and Superbike career. We are grateful he was willing to bring his experience to our team to help set the bar as we (attempt to) contend for a championship (in our maiden/inaugural season). Kayla is a young, talented rider, and we are excited for her to showcase her potential during her rookie Supersport season. She will have both PJ and Ben [Spies] to look to for guidance and experience as she grows in her young career.
"We have a lot of work to do in the next few months as a new team to prepare, so we are eager to get the riders to the track to test with their new mechanics and on their new machines. We have high expectations going into the season, and I truly believe we put together a lineup to achieve and exceed the standards we have set for ourselves."
PJ Jacobsen, formerly of Tytlers Cycle racing is coming off of a successful season in the Superbike class. With Tytlers Cycle Racing ceasing operation it was a natural positive direction to go with PJ taking the reigns with Ducati Rahal. He has the pace, experience and will serve as an excellent mentor for Kayla Yaakov who is just starting to forge her legacy in the motorcycle racing world.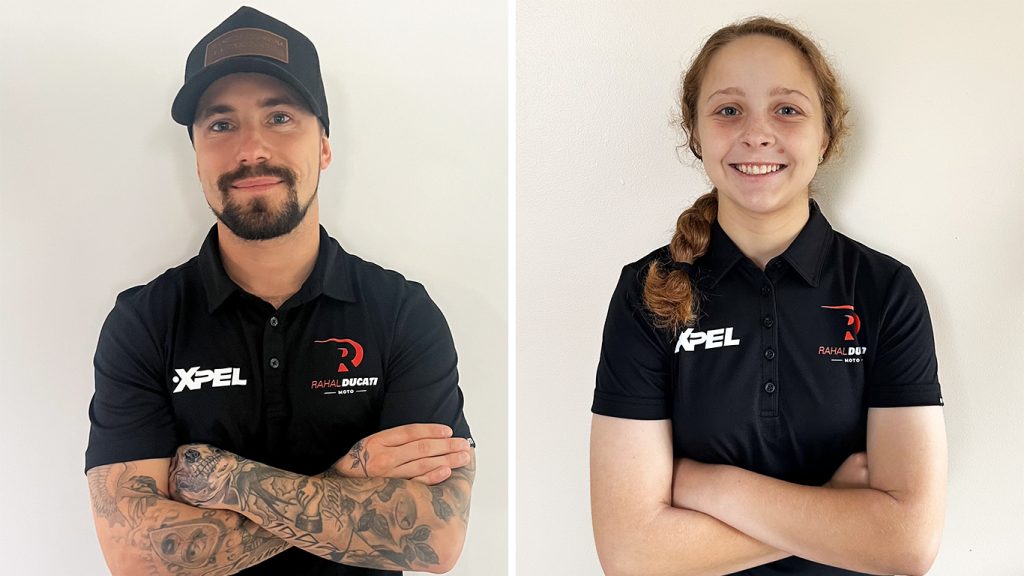 Pj Jacobsen Comments on the Move
"I'm really looking forward to being a part of the Rahal Ducati Moto racing team," said Jacobsen. "It's great to be a part of this racing family, and I think it's very good for my future to be with this amazing group of people. Having Ben Spies back is going to be absolutely awesome to help with riding and the mechanics and strategy of the motorcycle racing. When I heard about the possibility of [Rahal Ducati Moto] coming to the paddock, my eyes lit up because they run such a professional team in car racing, and they will also have a great, professional team in motorcycle racing.
It's great for our sport to have people like this involved, and again, I'm very honored to get the call from them to be one of the riders to fight for wins and a championship. I'm super excited to get testing started and really, really motivated for the 2024 season – especially after having such a strong Superbike season in 2023. I feel very fit and in top-form in my career right now, and ready to fight for the top honors. Thank you to Graham and the people that truly believe in me. I'm really looking forward to a great 2024 season!"
Kayla Yaakov Also Expressed Her Excitement
"I am extremely excited to be joining the Rahal Ducati Moto team for the 2024 MotoAmerica Supersport season," said Yaakov. "Being a part of a team with such an iconic backing is a privilege, not only with one of the most prolific motorcycle brands in the world, but also with the Rahal family. Also, having a world champion like Ben Spies in our corner is such an honor. After talking to him for several years, coming together in this team is going to be huge for my progression in this sport! Although it's a new team that comes with a lot of pressure, I am extremely confident in the abilities of the team and myself for this 2024 season. I can't wait to get rolling with this amazing crew and am thankful to everyone that has made this possible. I'll see you on the high banks of Daytona!"