Christian Horner Responds to Red Bull Racing Sandbagging Claims
Featured Article
Formula 1
After the Australian Grand Prix Mercedes AMG Petronas F1 driver George Russell publicly made a bold claim. Russell stated stated, "For sure they're holding back, They're almost embarrassed to show their full potential because the faster they seem globally the more the sport is going to try to hold them back somehow. I think realistically, they probably have seven tenths advantage over the rest of the field. Max has got no reason to be pushing it, nor has Red Bull. They have done a really great job, we can't take that away, and we clearly have to up our game."
The comment came after championship leader Max Verstappen extended his lead in the Australian Grand Prix by almost 10 seconds before the red flags. Verstappen responded to Russell's criticisms by stating, "I mean, we just try to do the best we can with the development of the car, but it's also about pace management. We didn't really know, I think no-one really knew how long that hard tire would last, so it's about just bringing it home because we had a bit of pace I think over the others. There's no need to try and gain half a second a lap and destroy your tires to the end because you never know, a Safety Car can happen, red flags, like we had today. So yeah, it's not necessary to risk all that."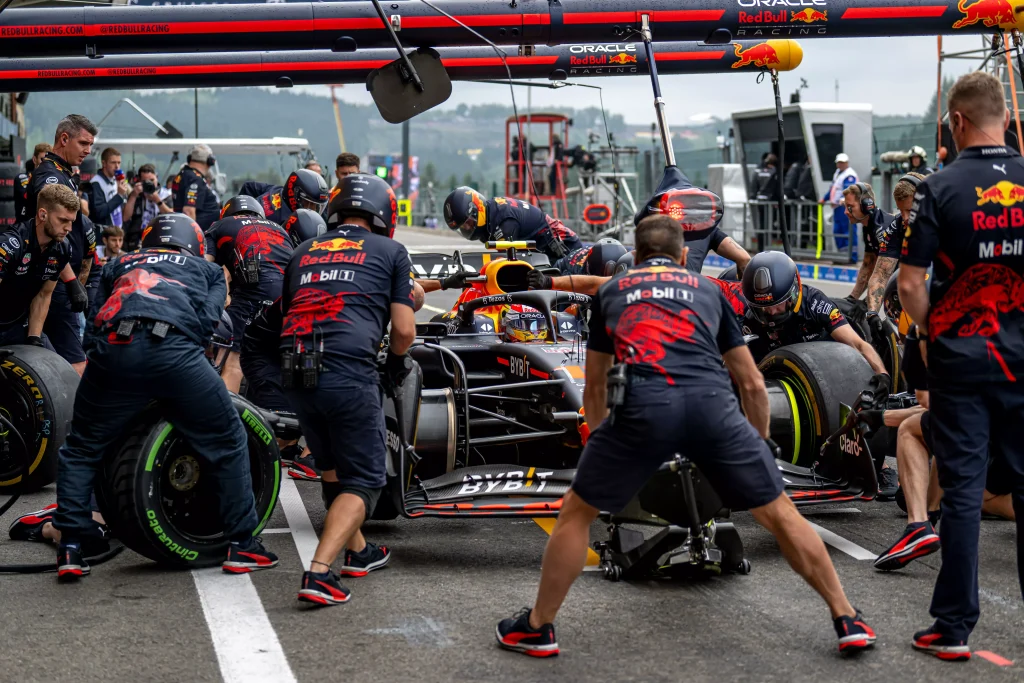 In response to the banter Red Bull Racing Team Principal Christian Horner laughed and stated, "That's very generous of him. I mean, his team would know all too well about those kinds of advantages [referring to Mercedes run of 7 world championships]. There's always an element of managing that goes on in any race. You could see because it was a one-stop race and a very early one-stop race, there was an element of tire management that was going on, which is what they were doing.
He continued, "Checo wasn't hanging about, he wasn't cruising round holding back seven tenths a lap because he didn't want to show it. The grid was certainly a little bit closer at this venue. We've obviously weighted the car towards the race rather than qualifying. You can see perhaps the cars that warmed up their tires more aggressively perhaps suffered a bit more in the race."
Lewis Hamilton's Previous Comments
Red Bull Racing have also been the subject of discussion by 7 time world champion Lewis Hamilton. After the race in Jeddah Hamilton responded to a question on whether Red Bull's dominance was bad for the sport. Hamilton replied stating, "I don't know, it's not for me to say, but I've never seen a car so fast. When we were fast, we weren't that fast. That's the fastest car I've seen compared to the rest. I don't know why or how but he came past me with serious speed. I didn't even bother to block because there was a massive speed difference."
Verstappen responded to RacingNews365.com stating, "I think if you look at the statistics, then those statements are not correct. But we also do have a very good car. Nothing wrong with that, of course. Still, we are not as dominant as Mercedes has shown some years. I don't pay much attention to that, that doesn't get you anywhere. Whatever we have done in the eight years that Mercedes is so dominant, we also tried to close the gap. That's the only thing you can do."
Hamilton seems to have found some pace in Australia allowing him to secure a P2 finish. However, the Australian Grand Prix was plagued with safety cars and red flags so we may not know the true pace of the W14 Mercedes until the next race in Azerbaijan. You can read more about the outcome of the Australian Grand Prix here.