Road Atlanta MotoAmerica Qualifying 1 Results
The MotoAmerica Championship lands at the iconic Road Atlanta in Brasleton, GA this weekend for an event packed 3 day schedule feature 6 classes of racing. Qualifying 1 results are in and we break down the classes here.
Superbike
Reigning champion Jake Gagne set the pace in qualifying 1 in Atlanta with a 1m23.453s nearing the lap record. 5 time Superbike champion Cameron Beaubier returns to the MotoAmerica Superbike championship on his Tytlers Cycle Racing BMW M1000RR. Beaubier jumped up to second fastest behind Gagne in qualifying 1. However, the deficit to Gagne is almost 1 second so some tweaks must be made if Beaubier wants to achieve a pace on par with the standing champion in qualifying 2.
Gagne spoke to the media after qualifying stating, 'We started with a new tire and didn't want to put another one on," Gagne said. "Like always, the beginning of the race is important but that second half of the race and the tires being a new generation, nobody is going to know what to expect. We tried to get the best idea we could, and I had some good close calls in that session, enough so I know what's going to happen after a couple of laps. Still, the second half of the race will be like who knows? Dunlop has done a good job, though, and I'm happy with the tires. It's just a little different. How they wear is a little different, temperature and pressure is a little different. It's kinda fun though, something new. We were so dialed in on the old stuff so it's another challenge."
Cameron Petersen, Gagne's Fresh N Lean Progressive Yamaha ran 3rd fastest in qualifying but had a run off incident that appears to have cause major damage to the bike. We have not yet determined the extent of the damage. However, Petersen does not appear to have been injured in the crash. We do not currently have details on any potential injuries. The top 5 is rounded out by Westby Racing rider Mathew Scholtz and Tytlers Cycle Racing rider PJ Jacobsen.
Stock 1000
Stock 1000 was led by Orange Cat Racing rider Ezra Beaubier who bounced back from a P4 finish in FP1. Beaubier set a 1m26.993s lap to top the Stock 1000 class. MotoAmerica veteran Geoff May finished in provisional second only 0.02s behind Beaubier and Disrupt Racing's Hayden Gillim who finished level on points with 2022 first place finisher Cory Alexander in 2022 ran third fastest behind May 0.2s back.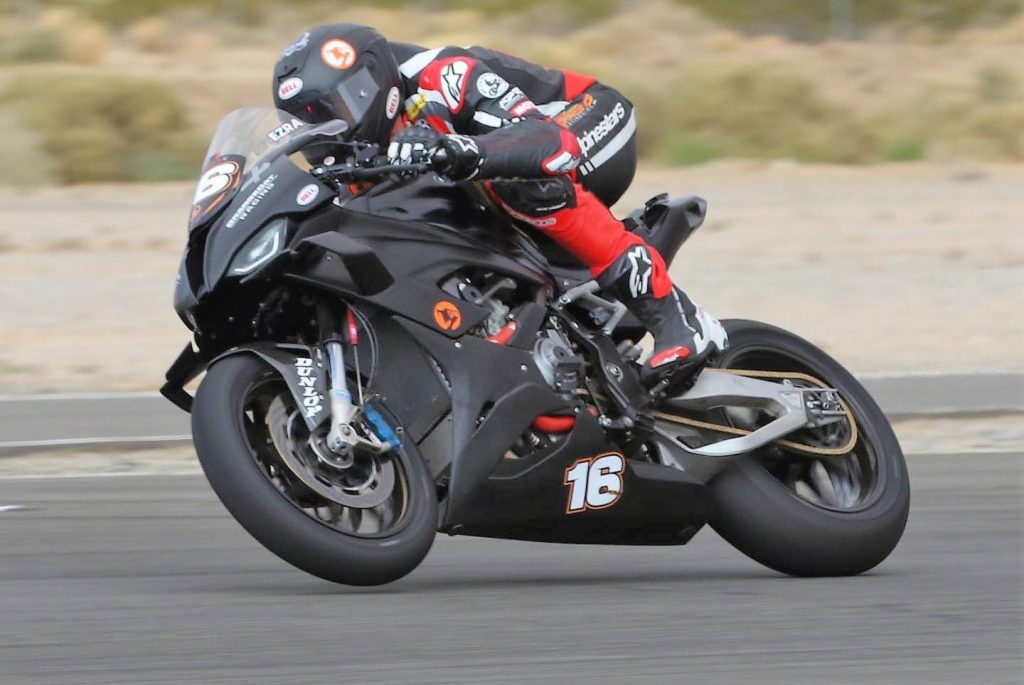 Supersport
Youngster Tyler Scott dominated the Supersport qualifying session 1 finishing with a commanding provisional pole 0.526s ahead of Tytlers Cycle Racing rider Stefano Mesa. Mesa however, did find pace towards the end of the qualifying session so we expect his times to improve tomorrow. Mesa finished 0.653s ahead of third place finisher Michael Gilbert.
The Supersport class was missing 2022 second place finisher Rocco Landers in the mix. Landers was not able to make the trip for Supersport. However, he was able to secure a seat in Twins cup as a fill in. We hope to see him back out on grid at the next round at Barber Motorsports Park.
Javi Flores, Warhorse WSBK Ducati rider had some big shoes to fill having taken the place of 2022 Supersport champion Josh Herrin. Flores finished in P5 during qualifying and will have one more opportunity to claim pole in qualifying 2 tomorrow morning.
Twins Cup
Former Twins Cup champion and fill in rider for Ben Gloddy, Rocco Landers set a blistering lap to take provisional pole. There were some uncertainties regarding whether Landers would be racing in Atlanta but this past week an opportunity presented itself. We are very happy to see him in good form. We will see if he can carry the same success into qualifying 2 tomorrow morning. Defending 2022 Twins Cup champion Blake Davis ran third fastest falling short of pole by 1.3 seconds.
Junior Cup
There were a lot of new faces in the Junior Cup class on Day 1 of Road Atlanta weekend. Altus Motorsports' Alessandro Di Mario led Junior Cup qualifying. It appears the Kawasakis are still fastest on track. This year there are two riders who opted for a bit of variability in bike manufacturer. 2022 Northern Talent Cup Championship winner and FairiumGRT- Gray Area Racing's Rossi Moor is racing a KTM RC390R and MP13 Racing's Aidan Sneed is racing a Yamaha-R3. The two finished P7 and P8 in qualifying 1. Tomorrow is a new day so we will see if these outlier bikes can find pace to break up the Kawasaki dominance.
King of the Baggers
Screamin' Eagle H-D's Kyle Wyman dropped 1.248 seconds off his lap record from a year ago in Mission King Of The Baggers qualifying 1 with a 1:30.941 to earn provisional pole. Sac Mile/SDI Racing/Roland Sands/Indian's Bobby Fong compete the provisional front row.
For more information on the Saturday's race schedule see below.
Check out our preview article here. For more information on how to watch the races from home be sure to check out MotoAmerica Live+