Benito Guerra To Race 2023-24 Nitrocross Season
Earlier this week Olsbergs MSE announced Benito Guerra would be joining the team for the 2023-24 Nitrocross season.
Guerra's History
Benito Guerra joins Nitrocross without much Rallycross background, but he does have a decent background in Rally. As Guerra won the Production World Championship in 2012. After that Guerra would go on to race select WRC events. With Guerra even driving an event for M-Sport at Rally Mexico 2014. Guerra tied for fifth at Rally Mexico 2014. Tying with Martin Prokop, with both drivers finishing 5.1 seconds behind Elfyn Evans.
Guerra would once again race a Ford Fiesta WRC at the 2015 and 2016 runnings of Rally Mexico, not under M-Sport however. He placed 12th in 2015 and 13th in 2016. During the 2017 season Guerra switched to a Skoda Fabia R5, and compete in more events including Rally Mexico. Guerra competed in Mexico, Argentina, Portugal, Poland, Germany and Spain that year. With his highest finishes being 12th (3rd in WRC2) at Mexico, Argentina and Germany.
2018 would see Guerra once again race in more than two events, as he would race in Mexico, Portugal, Italy, Finland, and Germany. With his highest finish coming in Portugal where he placed 15th (7th in WRC2). In 2019 Guerra ran multiple races once again, in Mexico, Argentina, Chile, Portugal, Great Britain, and Spain. Guerra shined in Rally Mexico, winning the WRC2 class by over 3 minutes and placing sixth overall at the event. Guerra also placed second in WRC2 at Rally Argentina and Rally Chile, and finish the 2019 WRC2 season in 3rd. 
Guerra's 2022-23 Nitrocross Season
Benito Guerra made his Nitrocross debut at the season finale triple header in Glen Helen. Guerra only raced in two of the three rounds in Glen Helen. He would finish 10th in the second of the three rounds and 5th in the third of the three rounds. 
Joining Olsbergs MSE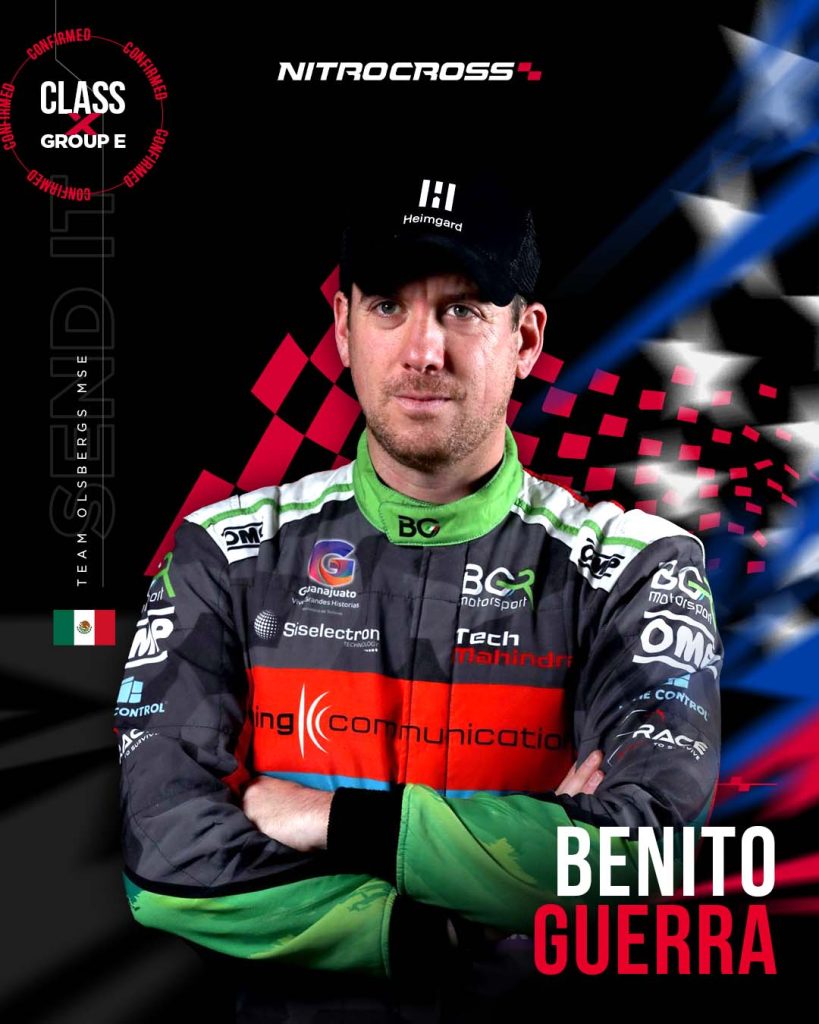 Benito Guerra will join the Olsbergs MSE crew for the 2023-24 Nitrocross season. Guerra will race in the third Olsbergs MSE car. With teammates Oliver and Kevin Eriksson in the one and two cars.