Nitrocross Oklahoma 2023 Preview and Season Kickoff
The 2023-24 Nitrocross season kicks off this weekend with Nitrocross Oklahoma. Find out all you need to know about round one below!
Championship Rundown And Predictions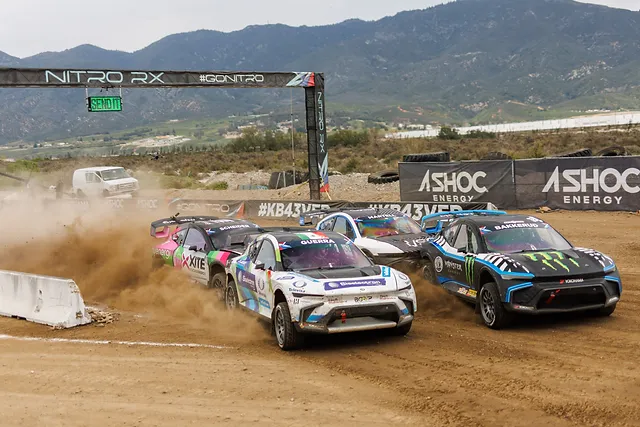 Due to Nitrocross Oklahoma being the first round of the 2023-24 season, there's no championship to recap so far. But that doesn't stop me from talking about last season and speculating.
Consistency Is Key
Robin Larsson comes into the season as the reigning champion. Larsson was also the most consistent driver last season, or at least at or near the top consistently. Robin Larsson's teammate Andreas Bakkerud finished second and was the second most consistent near the top. Are you seeing the pattern yet? If you haven't here it is, consistency matters in Nitrocross. It's something every driver from Robin Larsson to Oliver Bennett knows. Nitrocross are designed in such a way that it's hard not to make a couple mistakes every race. These mistakes make it hard to be consistent. The only real way around this is to try and limit the severity and the number of mistakes made during a race. This is something Larsson and Bakkerud did quite a bit of last season. With Nitrocross being a spec series a mistake that would be small in a non-spec series is pretty large in a spec series. This is a result of everyone being in the same car, and the only real difference between each car is the tuning done on it.
Predicting Is Hard
Those small differences between each car is what makes Nitrocross fun, and really hard to predict. Nonetheless, I will give a prediction, and I'm going with my gut feeling that Travis Pastrana will take home the first win of the 2023-24 Nitrocross season at Nitrocross Oklahoma. Why? Pastrana had a rather lackluster 2022-23 season, so it would be fitting for the 2021 Nitrocross champion to get off to a hot start. This track was also custom-built by Pastrana, sure every other Nitrocross track has been in some respect, but this is the first fully custom-built Nitrocross track. But as previously mentioned Nitrocross is really hard to predict and a race can change in a tenth of a second.
Group E Drivers
The 2023-24 Nitrocross Group E drivers were slowly announced over the past week or so. With Fraser McConnell being the first returning driver announced. Following McConnell's announcement Vermont Sportscar would announce Travis Pastrana and Conner Martell would race for the team during the season. After that, XITE Energy announced Oliver Bennett and Kris Meeke would return to the team. Then Olsbergs MSE would announce Oliver and Kevin Eriksson would compete for them once again. A day later Olsbergs MSE announced Benito Guerra would join the Eriksson's this season. After that was Andreas Bakkerud and Robin Larsson for Dreyer and Reinbold Racing. Conor Daly was also announced as a driver, but only for round one of the 2023-24 Nitrocross season.