MotoAmerica: Race Day 1 Recap Brainerd International Raceway
The first day of racing is in the books for MotoAmerica at Brainerd International Raceway. Five classes took to the track today. Superbike, Supersport, Stock 1000, Junior Cup and King of the Baggers. Royal Enfield BTR did not participate in any sessions on the day. Here are the events as they happened.
Superbike
With qualifying finishing earlier in the day. Medallia Superbike was poised to be led by pole sitter Cameron Beaubier and his teammate PJ Jacobsen from Tytlers Cycle Racing. However, drama would ensue. Beaubier fell behind at the start and on the first lap of the race he was late on the brakes and ran into the back of Gagne at turn 2. Beaubier left the track but his BMW M1000RR did not appear to have any serious damage. However, Mathew Scholtz (Westby Racing) who was a bystander in the matter suffered from a punctured radiator after making contact which ended his race before it even started. Scholtz was visibly upset with the whole situation. The races was red flagged and restarted.
On the restart Beaubier lost control of his bike and had a nasty high side crash that sent him airborne. The track marshals were able to clear the wreck without the race being red flagged and Beaubier crawled off the track. He was later seen walking and did not appear to be seriously injured. He was evaluated after the race.
With Beaubier out of the race it left the door open for Jake Gagne. PJ Jacobsen made an early charge and held on to Gagne for the whole race but ultimately the pace of the Yamaha couldn't be matched and Jacobsen fell short by 0.195 seconds behind. Behind Jacobsen was Warhouse HSBK Ducati rider Josh Herrin to round out the top 3. Full Superbike results can be found here: Medallia Superbike Race 1 Results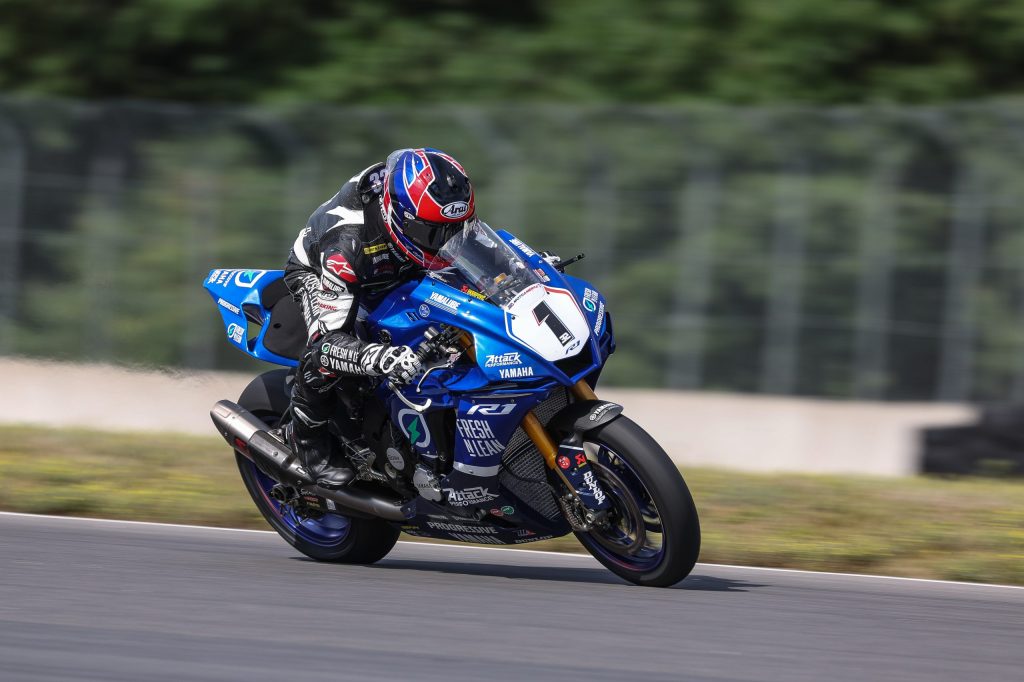 Supersport
Josh Hayes (Squid Hunter Racing) is the first rider this season to dethrone Xavi Fores by winning race 1 at Brainerd. The win also marked his 87th career win Fores was complete off his normal pace and finished P7 in the race. Rocco Landers in a guest appearance in Supersport, finished P2 after securing pole in Qualifying. Hayes beat him off of the line and got into clean air. After building a lead in the first 5 laps it proved to be too big of a gap for Landers to catch him. Landers finished the race 3.224 seconds behind. In third was Vision Wheel M4 ECSTAR Suzuki rider Tyler Scott. Vision Wheel M4 ECSTAR Suzuki rider Teagg Hobbs finished behind his teammate to secure fourth. Stefano Mesa could only muster a P5 finish. Full results are available here: Supersport Race 1 Results
Stock 1000
Hayden Gillim (Disrupt Racing) completely obliterated the competition in race 1. Gillim won the race by 7.4 seconds ahead of Kaleb De Keyrel (Orange Cat Racing). The margin was as high as 10 seconds towards the middle of the race but Gillim started to role off and minimize risk to bring the win home for the team. He had the following words for the media,
"After Atlanta, I was kind of in a pretty deep hole, mentally and points-wise. Barber was a good weekend, and I knew it was going to be good. I thought Atlanta would be better than what it was, and it ended up just being a terrible, terrible weekend. Road America, I knew was going to be difficult with all these guys on their bikes and my size and everything. I knew it was going to be tough.
In the Stock 1000 race last year, this was kind of how the race was going and then we had a red flag and some stuff happened during the red flag and I ended up not having the greatest last lap in the race. So, we had a lot left on the plate from last year. I needed this. I needed this points haul. To be able to kind of just go out and do what I needed to do today." Stock 1000 Results can be found here: Stock 1000 Race 1 Results
Gillim Continued on His Triple Duty Racing this Weekend
"Riding three classes this weekend is actually helping a little bit because I had just come off of the Bagger and hopped on to that thing and was ready to go that first lap. That was ultimately why I pushed as hard as I could right off the bat. I knew with how different the track was this morning to this afternoon it was going to be a little bit difficult, especially for Kaleb (De Keyrel) since he hasn't been out there since this morning. I figured it would be a little tough because I could already tell it was a little greasier than this morning…off the bat I needed to just go. Luckily the guys gave me a great bike and I'm feeling good right now."
Junior Cup
Rossi Moor (Fairium NGRT – Gray Area Racing KTM) does it again in dominant fashion. Moor the sole KTM RC390 rider on the grid used his skills and experience to win at a track where his bike is a bit underpowered compared to the standard in class choice the Kawasaki 400. He won the race by just over 7 seconds and led 10 of the 11 laps in the race. Levi Badie (Badie Racing) finished the race in second but was given a 2 place grid penalty for passing under a waving yellow. The race for 2nd and 3rd was much close between Hayden Bicknese and Max VanDenBrouck.
Rossi Moor Spoke to the MotoAmerica Media
"From practice and from qualifying, I think I had the pace to do it. It didn't show on paper since I wasn't able to put a bunch of good laps together, but deep-down, I knew that, if I'm able to get to the front, I was able to pull away. But, with Jayden being there and Max and Hayden and all these guys I knew it was going to be pretty hard because I'm slightly down on power. I just wasn't able to draft a lot of people. But as soon as I was able to get past, I just put my head down and tried to get enough gap by the turns where they couldn't draft me by turn three." Junior Cup Race 1 Results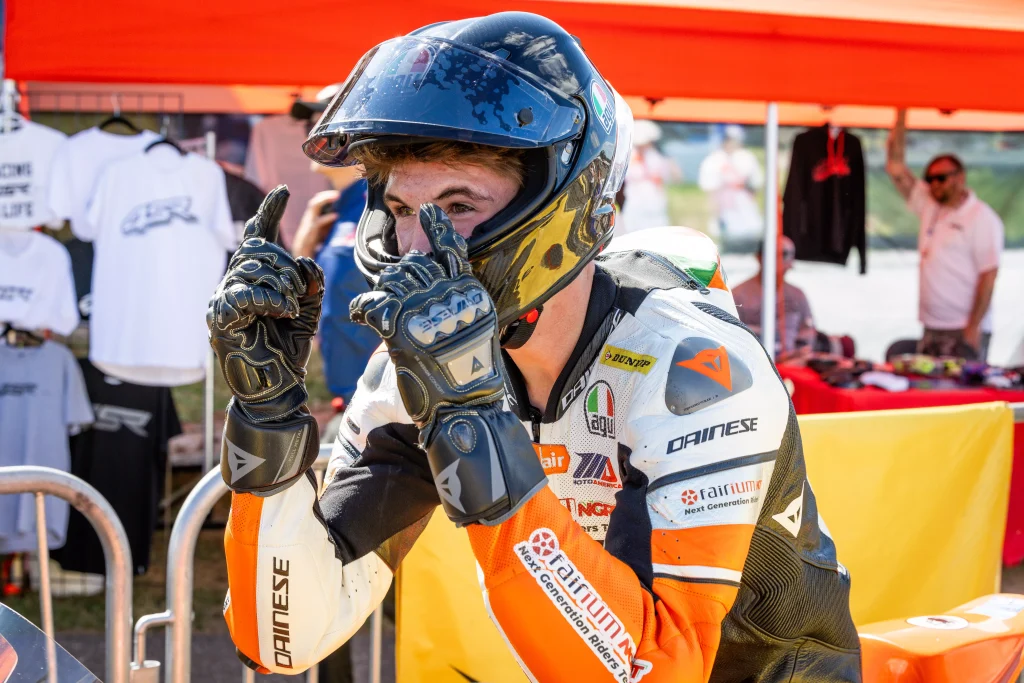 Mission King of the Baggers
Hayden Gillim wasn't finished with his winning ways from his earlier race in Stock 1000. After a late off by Tyler O'Hara Gillim took advantage from second place and was able to hold off Bobby Fong for the second half of the race. It appeared that Gillim's Vance and Hines Harley Davidson Road Glide was leaking fluid, but no flags were thrown and he was able to bring the bike home. Fong maintained his charge to catch Gillim but his efforts proved to be futile. Gillim's teammate at Vance and Hones finished 3rd in the race.
Gilliam spoke with the MotoAmerica media stating, "It is a real good day. I was chasing him (Bobby Fong) in the Superbike race, but he had a little bit of speed on me there and got it back. Pulled a little James Bond move. Gave him the smoke. Tried to keep him off of me. It's been a really good day. I knew this track was going to be good for me. I just feel good here."
Gillim Continued
"Last year was really good on the 1000. I didn't really know what to expect with the Harley coming here. It's pretty crazy seeing how half the track Bobby (Fong) and Tyler (O'Hara) have a little bit of speed, and then the other half I can kind of pull a little bit back. At least I know for sure on Tyler I got to see him for a second Bagger Challenge. It's been a really good day. To have another podium with James (Rispoli), another double podium for Vance & Hines, that's what we're here for. So, good job for the team and good job for me and my family. Never had two wins in one day, so this is pretty cool." King of the Baggers Race 1 Results
Race two action starts at 1:00pm EST with Royal Enfield BTR. Check out live coverages at MotoAmerica Live+