WorldSBK heads to TT Circuit Assen for the Pirelli Dutch Round
The 2023 MOTUL FIM Superbike World Championship returns at TT Circuit Assen this weekend. The World Superbike Championship has taken a short early-season break since the round 2 in Indonesia. However, since that break there have been a ton of updates, on and off the track. Most of the riders attended testing in Spain earlier this month. You can read more about that here Catalunya-Barcelona Testing. Assen is now, so what are the riders saying about their time off. WorldSBK.com released a number of rider thoughts for the week and we share them here.
Toprak Razgatlioglu has probably had the most fun during the break. Razgatlioglu was fortunate enough to do some testing on a MotoGP bike with Yamaha.
Toprak Razgatlioglu (Pata Yamaha Prometeon WorldSBK):
"For the MotoGP test, I can say I enjoyed it and finally, I rode in good weather, as last year I only did 28 laps due to the weather. Thanks to Yamaha for the opportunity, now we'll see in the future. It's still a dream but we will see in the future. This is just testing, for me to understand the bike and for Yamaha to see the potential. It's all young riders' dream to one day, ride a MotoGP bike."
He continued, "I've done it, enjoyed it but now I come back and do my job again, because for me, WorldSBK is important this season, to fight again for the Championship. This break was a lot, I was really bored and now I am fighting again. For me, the last two years at Assen, it hasn't been a good race weekend at Assen, especially Race 2. This year, I was thinking not to ride in Race 2, because I always end up crashing! I'll try again for this year, for the podium or the win. Jonny is always very strong at this track. Every year, this race weekend is different and I'll try to do my best."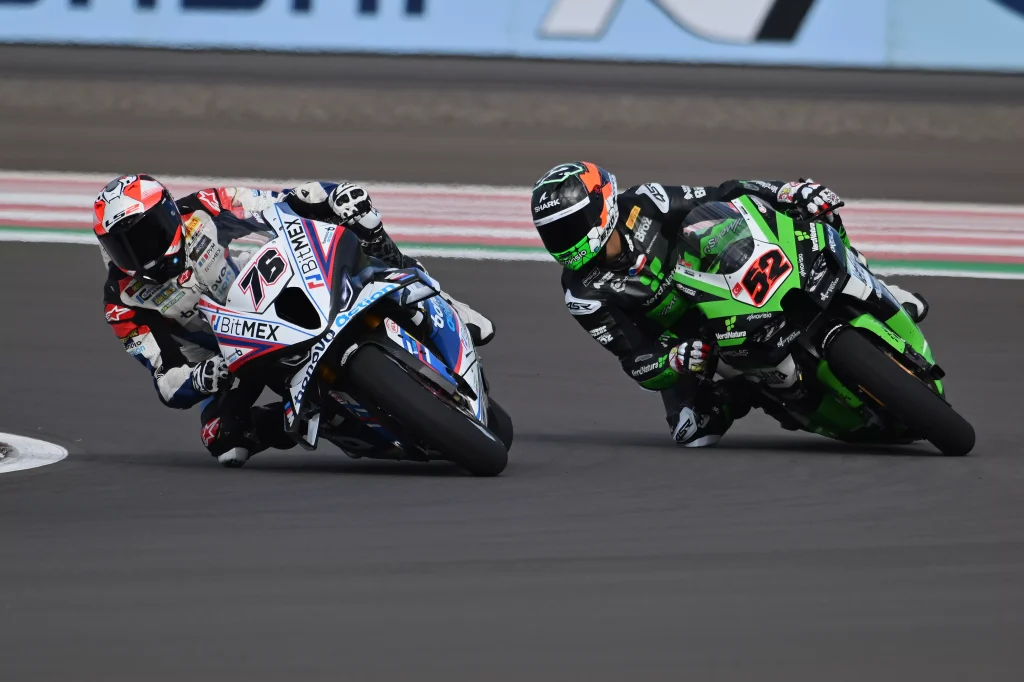 Our thoughts
There has been speculation that Razgatlioglu is going to make a jump to MotoGP for the 2024 season. While the test did not put the speculation to rest . One thing we can all agree on is that we would like to see Razgatlioglu on a MotoGP team at some point in his career. Whether or not that is with Yamaha is yet to be determined. However, he will use Assen this weekend as another opportunity to solidify his case to make the jump. Razgatlioglu is currently second in the championship standings behind the reigning champion Alvaro Baustista. Bautista also provided some thoughts on his future in WSBK.
Alvaro Bautista (Aruba.it Racing – Ducati)
"I look forward to this weekend as I started the year so well. The feeling at the Barcelona test was incredible, I'm very happy. I have good memories at this track as I won with Ducati three times and last year, we were competitive, fighting with Toprak and Jonathan. I haven't thought about my future because right now, we have only had two races; maybe after this round, I start to think about what I want to do. I am not old, but I have a lot of experience in motorcycle racing.
At the moment, it's not my first worry, I just want to be focused on this weekend. I don't have a clear of idea about my future. I will decide very soon, not just for me but for my team. In the case I don't want to stay, they have to know as soon as possible and also for my side. We'll see, but at the moment, I don't have an idea."
Other Riders Commented on the upcoming weekend at Assen
Andrea Locatelli (Pata Yamaha Prometeon WorldSBK)
"We are at Assen, it's a special track for me as I have good memories from the first year in WorldSBK in 2021, so we'll see what happens this weekend. We hope for good weather, but we're ready to fight. It'll be something special if I can get the first win here at Assen; it'll be hard but for sure, we'll try. Why not? We're here after a really good start to the Championship; we'll try to be fast and fight for the podium."
Iker Lecuona (Team HRC)
"I started training and I don't have any pain; I've been training with the practice bike and I don't feel pain, so this is positive. I am here, ready to fight again. Honestly, I am very happy with the direction; I think we did a very good step with race distance, this is the area we've improved a lot because last year, we struggled with the tire performance as it was dropping a lot in the last laps. Almost every race, we lost this potential to fight for the podium or good results. I am really happy, also the team and Japan have done a very good step so then, the reality is that if the tire life makes it to the end with a good performance or not, but we are happy.
Returning to the grid is French rider Loris Baz (Bonovo Action BMW) who suffered leg and ankle injuries in a crash with Alex Lowes (Kawasaki Racing Team) in Indonesia. He appears to have passed all preliminary medical checks and should be able to compete this weekend. It is yet to be determined if the injuries he sustained will affect his pace. After the examination, Baz said: "Just out of the medical check-up and I've been declared fit, so the first target is done. It was the main target that I had over the past six weeks so super happy. It was a big, hard job to get there so I'm looking forward to riding at this amazing track. I don't have any special target, just to have fun and hopefully the weather is good."
About the Circuit
The Pirelli Dutch Round takes place at TT Circuit Assen. The circuit is 2.822 miles and features 18 corners, 12 right hand and 6 left hand. Here you can see a break down of the circuit.
Below you can find an entry list for all riders competing this weekend.
Free Practice starts 21Apr2023 at 04:30 EST. We will keep you update on results throughout the weekend. You can find more information at WorldSBK.com